American Can's Flat Top Quarts: 1937-1940
Much of this article was taken, with permission, from Matt Menke's excellent website, One Full Quart.
Most beer can collectors are certainly away of the history of the creation of the beer can: American Can's experiments, their testing a Krueger's in 1933, introducing the cans to the public in January 1935, followed by Continental Can, Crown Can and National Can companies each selling their own cans. American dominated the 12 oz flat top market in the years before World War II, but for other types and sizes of cans, they were not always the leader. In the summer of 1937, Continental Can Company launched the quart cone top beer can into the market and there 32 oz size conetops would dominate for most of two decades. Continental heavily advertised their new size cans, trumpeting its advantages over both bottles and other cans. Ballantine Brewing of Newark, NJ, filled the first Continental quart cone in June, 1937 followed by Horton of New York and West End of Utica.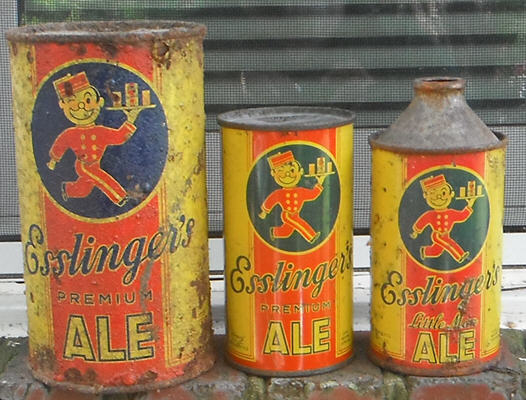 Esslinger Ale cans.
American Can quickly jumped into the same market introducing a quart flat top can that was taken up by Esslinger's in Philadelphia, Liebmann in New York, Adam Scheidt of Norristown, Pennsylvania and Croft in Boston. These cans are all have the "Others Pending" patent statement along the seam, a change that occurred in late 1937. They're extraordinary cans, heavily built and sporting uniquely designed lids. They may have kept several of American's biggest customers in the East from straying to another supplier, but for most brewers it was a non-starter to buy an entire new flat top canning line for this boutique package. Continental's conetop quarts had a distinct advantage over American's. Cone tops could be filled on existing bottling lines with a set of relatively inexpensive modifications. So in 1940 American switched to a quart cone top that gained a slightly larger foothold in the business. All were trademarked "Keglined." The flat top quart was abandoned until Ballantine switched to a tall, thinner flat top design in the 1950s. American Can also sold some quarts in the mid 1950s with a very low profile spout that look on the shelf like a flat top, but used a crown.

So what was wrong with the flat top quarts? As noted above, it took a special line to fill flat top cans. Continental and Crown both took advantage of this fact to market their 12 oz cone tops and then quart cans. Breweries that had not already invested in a flat top line would not be interested in American's quarts. Also, the lids on the quart flat tops had to be thicker to withstand the greater pressure from the larger quality of beer. It was probably harder to open the quart flats with a church key than it was to open a smaller flat top which would have made the cans less popular with customers. Moreover, American Can promoted their 12 oz flat tops cans as being easier to stack on store shelves and in refrigerator shelves than conetops, an advantage that probably wasn't shared by the larger quart flats. Whatever the reasons, the American Can quart flats were short-lived and difficult to find in good condition for collectors now. FYI, American Can also made some flat-bottomed cones, which I will discuss at a later date.

Brands in American Can Quart Flats

Croft Cream Ale
Esslinger Ale
Esslinger Beer
Liebmann's Cream Ale
Rams Head Ale
Rams Head Beer
Rheingold Scotch Ale
Rheingold Extra Dry Lager Beer
Rheingold Beer
Valley Forge Beer
Much of this article was taken, with permission, from Matt Menke's excellent website, One Full Quart. For more history of quart cans see http://www.onefullquart.com/onefullquart/Quart_History.html (Opens a new window or tab)

For more on the Esslinger quart and the recipe on the back, see my August 2003 COM.