Valley Forge Bock, circa 1940s
Valley Forge Bock Beer, circa 1940s. The first side panel shows the brewery. (see below for a better view from a different can)
This month's can is something different, it's a bock can. This one is a Valley Forge Bock can from Adam Scheidt Brewing in Norristown, Pennsylvania. Traditionally, bock beer was brewed in Winter and sold in the Spring. Not every brewery produced it, and those that did often did not can it. The Adam Scheidt Brewery, however, regularly canned their bock beer in the 1940s and 1950s. We'll look at bock beer more further down the page.
Adam Scheidt Brewing: 1870-1954
Adam Scheidt Brewing had it's roots in a small brewery started by some brothers named Moeshlin in about 1866. Charles Scheidt purchased the brewery in 1870. Charles had immigrated from Bavaria who had been trained as a brewer. In 1878 his brother Adam moved from Germany to the US and joined the company. In 1880 the brewery changed its name to C&A Scheidt. The Scheidt brothers were more successful than were the Moeshlin, and the brewery expanded to a 5 story, 10,000 barrel a year plant. In 1882 they added a bottling plant and in 1889 they switched from refrigeration using an ice house to refrigerating machinery, making them one of the earlier brewers to make the switch. The brewery produced ale, lager and a porter (no bock beer yet, apparently.)
Charles died unexpectedly in 1884. Adam ended up buying Charles' shares and in 1890 the brewery changed its name to the Adam Scheidt Brewing Company, the name it would use until being purchased in 1955. By the late 1890s the brewery was producing about 52,000 barrels a year with a capacity of 60,000. In 1891 Adam Scheidt purchased the A.R. Cox Brewing company and operated it as a second facility. They added some new beers to their production including Lotos Export (pronounced "Lotus"), Standard (a darker lager) and Twentieth Century Ale. This small town brewery was out producing most of the nearby Philadelphia brewers and had even invested in buying their own refrigerated railcars to deliver beer to small depots set up along the Reading Railroad line.
Scheidt began considering adding another new product to their line and decided to use a local historic name. Originally they chose "Penn" after William Penn (who had also been a brewer.) but previous brewers had used the name so they could not reuse it, even though the previous breweries had long since closed. Instead they settled on Valley Forge. They started working on the new beer in about 1912 and in 1914 copyrighted a label showing George Washington and his troops at Valley Forge. The new product was popular but the Daughters of the American Revolution and local prohibitionists became very upset that the "Father of our Country" was being used to sell an alcoholic beverage. The brewery refused to abandon the name, but with national prohibition coming the question soon became moot.
In about 1917 Adam Scheidt began producing carbonated soda. They also began producing ice for sale rather than just for their own use. Some of Scheidt's sons started a coal and ice company and by 1920 the family well-established companies selling soda, bottled water, as well as ice and coal. Lotos and Valley Forge were turned into non-alcoholic near beer. They also made other near beers with names like Red Tag Lager, Valley Forge Special Bock (a bock near-beer?!?!) and Double Stout. They also made a malt syrup, which could be used by home brewers even though it was usually sold for "baking."
Like other brewers, Adam Scheidt's did well selling near-beer because it was a popular base for local bootleggers to make "needle beer." To make needle beer you take a bottle or keg of non-alcoholic near-beer and enough alcohol to bring the beer up to full strength. You inject the alcohol though the cock or cap into the beer with a hypodermic needle. The taste of the needle beer depended on the type of alcohol used as some types would spoil the beer's taste. Surprisingly, even when prohibition ended in 1933 some people continued to make needle beer because they had come to enjoy the taste. Most people, however, preferred their beer to come with its "original" alcohol! The brewery survived Prohibition and Adam Scheidt died in October 1933 with his brewery making real beer again and the 18th Amendment in its last weeks.
Bock Beer:


My definitions page has more about bock beer but basically it is a dark, heavier beer and usually has a higher alcoholic content than lager or ale. It is brewed in the Winter and sold in Spring. In the 1930s and 40s breweries in a particular region would organize a "Bock Beer Day" (usually around March 20) and all start selling their Bock Beer on that day. Occasionally breweries would violate the agreement to get a jump on their competitors, but for the most part the breweries stuck to the arrangement and have a small celebration. Bock Beer is traditionally represented by a goat ("bock" is German for goat.) and the celebration would include a contest to pick the official Bock Beer goat for that year. (at least for that city or region).

Bock beer was not universally popular across the entire US. It was most popular in what is called the "bock belt" which roughly stretched from Washington, D.C., north through Pennsylvania and into New York state. There are bock beer cans from other regions of the country, including Michigan, California, and Richmond, Virginia, but most bock beer was canned in the "bock belt." The Valley Forge can featured this month comes from the center of this area and the regional popularity of this darker beer in the region no doubt explains why Scheidt regularly produced it.


1950 Valley Forge Bock ad.
Post-Prohibition Success
Adam Scheidt did well after Prohibition, expanding their market into New England and south into Washington DC and Virginia. Scheidt made Valley Forge its main brand and they added a new label, Ram's Head Ale as their second line. They also produced a porter, the bock, and a Winter beer called Scheidt's Old Stock Ale as well as other brands (see list below). They were an early convert to canning beer, starting in 1935. Their cans were a unique gold color using a tinted lacquer that really stood out on the shelf. In 1938 they added a new brew house expanding their capacity to 500,000 barrels a year, with 750,000 possible. In 1939 Adam Scheidt began producing a premium European style beer called Prior which was an immediate hit, and won awards in brewery competition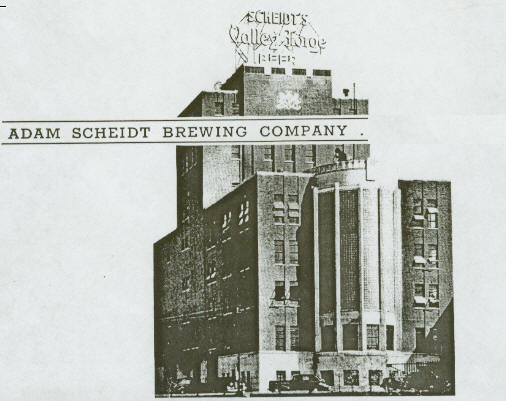 The Adam Scheidt Brewery, circa 1940.

The Bock beer was introduced in 1934 and in 1936 was sold in cans for the first time. It must have been a success as Adam Scheidt kept canning it every Spring until World War II stopped use of beer cans for civilians in 1942. In 1947 cans were back and so was Valley Forge Bock. My can may be from this year. It's hard to tell exactly which year my can was made, because the crucial detail for dating this can is the patent number son the side panel, and those are covered by rust on my can. It'll have to remain a mystery!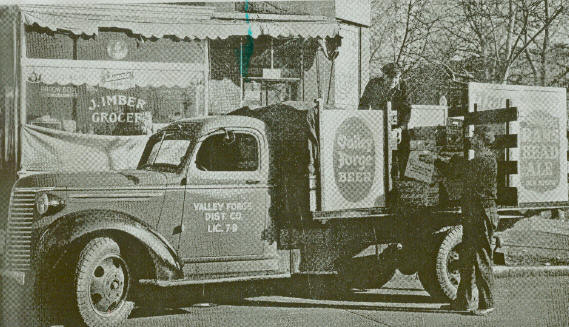 A 1930s Valley Forge delivery truck.

Adam Scheidt made some label changes in late 1949 and again in 1952. They played on the Valley Forge Revolutionary War them for both label changes and even created a "Valley Forge Girl" for advertising, even though some groups such as the DAR objected. Their new can even won a prize for the best new can design at the Brewer's Association meeting in Chicago in 1953. But even though the brewery was doing well, it sold almost 500,000 barrels of beer in 1953, the Scheidt family was split over the direction the brewery should take to compete with the national and large regional breweries. The dispute was settled by selling the brewery to C Schmidt and Sons brewery from Philadelphia in June 1954.
| | |
| --- | --- |
| | The Valley Forge Girl, 1953. She appeared in ads during televised games for the Philadelphia Athletics and Phillies. |

The Slow Decline and End
Schmidt's expanded the plant and updated it, and kept the Adam Scheidt name on the beer, apparently for tax reasons. They produced Schmidt's beer at Norristown as well, under the Schmidt's name, and sales of Prior and Valley Forge dropped to 175,000 barrels in just 5 years. They continued to produce the bock beer during these years as well along with Valley Forge, Prior and Ram's Head Ale. In 1959 they changed the name to Valley Forge Brewing and in 1963 finally to C Schmidt & Sons. The brewery in Norristown was left to grow obsolete and it closed for good on December 31, 1974.
The gold Valley Forge Beer can from the late 1940s. The side panel shows the brewery complex. (return to top)

Brands Produced by Adam Scheidt (pre-1954)

(Brands which were canned are in bold)
Additions and corrections are always welcome! Please email me at
Mark@rustycans.com
Valley Forge Beer
Valley Forge Dark Beer
Valley Forge Special Beer
Valley Forge Double Stout
Valley Forge Bock
Adam Scheidt Bock
Valley Forge Special Bock
Lotos Export
Lotos
Olde Inn Lager
20th Century Ale
Red Tag Lager
Special Pale Ale
Standard Beer
Ram's Head Ale
Prior
Name Changes
Moeschlin Bros 1866-?
John C. White & Co. ?-1870
Charles Scheidt 1870-1878
C&A Scheidt 1878-1884
Adam Scheidt 1884-1890
Adam Scheidt Brewing Company (Plant 1) 1890-1920
Adam Scheidt Brewing Company 1933-1954
Adam Scheidt Brewing Company 1954-1960 (owned by C. Schmidt & Sons)
Valley Forge Brewing Company 1960-1963 (owned by C. Schmidt & Sons)
C. Schmidt & Sons, Inc. (aka Prior Brewery) 1963-1975
Sources Used:

Adam Scheidt Insured An Adequate Supply in Peak Months," Modern Brewery, (June 1934) 34-36.

"BAA Awards Ribbons to Best Sales Aids," Modern Brewery Age (November 1953)

Beer Can Collectors of America. United States Beer Cans (Beer Can Collectors of America: Fenton, Mo)

Chevrolet advertisement, Modern Brewer (March 1939)

Fuller Company advertisement, Modern Brewery Age, (August, 1940)

One Hundred Years of Brewing, 390.

Porter, Robert J. "Pre-Pro Small-Town Brewer Takes on Philadelphia Giants," American Breweriana Journal (March-April 2003) 11-19

Porter, Robert J. "Adam Scheidt Bock Cans" Merry Bocksters Gazette (4:3) July 2005.

"Valley Forge Girl" Modern Brewery Age (April 1953)


Van Wieren, Dale P.
American Breweries II
(West Point, PA., East Coast Breweriana Association, 1995)
Bob Porter's articles are especially useful. This page would not have been possible without them. They contain much more detail than I have on this page, so if you're interested in the Adam Scheidt Brewery please look up these articles. I just used enough info from his articles to whet your appetite!