Valley Forge 'soldiers can' (1949-1952)
This month features not just a particular label, but the story of an individual can. It's a Valley Forge beer dating from between 1949-1952. It's not a rare can, but I love the design.
First, a little background. Valley Forge was the flagship brand of the Adam Scheidt Brewing Company in Norristown, Pennsylvania. I discussed the history of the Adam Scheidt Brewery as part of my August 2005 Can of the Month. From 1935 to 1949 the brewery used a gold can for both their Valley Forge Beer and Rams Head Ale brands (see below). In 1949 the federal government changed how alcoholic beverage were taxed. They no longer had to show a statement on their labels stating that the proper Internal Revenue tax had been paid, what collectors call the IRTP statement.
Most breweries kept the statements on their labels until the deadline date in March, 1950, but a few apparently began the change slightly earlier. Some used the opportunity to do a radical redesign of their labels. Anheuser-Busch was one (see the May 2008 COM). Adam Scheidt was another. Sometime in late 1949 they switched from the gold can to this silver/gray label.
According to Scheidt Brewery expert Robert Portner, the brewery didn't especially like this design.
In the Spring of 1952 they did another redesign, converting to a purple/blue label that won awards at design competitions. As a result, this silver/gray label was used for only about two years, from late 1949 until early 1952.
| | |
| --- | --- |
| | |
| The pre-1950 design | The 1952 design |
OK, that's the background to this particular design. Now, what about this specific can? I dug this can myself in early 2008 near Herndon, Virginia. You find a lot of Valley Forge cans in Northern Virginia. Adam Scheidt's brands sold well in the DC area. The dump that held this can covered most of the 1950s with a few 1960s cans mixed in on top. Some bottle collector buddies had found the dump previously. It was too new for them. They preferred digging some much older sections nearby. However, they knew that I liked to dig cans so one of the bottle guys, Al, offered to take me to this can dump.
There was still a dusting of snow on the ground the day we first visited, a sunny January Sunday afternoon. We parked about a quarter mile away from the dump and walked into some woods about a hundred yards or so. There was an old foundation made of stone, with a stone and brick chimney at one end. This was clearly an old area. You could follow the remains of the original road (maybe "path" would be more accurate) up to the house. All around the foundation were scattered quart conetops and flat tops. I immediately started digging and pulled out several Old German quarts and Valley Forge Bock flats. I was in Heaven! Al was amused by my enthusiasm for a dump that for most bottle diggers is too new to bother with. Still, we had fun digging and it was a nice Sunday afternoon.

I didn't dig very deep in the cans filling the foundation that first trip. I dug a couple test holes but didn't find much. A few weeks later I met another bottle digger, Peter, at the same spot. He wanted to try using my metal detector around the area while I dug into the foundation. I started digging at the end furthest from the chimney. BINGO! I started finding early 1950s cans including a lot of silver/gray Valley Forge beers as well as some Gunthers from Baltimore and a single Ruppert from Norfolk. Whoever left these cans here certainly had brand loyalty. They loved Valley Forge, Gunther and National Bohemian. After awhile they also started drinking Schlitz as mid 1950s Schlitz cans showed up in one section of the dump. I took home a few dozen cans to clean including numerous Valley Forge flats.
| | |
| --- | --- |
| | |
| The pile of cans in the foundation. | Some cans set aside to take home, including Valley Forge flats. |
So, how did the featured Valley Forge can get here? Let's trace its journey. I've added photos when appropriate.
Well, first it had to be produced by the brewery (natch). In the early 1950s Adam Scheidt added a new, high speed canning line. The can has a Virginia tax stamp on it which was added at the brewery so it was part of a batch made for shipment to Virginia. As I noted earlier, the DC area, including Northern Virginia, was a strong area for sales of Valley Forge.
| | |
| --- | --- |
| | |
| Adam Scheidt canning line, 1952 | A can showing the Virginia tax stamp |
The can, once boxed in a cardboard case, probably traveled by rail or semi-trailer truck to Virginia. If it came by rail it may well have come through Leesburg, Virginia, which isn't too far from Herndon and was an important local rail center. Otherwise it probably came into DC first. From there it went to a local distributor and the distributor would have taken it to a local store to be sold. Herndon was a pretty small town in the early 1950s so it's a reasonable guess to say it was probably sold in a small country store. (They could have also purchased the beer from a store in Sterling, which is near Herndon.)
Once in the store, how much did it sell for? Well, we can't say exactly, but judging from the grocery ads of the period, it probably would have sold for between $2.25-3.00 a case or 20-25 cents for two individual cans (bargain beers sold for less). It could have been sold by individual can, by the six pack or by the case. Given the number of cans in the dump where I found this example my guess would be it was purchased by the individual can or in a six pack. Refrigerators were much smaller in 1950 than they are now, so a six pack would have been plenty to keep cold at one time. Given that Herndon was in rural Virginia in the 1950s it's even possible that the person who bought the beer used an actual ice box.
If the can was purchased in a grocery it was likely purchased by a woman as most grocery shopping was done by women. Beers were often marketed to women in the period because brewers knew that much of their product would be bought by housewives doing the weekly grocery shopping.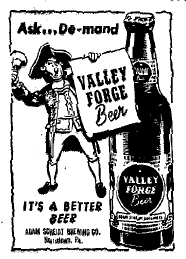 The dump as a whole seemed to be a rural household dump. There were food cans in with the beer cans, bottles, and liquor bottles. There were also a fair number of oil cans, although not enough to make me suspect this was a gas station dump. Gas station dumps also tend to have a lot of soda cans and bottles and this dump did not. There was also not much in the way of kid's items. Household dumps from homes with children seem to normally have broken toys, baby food bottles or cans, etc. As a result, I think this was a household dump from a family of adults. Were they young adults (pre-children) or older adults (with no kids or kids that were grown)? There is no way to tell, but there was a broken china statue in the dump stamped on the bottom "Made in Occupied Japan." This suggests that the man of the household may have been a World War II veteran.
What about the race of the person who bought the can? There is no way to tell, but Adam Scheidt did produce ads aimed at African-American customers, so the person who drank the beer in this month's can could have easily been black as well as white. Given that this is early 1950s Virginia they would have lived in a segregated neighborhood.
Once the can was empty it was simply tossed away. The foundation where the dump was located was made of uncut stones so it was already old by 1950. The person who drank the beer probably lived nearby and used the empty foundation as a convenient dump site. Judging from the cans and license plates in the dump they started using it around 1951 and continued dumping trash into the hole until the late 1950s. In the late 1960s someone else used the same hole, tossing in a few bags of trash. The plastic bags ended up protecting some of the older trash underneath the bags. There are signs of other homes nearby but they also seem to be from the 19th century or even earlier. However, so much of the immediate area is developed that any neighboring homes from the 1950s are long gone.
So, what do we have as a likely scenario? A rural housewife did her weekly shopping in a small local grocery. That night she made dinner for her husband. Afterwards they relaxed and listened to the radio which carried news about President Truman, the war in Korea and how it might affect the election. Maybe they listened to a popular local radio quiz show, "A Quiz of Two Cities." He read the local paper which carried stories about the war as well as Senator McCarthy in nearby Washington, DC. On the sports page the New York teams were dominating baseball again and the local Washington Senators were doing lousy as always. On the comics page Dick Tracy was fighting Crewy Lou and Sphinx. "Peanuts" has just started its long run.
Afterwards the can was tossed into a small trash barrel. When it got full the man carried it a short distance, maybe a few hundred yard at the very most, and dumped its contents into the foundation of a house that was long gone. The original house had been abandoned and had fallen in years before. He could take his garbage to the county dump but this was easier and no one minded. The paper and any food trash would soon decompose and turn into the soil that covered the cans. By the end of the decade the man stopped tossing trash into the foundation. Perhaps he moved or passed away. Maybe the county started trash collection where he lived. Little did the couple realize that almost 60 years later a middle-aged beer can collector would pull the can out of the dirt and shards of rust and broken glass, wash it off, soak it in citric acid overnight, and put it proudly on his shelf.
The view inside the foundation.
Sources Used
"One of World's Largest Beer Canning Machines..." Brewers Journal (July 1952)
"More Brewers Adopt 'New Look' in Labels" Modern Brewery Age (June 1952)
[Photos of Prize-Winning Cans] American Brewer (December 1952)
"Smart New Eye Appeal for Valley Forge Beer" Brewers Journal (July 1952)
Thanks to Jeff B. for the nice comments and for the suggestions about the couple's age.
Also, thanks to Al and Peter for showing me this dump, and for the land owner for giving us permission to dig it.