Christian Heurich Brewing Co. letterhead, circa 1950.
You can see the short bio of Heurich I wrote in 2011 for the German Historical Institute at their site. (opens new window)
My book on Heurich is coming out in the Fall of 2017. See my Heurich book page for more information.
The Brewery Begins
Christian Heurich emigrated to American from Germany in 1866 having learned the brewing trade as an apprentice to innkeepers. After coming to the US, he worked in several breweries and spent time on a ship captained by his brother-in-law, all the while learning English. In 1872, he and a partner purchased the old Schnell Brewery and Tavern in Washington on 20th Street NW between M and N Streets. Heurich soon bought out his partner's share in the business and expanded the facility, often working 18 hour days to fill the demand for his beer. It was so popular he was forced to use a waiting list for his customers. Initially Heurich lived at his 20th Street brewery with his first wife (he was widowed twice before his third marriage), a female servant, a nephew and assorted brewery employees. It was common in the period for factories to have living quarters for the owner and the owner's family as well as for unmarried employees.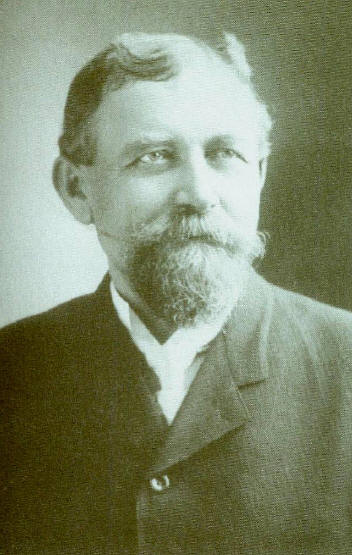 Christian Heurich.
However, growing prohibitionist sentiment in the anti-saloon movement increased pressure on Heurich to close his facility on 20th Street. Breweries at this time often had exclusive relationships with particular saloons and if one of these saloons was disreputable, particularly unclean, violent, or harbored prostitution, then that saloon's reputation would rub off onto their 'home' brewery as well as on all the breweries in the vicinity no matter their business practices. I should note that there is no evidence that any saloons associated with Heurich had bad reputations, but by extension criminal saloons affected the reputations of all local breweries. Throughout the late 19th and early 20th centuries, the anti-saloon movement continued their campaign and prohibitionists in D.C. remained a strong lobby putting pressure on Congress to end the production and sale of alcoholic beverages in D.C..
Around 1898 the Department of Agriculture investigated the beers sold in Washington for adulterants.* Knowing that his beer did not contain any, Heurich pressured Congress to publicly release the report. Once Congress had done so, Heurich was able to advertise "Heurich's Beer is Absolutely Pure" and he became a proud backer of the law that became the Pure Food and Drug Act of 1906.
*(Adulterant: an impure, cheap, or unnecessary ingredient to cheat, cheapen, or falsify a preparation. See more at enotes.com )
Heurich Brewery in 1883.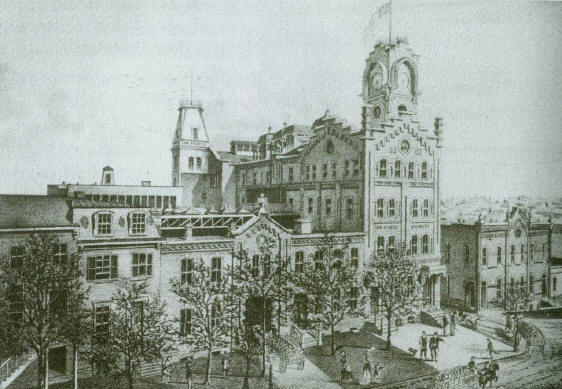 Expansion
Pressure from local prohibitionists on Christian Heurich to close or move his brewery came to naught. He remained on 20th Street. However, in 1892 a fire caused by an explosion in the malt mill swept though the structure. This was the third accidental fire since 1875, the previous ones being started by a chimney spark and by a worker smoking in the stables. Enough was enough and Heurich decided to build a fireproof facility. In 1894, workers started construction on a new, larger brewery by the Potomac River at 26th and D Street. The new brewery was completed in 1895 with a capacity of 500,000 barrels annually with an ice plant that could make 250 tons a day. While the new brewery buildings were being built, the old facility was used to age the beer previously brewed until it was ready for sale, thus reducing the disruption in business. Once the new brewery was ready, the original one was abandoned. In 1897, Heurich added a bottling operation to the new plant. In 1914, the old ice plant was turned into storage and a new ice plant was constructed. Heurich produced 'can ice' intended for ice companies to deliver to homes, and 'plate ice' which was meant for large commercial refrigerators.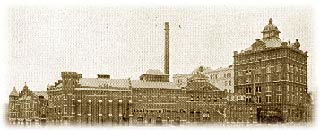 The Heurich Brewery, Built in 1894.
At the same time Heurich was building his large brewery, he also had a large mansion built in the Dupont Circle area of Washington, D.C. Constructed of concrete and steel, it was Washington's first fireproof house. Heurich lived in the 31 room house with his third wife, their kids, and household servants. The unmarried women servants, all German, lived on the top (4th) floor. African-American servants lived with their families in the black neighborhoods of segregated Washington. Heurich lived in "The Brewmaster's Castle" until his death in 1945. (The home was repurchased by the Heurich family, and is open for tours to the public: Heurich House Website)
Prohibition
In 1918, Prohibition was instituted in Washington as a wartime measure to save grain for food needed for the war. Heurich had prepared for the coming of Prohibition and had purchased $10,000 worth of apples in order to produce an alcohol-free apple cider drink. Something went wrong with the pasteurization process, however, and the cider fermented, leaving Heurich with more hard cider, about 90,000 gallons, than he could sell while it was still legal to sell alcoholic beverages. The day before national prohibition started, in January 1920, Heurich was given permission to sell as much of his stock as he could. He sold about one third of his stock even without delivery service, some of it going to the White House (President Woodrow Wilson was not a Prohibitionist although some of his cabinet members were.) During Prohibition, which lasted until 1933, the brewery stayed in business producing ice and for many years won the contract to supply the US Congress and the US Supreme Court with their ice.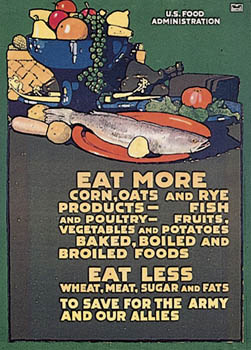 World War One poster asking U.S. citizens to save food including grain.
Rebirth
In March 1933 the Volstead Act was replaced and it became legal to make and sell 3.2% beer. In December 1933 the 21st amendment to the Constitution repealed the 18th Amendment and it became legal to make and sell higher alcohol beverages again. Heurich originally planned not to return to the beer business but the tremendous demand for beer --even though the only legal kind had only 3.2 percent alcohol --convinced him otherwise. There had been five breweries operating in Washington when Prohibition began, but only Christian Heurich and the Abner-Drury Brewery reopened and the latter only lasted two years. Apparently the Abner-Drury brewery rushed their beer to market and sold it while it was still "green" and so quickly gained a reputation for selling bad beer! Heurich dumped the hard apple cider he had stored through the dry years in order to free up space for 3.2 beer. He had hoped to sell it, but the only offers he had received were from vinegar companies and Heurich had too much pride to see some of his product, even cider, turned into vinegar.
Heurich began canning beer, probably in about 1939, starting with their flagship brand Senate Beer along with Senate Ale and, seasonally, Senate Bock. In 1940 there cans had "75th Anniversary" on the side. This was part of the celebration not of the brewery's 75th year in business, but of their founder's 75 years working as a brewer! These 75th Anniversary cans are very difficult to find. At about the same time the brewery finally stopped selling ice, which had kept it in business during the Prohibition years. Christian Heurich remained in charge at the brewery, celebrating his 100th birthday at his office in 1942. He died in 1945 at age 102, having continued working until about a week before his death. His son, Christian Heurich Jr., took over as Chairman.
| | |
| --- | --- |
| | |
| Senate Beer label from the early 1940s. | The Heurich bottling line in 1939, click to see larger version. (96 KB) |
The Last Years
Senate Beer was available in cans again in the spring of 1947 as wartime restrictions on the use of metal were lifted. Shortly thereafter Senate made a small change to their blue labeled can adding the words "Extra Fine" to the top. This design did not last long and was quickly replaced by a white can with a blue oval on the front. A brewery worker's strike followed by the accidental release of a bad batch of beer had damaged Senate's reputation so the can design was jazzed up. The initial white label soon had a small "250" added above the oval. (see photos below) The "250" didn't mean anything but somebody in marketing decided "Senate 250" sounded better than plain old "Senate."
The Senate brand never really recovered its reputation, however, and the brewery began pushing another brand called "Old Georgetown" introduced in 1947. This new brand became a popular seller. By the early 1950s, when the Old Georgetown pictured further down on this page was made, the brand was being sold by about 2,000 outlets in D.C. and another 1500 in the suburbs. They also launched an extensive radio campaign. (see this history of this effort on its own page.)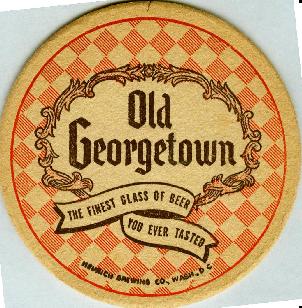 Old Georgetown coaster.
Christian Heurich Brewing was still making a profit, but could not fend off encroaching competition from national companies such as Budweiser, Schlitz, and Pabst, as well as breweries in Pennsylvania and Maryland that took advantage of Washington's low taxes to dump cheap beer on the DC market. Heurich requested that outside breweries be required to put a special tax-paid cap on their bottles and tax stamp on cans sold in DC. Heurich had to put such markers on their product in other states, including neighboring Maryland and Virginia. The U.S. Congress, which controls D.C., refused.
Sales had peaked in 1945 at about 200,000 barrels, boosted in part by the legion of war workers that flooded into DC from 1942-1945. Sales in the decade after the war went up and down. Heurich tried different strategies to increase their sales. They sponsored Washington Senators games on radio and TV for years, as well as local industrial league baseball and basketball teams. They also began planning to build a new, more modern plant in D.C. off of 1st Street between Q, R, and S Streets in Southwest. Promoting Old Georgetown helped and in 1954 sales began to climb. In 1955, they introduced Heurich's Lager. It quickly became a best seller, but the brewery was still losing ground to the big national brands. In January 1956, the board decided to close the brewery before they actually began to lose money.
| | |
| --- | --- |
| | The planned new Heurich brewery, artist's conception. It's not a great image because it's a scan of a photocopy of a microfilm copy. From an undated article in the Washington Post, apx. 1950. |
The old brewing buildings remained standing for six more years. A wax museum and a theater company used some of the facility. In 1962, it was torn down to make room for entrance ramps for the Theodore Roosevelt Bridge and for what became the Kennedy Center. Christian Heurich had built his brewery well; however, as attempts to use dynamite to knock down the walls was only partially successful. The ice house had a foot of cork between the walls for insulation, and they had to finally be destroyed with a wrecking ball. In the 1990s, Christian Heurich's grandson opened a micro brewery in D.C., continuing his family's business. Alas, it closed in 2006.
| | |
| --- | --- |
| | The Teddy Roosevelt Bridge being built over the site of the Christian Heurich brewery. |
Heurich Brewing and the CIA
What does the Central Intelligence Agency have to do with Heurich Brewing? From 1947 until 1963 the CIA was using several office building across the street from the brewery. One day about 1953 or so, Christian Heurich Jr. saw a bunch of people standing in the rain, waiting for a bus and looking miserable. He asked one of his staff who they were and was told they were CIA employees waiting for the bus. The next day the brewery's carpenters went across the street and built, free of charge, a bus shelter. The brewery did get some marketing in, however. The benches they installed had "Old Georgetown" beer ads on them!
Brands of beer produced by Christian Heurich Brewing. Brands which appeared in cans are in italics.
Home Brew
Champion
Boxer
Capital
Champeer Malt Liquor
Heurich's Lager
Old Georgetown Ale
Old Georgetown Beer
Old Georgetown Bock Beer
Maerzen
Senate Bock
Senate Beer
Senate Ale
Some of the Heurich cans.
| | |
| --- | --- |
| | A really NICE Senate sign from the 1940s with two of the cans. |


Pre-World War II (all IRTP)
Senate Beer blue can
Senate Beer blue can 75th Anniversary
Senate Ale brown can
Senate Ale yellow can 75th Anniversary
Senate Ale yellow can (? possible post war?)
Senate Bock green can
Senate Bock brown can 75th Anniversary

Post World War II (IRTP)
Senate Beer blue can*
Senate Beer blue can "Extra Fine"*
Senate Beer white can (1948)
Senate Beer white can "250" (1949)
* I base these dates for these two Senate cans on dumping experience, having found them in post war dumps, as well as from newspaper advertisements of the time.

Post March 1950 (non IRTP)
Senate Beer white can "250"
Senate Bock (green can)
Old Georgetown small label, red in compass.
Old Georgetown small label, less red in compass
Old Georgetown large label, red in compass.
Old Georgetown large label, less red in compass
Christian Heurich Lager (1955)

Photos

The first Old Georgetown can circa 1950. This is not the can from my collection, alas. I have one but not in as nice a condition. (USBC 106-15)

Old Georgetown: circa 1951-1955. (USBC # 106-16)

I also have a Can of the Month page featuring Old Georgetown.

Christian Heurich Lager from 1955.

Senate Beer from early 1940s.

A tough Senate can from 1948. They only made cans with "Extra Fine" at the top for a short time.
A white Senate Beer can from the late 1940s, I dug this one myself. I have since upgraded it.
A Senate "250" Beer from the early 1950s. See my October 2008 Can of the Month.
A 1940s Senate Ale can, a very tough can.
INFORMATION WANTED:
I have begun my research for a book on the Christian Heurich Brewery. I would love to talk to anyone connected to the brewery, especially former brewery workers, salespeople, etc. If you have memories of the brewery and its beer, or information you wish to share please contact me.
Sources Used:
Beer Can Collectors of America. United States Beer Cans (Beer Can Collectors of America: Fenton, Mo) 106.
Brinley, John. "Old Heurich Brewery to Close January 31," Washington Post. January 10, 1956.
"Christian Heurich Celebrates 100th Birthday--at Work," The (Washington) Evening Star. September 12, 1942.
Clark, Norman H. Deliver Us From Evil: An Interpretation of American Prohibition. (New York: W.W. Norton, 1976)
Dingle, Mona E. "Gemeinschaft und Gemutlichkeit: German American Community and Culture, 1850-1920," in Francine Curro Cary, ed., Washington Odyssey: A Multicultural History of the Nation's Capital. (Washington, D.C., Smithsonian Books, 1996) 113-134.
Dorsch, Jim. "The Heurich Family: Washington's Hometown Brewers," The Collector Cafe.
Evans, Richard F. "The 19th Century High-Tech Systems of Christian Heurich's Mansion" Washington History. 8:1 (Spring/Summer 1996) 38-53.
"Fire in a Brewery," Washington Star. July 23, 1892.
"Heurich Brewery Opening Planned," Washington Star. March 30, 1933.
"Heurich Moves Against Trend" Washington Post. April 7, 1955.
Heurich, Gary. "The Christian Heurich Brewing Company, 1872-1956," Records of the Columbia Historical Society of Washington, D.C. 1973-1974 Francis Coleman Rosenberger, ed. (Charlottesville: University Press of Virginia, 1976) 604-615.
"Heurich Will Start Brewing in Ten Days," Washington Herald. April 16 (?) 1933.
Ingold, Gene. "D.C. Brewery's Rise Followed Lowly Start" Washington Times-Herald, November 1, 1953.
Kennedy, George. "Old Heurich Brewery Going Out of Business," Washington Star. January 9, 1956.

Kitsock, Greg. "Christian Heurich Brewing Company: Part 2, the Canning History," Beer Cans Monthly February 1982 (1:12) 8-10.

Lender, Mark Edward and James Kirby Martin. Drinking in America: A History. revised and expanded edition. (New York: The Free Press, 1987) 124-132.
Maxwell, J. W. "Times and a Bridge Close Old Brewery," Washington Daily News. January 10, 1956.
Morrison, Julian. "Dynamite Crumbles Ice House (Mostly)," Washington Daily News. November 23, 1961.
Pierce, Charles D. "Heurich's Faces Wreckers: Another Landmark to Vanish," Washington Star. February 21, 1962.
Remick, Bruce. "Christian Heurich Brewery" Beer Can Collectors News Report Sept.-Oct. 1978 (8:5) : 23-26.
Rubincam, Milton. "Mr. Christian Heurich and His Mansion" Records of the Columbia Historical Society of Washington DC, 1960-1962. (Washington DC, 1963) 167-205.
Van Wieren, Dale P. American Breweries II (West Point, PA., East Coast Breweriana Association, 1995) 60.
Wilson, Earl. no title, Washington Post, no date (apx 1950).
The newspaper articles came from the 'Brewing' and "Christian Heurich" files in the clipping collection of the Washingtonian Room, Martin Luther King Public Library, Washington D.C. Not all clippings in the file had the date and page number on them.

Thank you to the staff of the Washingtonian Room in the MLK Library and to the library staff of the Washington City Museum for their kind help.

Heurich House: The Brewmaster's Castle: I can't recommend this site enough to anyone interested in brewing and who is in or near Washington DC! They give great tours and the house may be rented for events. It is the most intact Victorian house left in the United States.