Christian Heurich on the Radio!
My book on Heurich is coming out in the Fall of 2017. See my Heurich book page for more information.
"It's noon in our nation's capital, and this is your Senate Beer reporter with a roundup of the news to the moment...world-wide, national and local. . . presented by the Christian Heurich Brewing Company, makers of extra-fine Senate Beer-now, better than ever."
Six times every weekday over WMAL radio in the late 1940s and early 1950s these words, with some timely variations, greeted the people of Washington, D. C. and its suburbs in Maryland and Virginia. At 7:00 a.m., 12 noon, 4:30 p.m., 6:00 p.m., 11:00 p.m., and at midnight every day Monday through Saturday, Senate news was on the air and Senate Beer reporter Ken Evans was assigned the task of presenting the Heurich message along with last-minute news and a comprehensive roundup of sports events. In Washington, D. C., every advertiser faced problems peculiar to the market. The city was (and still is) one with a large transient population. Government workers come and go in a steady stream. Businessmen make visits to check government regulations and proposals first hand. Even in 1947 there were on average 5,000 government job openings in and around Washington every day. Of course the city is also filled with tourists, especially in Spring and Fall in those pre-air conditioning days. Most of these people, if they were beer drinkers at all, arrived in D.C. with no knowledge of Heurich Brewing's products, which were distributed principally within a limited range including the District, Maryland and Virginia. Heurich's problem was to acquaint them as soon and as favorably as possible with Senate Beer and Ale as well as Old Georgetown. As a result, the brewery had a very large advertising budget, as large as those used by much bigger breweries.
Ken Evans &

Gail of "Tips and Tunes"
While Heurich's advertising centered on newspapers as well as POS (point of sale) advertising, they also created an extensive radio campaign. Beginning with their news program noted above, in November 1947, the Christian Heurich Brewery added a battery of other programs to creating what was then one of the largest radio campaign ever offered on the air. In addition to the blanket news coverage on WMAL, Senate added 12 shows a week on station WRC, a National Broadcasting Company outlet which at the time was considered one of the leading stations in the country. As a result, Christian Heurich reserved for itself a generous portion of a very large listening audience. The brewery created a variety of programs designed to appeal to numerous types of customers and they tailored their commercials to fit each specially-built show.
For the morning audience, composed at the time chiefly of the housewives who generally were responsible for the family's grocery shopping, there was a Monday, Wednesday and Friday show called "Tips and Tunes." It starred a woman known simply as "Gail." She gave a recipe on each program for a dish like spaghetti sauce, Welsh rarebit or anything else that would go with beer, hopefully Senate. Each show started with popular music and at the end of each program they gave a phone number for anyone who wants the recipe of the day repeated.
In the early afternoon every Tuesday and Thursday Christian Heurich sponsored Ripley's "Believe It Or Not." Timed so it came on the air just before the most popular soap operas, this spot was appropriate to reach the at-home audience. Commercials for Senate Beer were featured at the beginning and end of the program with the slogan "Better buy extra-fine Senate Beer -now, better than ever." The ads included facts about the brewing industry such as the brewer's exclusive use of female hops which fit the "Believe It Or Not" theme.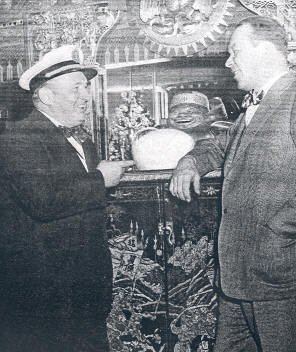 Ripley shows off some Chinese art to Christian Heurich, Jr. Circa 1947.

At 6:30 p.m. on Mondays. Wednesdays and Fridays Heurich aimed at a dinner-time audience with a ten-minute show titled "Senate Serenade" After a brief sign-on, the program featured three recorded musical numbers. The show had a pianist on Monday, a singer on Wednesday and a small orchestra on Friday. Nothing interrupted the music except an eight second reminder between records of an announcer reading something fitting a dinner crowd such as "Senate Beer with curried shrimp, delicious! Better buy Senate Beer -now better than ever." On Thursdays from 7:30-8:00 p.m. on WRC Senate sponsored "The Sweetest Music This Side of Heaven" by Guy Lombardo. Commercials were carefully integrated into the show by checking each record beforehand so that the entire show seemed tailored to order for Senate Beer. The show was intended to induce the customer to associate smooth music as being just like the product it advertised. Finally, at 1l:15 p.m. Mondays, Wednesdays and Fridays, Senate presented the news on WRC with Morgan Beatty. Commercials were geared to the program's pace by featuring the history of Washington and the part played in that history by the Christian Heurich Brewing Company.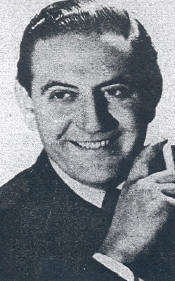 Guy Lombardo (l) and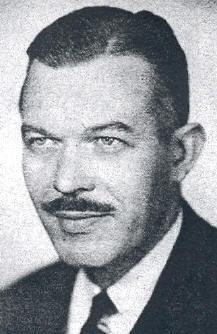 Morgan Beatty (r).
Besides these regular show, the brewery created "specks" which were ten to fifteen-word announcements like the ones used on "Senate Serenade." Ten of these quick mini-advertisements were broadcast every weekday on a third radio station, WOL, which at the time was on the Mutual network. They were carefully placed next to the highest-rated programs, especially mystery and sports shows. Finally, Senate Beer had minute-long spots on another local station. WINX. These ads were strategically placed to fill out all all-around radio schedule.
INFORMATION WANTED:
I have begun my research for a book on the Christian Heurich Brewery. I would love to talk to anyone connected to the brewery, especially former brewery workers, salespeople, etc. If you have memories of the brewery and its beer, or information you wish to share please contact me.