Esther's Lil Secret: December 2016 COM
This month I want to highlight a trend among the many micro brewery cans coming out that I rather like, their use of local landmarks and other local items to appeal to their home audience. In this case I am going to show on one from my hometown, Dayton, Ohio. (West Carrollton Pirates!)
Warped Wing is a brewery in Dayton that is somewhat prolific in issuing new 16 oz cans. In late 2014 they partnered with Esther Price Candies to produce a Scotch Ale with caramel. Each year since they've created a different product. In 2015, the year this month's can came out, it was a Milk Chocolate Brown Ale. In 2016 it's a Chocolate Peanut Brittle Porter. It's a nice example of tying a brewery's products to the local community. You see this a lot with the new smaller breweries. The Dayton Beer Company has brands such as Oregon Alley after the city's Oregon District. Here in Washington you have DC Brau's political-themed cans with the US Capitol dome on the label, and Atlas Brewing's 1500 after the address for the National's stadium. In Baltimore, Raven Beer plays on the city's connection to Edgar Allan Poe, and Brewer's Art in the same city has brands such as Bird House (the Orioles) and Charm City Cherry (after Baltimore's nickname, Charm City.) There are examples of this all over the country and it makes for some nice cans for local collectors.
It's not a new tactic, but one that has been revived as micros compete for market with the old, established giant nationals. Before the late 1970s and the domination of huge brewers including Anheuser-Busch, Miller, and Coors, small brewers often tied their products to local pride. Occasionally it included naming a beer after a local landmark or some other such spot, such as Adam Scheidt's Valley Forge, or Louisville's Fehr's showing race horses on their can. In DC Christian Heurich used this tactic a lot. His Senate Beer was the flagship brand from the 1890s until the late 1940s, when it was replaced with Old Georgetown. In 1941 as DC's population grew with new federal employees Heurich ran an advertising campaign showing someone from another part of the county exclaiming "I'm a real Washingtonian Now!" because they now drank Senate. Each week the ad featured someone from another part of the country; the Far West, Dixie, the Middle West, New England, the Coal Belt, etc. (see sample below. Click to enlarge).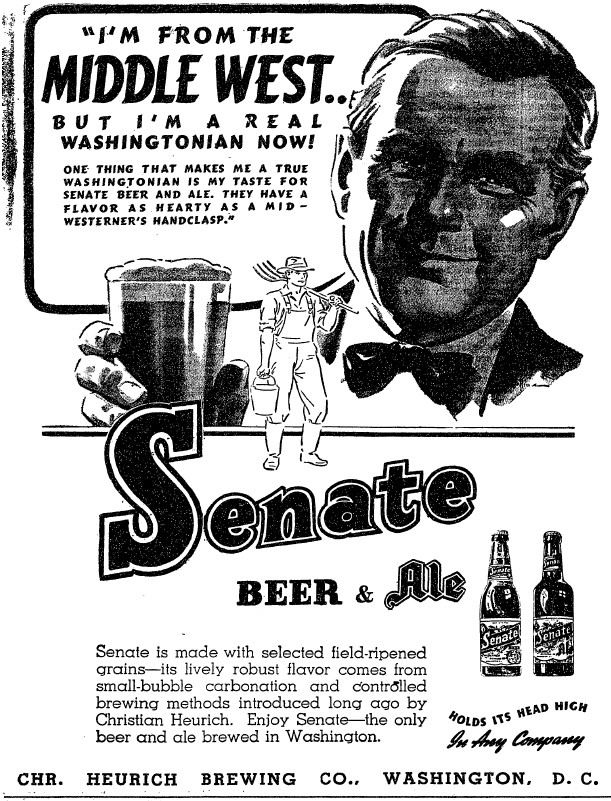 Other breweries tried tactics such as paying their employees in silver dollars (this was pre-1964 coinage change) so that as they spent the money around town it would show how important the small local brewery was to the local economy. In each case--ads, brand names, emphasizing their local payrole--the idea was to try to insulate the small local company from the market pressure exerted by the huge nationals. Few of the non-giants survived, which suggests something about the effectiveness of this tactic. Hopefully it'll be more successful with the micros.
You can read more about Warped Wing on the page I have set aside for just their cans.
Esther Price
Esther's Lil Secret also represents another trend among micros. Their ability to make and sell smaller batches of their product allows experimentation with all sorts of interesting combinations and flavors. Ms. Price began making fudge as a kid in the 1910s, and when she went to work at a local department store (Rikes? Elder-Beerman?) made candy for co-workers. In 1926 she began making candy to sell out of her home and in 1952 opened her first store in Dayton, on Wayne Avenue. She sold the company in 1976, but it continues using her recipes. It's still a very popular brand in the area, sold throughout Ohio and several lucky neighboring states.
Links
Links each open a new window.