Fehr's Crowntainer, circa 1940.
Fehr's crowntainer, both sides and front and back.
This is a very cool crowntainer. I dumped a very rough example of this can on family land near Campbellsville, Kentucky a few years ago. I picked this one up on eBay. It's not a rare can, but it's a very neat design.
Frank Fehr Brewing: 1876-1964

Pre-Prohibition
Frank Fehr was a native of Alsace (a section of western France with heavy German influence) in 1844. (Alsace info) He moved to the US in 1862, living first in Baltimore then in Chicago where he worked for a brewery. He also worked for a brewer in Cincinnati and then for Peter Weber's Madison Brewing Company in Madison, Indiana on the Ohio River about 1/2 way between Cincinnati and Louisville. In 1872 he leased the Gerhardt Otto's old William Tell Brewery in Louisville on what is now Liberty Street. He and his partner, Otto Brohm, were apparently quite successful as production increased from just under 600 barrels a year to over 12,000 in just 12 months. When fire destroyed the brewery in 1876 Fehr bought the site and built the City Brewery and continued to increase production. Frank Fehr (read more offsite) died in 1891 and John F. Kellner took over as president. Frank Fehr Jr. was a vice president and became president of the brewery in 1909.

By 1901 Fehr's was Louisville's biggest brewer and joined four other Louisville breweries to form the Central Consumer's Company which lasted, at least on paper, until 1933. By 1903 they were producing over 100,000 barrels a year making Fehr's one of the region's biggest brewers. Frank Fehr Jr. was also sponsoring horse races at Churchill Downs, running for the "Frank Fehr City Brewery Purse." In 1902 he was one of a group of buyers who purchased the failing race track and saved it from financial ruin.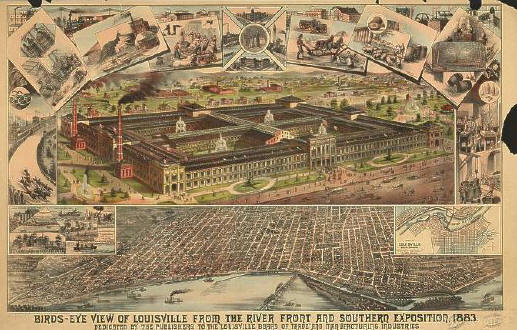 Fehrs started producing their signature brand Fehr's XL (Excellent Lager) in the early 1880s and won gold medals at Louisville's Southern Exposition ( read more offsite about the Southern Exposition) from 1883-1887. They continued to emphasize the "XL" as their signature brand until well into the 1950s. Pre-prohibition sales peaked sometime before 1910 at 234,000 barrels. However, sales began to decline because Fehr's was marketed primarily in the South, and that region began going dry well before national prohibition. Alabama and Georgia went dry in 1908, Mississippi in 1909, Arkansas and Indiana (the latter another major market for Fehr's) in 1916. Texas followed in 1918. As a result, the other members of the Central Consumer's Company began to close their doors, the last of Fehr's four partners was turned into a cold storage plant in 1919. When prohibition officially started in 1920 Fehr's tried, like so many other brewers, to get by on making near beer and soft drinks. The brew house was destroyed in a 1923 fire and the brewery was closed for a time. In 1929-1933 Fehr's used one of the leftover Central Consumer's Company plants as as a mushroom growing facility!


| | |
| --- | --- |
| | |
A Fehr's tray I own, and a close up of the logo. I believe it shows King Gambrinius (read more offsite), the patron saint of beer, giving a glass of Fehr's XL to Columbia (read more offsite), the goddess of liberty and a traditional symbol for the United States. The tray is probably pre-prohibition.

Post-Prohibition
Fehr's refitted its Liberty Street facility when Prohibition ended and opened in September 1933 taking its place as one of the large regional breweries. The company lost money until 1941, but then began showing a profit. In August 1940 Fehr's made the jump to using cans. Their first can was a
j-spout
featuring race horses, a natural for a company with close ties to horse racing. Moreover, Fehr's had already been marketing their bottled beer since 1935 with a label featuring race horses. When Crown Cork and Seal, the company that made j-spout cans, switched to making
crowntainers
, Fehr's also made the switch, and issued a crowntainer with race horses going around the can. I was thrilled to find one on a cousin's land in Kentucky in 2001. The j-spout is common as a mug, apparently the company gave them away as an extra with kegs of their beer.
Fehr's sales peaked in 1949 and it was the largest selling brand in Kentucky and Indiana. However, the brewery was under the same intense pressure from the big nationals as was every other small or regional brewer in the country. Also, Fehr's made the decision to push a new brand called "Liquid Gold" which ended up eating into the sales of their flagship brand, Fehr's XL.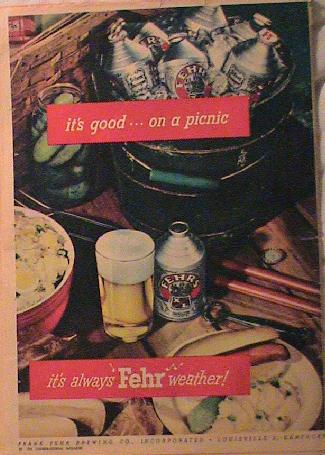 A Fehr's advertisement from 1951 featuring the crowntainer.
Note the slogan that is both on the can above and on the ad, "It's Always Fehr Weather!" .


The story of Fehr's Brewing will be continued!
| | |
| --- | --- |
| | Note: I changed this COM in April 2007 to feature the "horse racing can, which i always liked better. The original COM for this month was this cans. |
GAR Fehr's Souvenir Item?
This small scroll was found in an estate in Louisville. It may have been a give-away from Fehr's at the 1895 GAR (Grand Army of the Republic) Encampment in Louisville. If anybody knows more about this object, please email meat Mark@rustycans.com. I don't own it, but the owner asked me to help identify it. Thank you.
The scroll outside. It's very small (see finger tip at left of picture)

The scroll unrolls to reveal this list of battles from the Civil War. That's Fehr's picture in the center.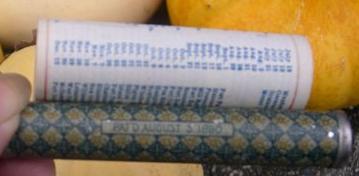 Frank Fehr Brewing: Name Changes and Predecessors
Otto Brewery ???-1872
Otto Brewery (Frank Fehr) (430 East Green Street) 1872-1876
Frank Fehr (Old Brewery) 1876-1890
Frank Fehr Brewing Company 1890-1901
Frank Fehr Brewing Company (new location at 412/425 Fehr Ave) 1901-1918
Frank Fehr Brewing Company 1933-1964


Sources Used:

Thank you to "Halla" for the correction!

Beer Can Collectors of America. United States Beer Cans. (Beer Can Collectors of America: Fenton, Mo) .


Beer Can Collectors of America. Catalog of American Beer Cans. (1993) .


Guetig, Peter R. and Conrad D. Selle. Louisville Breweries: A History of the Brewing Industry in Louisville, Kentucky New Albany and Jeffersonville, Indiana. (Mark Skaggs Press, 1995) 84-104.


Kious, Kevin and Donald Roussin. "Horse Racing and Beer" Pt 2. Beer Cans and Brewery Collectibles (August-September 2002)


Van Wieren, Dale P. American Breweries II (West Point, PA.: East Coast Breweriana Association, 1995) 123.