National Bohemian "Colt" (circa 1960)
This month's can is a 7 oz flat top aluminum can from Baltimore. I thought it'd be appropriate for football season. It's a "Colt" from National Bohemian celebrating the Baltimore Colts. I especially like the 'colt' with a football on the front.
National Bohemian and the Baltimore Colts
National Brewing, like breweries all across the US, sponsored local sports teams as a form of advertising. Washington DC rival Christian Heurich sponsored the Senators through 1955. They closed in early 1956. Local rivals Gunther sponsored the Orioles until they were bought out by Hamms in 1960. But National was not shut out, they advertised with the Colts, the local football franchise, and the Bullets, then Baltimore's basketball team. They began their relationship with the Colts in 1953, selling tickets to games via the radio and TV shows the brewery sponsored. In 1955 they signed a five-year deal as the team's sponsor on radio and TV. They also produced a team film to promote the Colts in 1956, "Corralin' the Colts."
In 1959 they signed another five year deal to sponsor the Colts on TV and radio and in September of that year they introduced "the Colt", a 7 oz bottle of their beer. In 1960 they introduced the 7 oz flat top aluminum can. Coors had developed the 7 oz aluminum can and Gunther used one as well.
I was told this by a buddy who worked for the ATF in the DC-Baltimore area,
Old timers have told me that the 7 oz. Gunther's aluminum cans were popular
in bars because they were cheaper by the ounce than 12 oz cans (imagine
$0.50 for a 12oz and $0.25 for a 7 oz). I don't know if this was also the
case with the Colt cans.
Interesting! Thanks Charlie....
The Baltimore Colts
The history of the Colts is long and complicated for a website dedicated to beer cans so let's cut to the chase: the Colts team sponsored by National Brewing started in Baltimore in 1953. In 1958 and 1959 they won back-to-back NFL championships beating the New York Giants both times. From 1960-1963 they were basically a .500 team due to injuries and aging players. They were contenders again in 1964-1965 reaching post-season play both years. During the late 1950s and into the 1960s they starred Hall of Fame QB Johnny Unitas. In other words the team was good enough that a local brewer would be happy to link themselves to the team.
The Colts' Record, 1955-1965

W-L-T

1955: 5-6-1
1956: 5-7
1957: 7-5
1958: 9-3, NFL Champions
1959: 9-3, NFL Champions
1960: 6-6
1961: 8-6
1962: 7-7
1963: 8-6
1964: 12-2, lose NFL championship game to Cleveland.
1965: 10-3-1, lose playoff game to Green Bay.

Team logo.
The Cans
National Bohemian was sold widely through the mid-Atlantic region and into the South. In 1954 the brewery bought Altes Brewing in Detroit and spread into the industrial Midwest. In 1956 they bought the old Marlin Brewery in Orlando. Five years later they bought a second, newer Florida brewery in Miami to replace the older and likely less efficient Orlando plant. Despite all this expansion, Colt can sales seem to have been mostly limited to the Mid-Atlantic area where Baltimore fans of the team were concentrated. (The can has also been dumped in Maine, but it could be that some die-hard fans brought them on a fishing trip!) They're very common in Virginia and Maryland both.
The flat top can seems to have been used through 1963. There is also a straight steel flat to go with the aluminum one. The steel one is much less common. (photo on left)

In the Spring of 1963 National went to the zip top can for their normal 12 and 16 oz sizes. I have not yet found when they switched to a zip top on their 7 oz can, except for an advertisement from December 1964 (seen below) which indicates they had switched by then. The zip top must not have been used very long as it is a tough can. The one I have is pretty rough. I found maybe a case of them in a single dump west of DC, but only a small handful were in good enough condition to keep. The dump contained mostly very common Black Label and National Bohemian cans.
Color Variation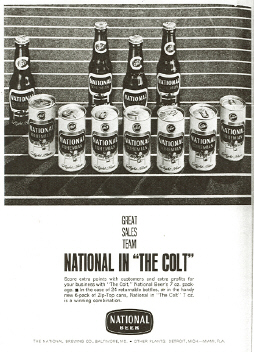 1964 Colt ad, click to see larger.
In 1965 National introduced Colt 45 Malt Liquor and the Colt 7 oz can seems to have disappeared. I haven't yet confirmed this but look at the ad below. It appeared in September 1965. It promotes National Brewing's sponsoring the Baltimore Colts, but the 7 oz can is gone.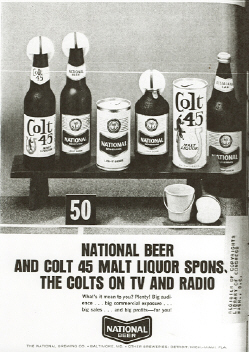 1965 Colt ad, click to see larger.
The Colt can has several variations. It has at least two color variations of the aluminum flat top: a taupe and a yellow version. Both are common and they don't rust so you can find them in dumps in great shape when everything else in the dump is crumbling. The cans do fade, however, and are easily crushed and dented so it's more difficult to find one in pristine condition.
| | |
| --- | --- |
| | |
| Taupe version | Yellow version. |
The straight steel 3-piece flat top is much more scarce than the aluminum. There are also two zip tops and a tab top. The zip pictured here is one sided. Another version is two-sided and its blue "Colt" logo at top is football shaped instead of round. The tab top looks like the two-sided zip top. Both 2-sided cans list three brewery locations on them, so they were issued before December 1966 when National bought its fourth brewery, the Carling plant in Arizona.
The flat top straight steel is much tougher than the aluminum (as I noted above).
| | |
| --- | --- |
| | |
| The straight steel zip top can, one-sided | The straight steel zip top can, two-sided |
There are also two zip tops and a tab top. The zip pictured above is one sided. There is another that is two-sided and its blue "colt" logo at top is football shaped instead of round. The tab top looks like the 2-sided zip top.
Here is a list of the variations and their rarity.
| | | | |
| --- | --- | --- | --- |
| Can | Type | Design | Rarity |
| Flat Top | Aluminum | One-Sided (2 color variations) | Common |
| Flat Top | Straight Steel | Two-Sided | Rare |
| Zip Top | Straight Steel | One-Sided | Scarce |
| Zip top | Straight Steel | Two-Sided | Rare |
| Tab Top | Straight Steel | Two-Sided | Rare |
This raises some interesting questions about the order in which these cans appeared since both flat tops and zips reflect both designs. The one-sided cans seem to be more common than the 2-sided so I suggest the following as a possible order that the cans were issued. I base these estimates on the advertisements I have found and on what I know about the brewery's label history.
1959-1963: 1-sided aluminum flat top
1964: 1 sided straight steel zip
1965: 2 sided flat and zip
A flat top in 1965? Some flat tops were issued in the mid 1960s although most breweries had gone to zips by then. There are white "Naty Boh" 12 oz. flat tops and that design came out in 1965. So it's not impossible that the two-sided flat was issued as both a zip and as a flat. And since the two-sided can is much more scarce than the one-sided it makes sense that it was issued for only a short time at the end of the can's run. Still, it's just a theory.
The Bottles
There are several Colt Bottles as well.
| | |
| --- | --- |
| | |
| A cardboard case that held the National Bohemian Colt bottles. A friend found this one at a flea market in Maine and it had twenty-two full 7 oz Colt bottles with it. | |
| | Two painted label Colt bottles that were with the case pictured above. Both have a 1959 date on the bottom. |
| This bottle has the white label introduced in the Spring of 1965. | |
Still Have to Learn
There is still a lot I need to find out about this can. For example,
Were they sold at Memorial Stadium?
Were they sold year-round?
How many highlight films about the Colts did the brewery make?
Were the cans pictured in Colts' programs sold at the stadium? If so, that might answer the question as to when the cans were sold.
Have answers? Email me please!
Sources Used
Thanks Matt for the info and pics!
The Library of Congress