Coors "Waterfall" can: circa 1938
This month's COM is a bit outside of my normal collecting interests. I don't collect most western cans, unless they are
OIs
or 1950s series cans. But I think the design is unusual, so it's on my shelf.
Coors Brewing
I'm not going to do the normal history essay on Coors that I try to do for my COM. Coors is still very much in business and it's long been rather a controversial company due to political and labor issues, and I want to avoid that kind of controversy on this site. However, I want to include a little bit of the background of this can, so let's look at Coors up to about 1940 or so.

Coors Brewing was founded in 1873 by Adolph Coors. A German native, he stowed away on a ship sailing from Hamburg to the US in 1868. Caught by the crew halfway across he worked for a year in Baltimore to pay off his passage. In 1869 he went to work for the Stenger Brewery in Naperville, Illinois. In 1872 he arrived in Denver and bought a partnership in a bottling business. Within a year he was the sole owner and doing well. He had apprenticed in a brewery in Germany and wanted to start his own in the U.S., so he began looking for a location near Denver to begin. He found a supply of great water in Golden, Colorado near an abandoned tannery. Coors needed money to start, so he partnered with Jacob Schueler, who had been one of Coors bottling company's customers. Coors sold his bottling business and the two men started Schueler & Coors making a product called Golden Lager Beer in 1874. The beer was a quick success and the profits were turned back into the company allowing it to expand. In 1875 they began building a bottling house. Sometime around 1879-1880 Coors bought out Schueler and became sole owner of the brewery. By 1880 he was selling more than 4,000 barrels of Golden Lager a year.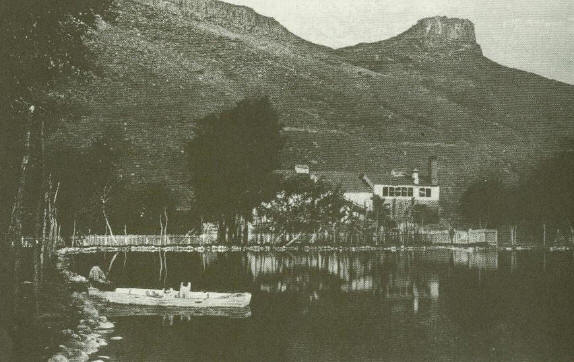 The original Coors facility. Castle Rock is in the upper right.

In 1894 Coors first used the "Castle Rock" logo, which they still use. The COM features a mountain stream as well, part of the emphasis that Coors put on the quality of their water ever since its founding. That same year a flood hit Golden--including the brewery--doing considerable damage. To prevent a recurrence, Coors had his workers reroute the stream which passed next to the brewery by rerouting the stream's channel.

A closeup of the Coors "Castle Rock" logo from the front of the COM.

In the late 19th Century anti-alcohol groups such as the Woman's Christian Temperance Union began to spread across the U.S. In 1895 the Anti-Saloon League formed a chapter in Colorado. In Colorado, as in other states, they began winning legislative victories in the begin of the 20th Century, working towards their eventual goal of a totally "dry" state, followed by a dry US. In November 1914 Colorado voted itself officially "dry", the new law to take effect January 1, 1916.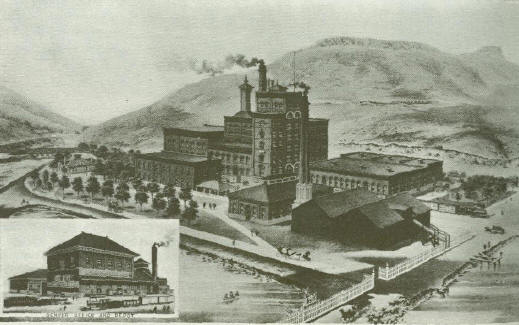 The Coors Brewery about 1900, from a post card.

In the meantime, Coors was diversifying into other businesses; cement, china, and porcelain. When Prohibition started in Colorado in 1916, the porcelain facility was doing very well, providing a much needed business cushion for the company. The brewery switched to producing Coors Malted Milk in May of 1916. In 1925 Coors completed a deal with the Mars Candy Company (M&Ms!) to be their main suppliers of malted milk, a deal that the official Coors history credits with saving the company.

In 1928, with Prohibition as one of the main issues, "dry" Republican Herbert Hoover defeat "wet" Democrat Al Smith of New York. Hoover promised to find a way to make Prohibition, which was being violated throughout the US, somehow "work." (Wikipedia article on the 1928 election) In 1929, Adolph Coors was in Virginia Beach, Virginia, recuperating from the flu. On June 5 he either fell or jumped to his death for his 6th floor balcony. His son, Adolph Coors Jr., took over the family business.

In 1933 Prohibition was repealed, first by legalizing low alcohol beers, then by repealing the 18th Amendment. Colorado was one of the first states to return to the "wet" column, and on April 7, 1933 Coors returned to the beer business. That same year they expanded outside Colorado for the first time, selling their beer in Arizona. In 1937 they expanded into southern California and in 1938 they moved into New Mexico, Nevada, Wyoming, Kansas and Oklahoma. In 1939 Coors added distributors in Idaho and Utah. In 1937 they added a new beer, a lighter version called "Banquet" which was lighter (both in color and in body) than Coors regular "Export Lager." Banquet is now known as "Coors Original."




Coors took advantage of the new beers cans somewhat early, despite some initial reservations. When Krueger's starting canning beer in 1935 Bill Coors was a student at Princeton and he sent a case back home to his father, Adolph Coors, Jr. to study. Adolph Jr. cut the cans apart but decided that the cans were not sufficiently lined to protect the beer from reacting with the metal and so decided against canning. Only two years later however, he changed his mind. If Coors was going to spread its market through the rest of the West, cans would be much better to ship than bottles. They took less space, were lighter, and would not break during shipment. So Coors added a canning line. Interestingly, they didn't use the Opening Instruction (O/I) cans that so many other brewers were using, instead using the back panel to advertise their product. Instead, the backs of the new cans bragged about the careful, lengthy brewing process and the fact that the beer was aged for four full months.

(

Click on can back to see larger version

)

In about 1938 Coors changed the label to this month's COM. The back label now showed two bottles (!) of Coors sitting in a mountain stream. This design was used for approximately one year, then it changed again. This time the front label showed the mountain stream (now sans bottles) in a design that they used with some minor changes, for the rest of the century.
I'll leave the Coors history here. If you want to know more, please check the two books on Coors I have listed below under "Sources." After World War II, Coors continued to expand, limiting their sales to the states west of the Mississippi until 1981, when they finally moved into the east. By then they were already the 5th largest brewer in the US. They topped 1 million barrels in 1955. In 1959 they introduced the first all aluminum package, which was a small 7 oz can. The 12 oz aluminum can came out in 1966 and the press tab top arrived in 1974. They are currently the 3d largest brewery in the US.
As always, corrections and additions are welcome! Please email me at
Mark@rustycans.com
A Note On Coors Cans
Most Coors cans are really common, especially the press-tab cans from the 1970s. Generally speaking, only the really early cans are valuable to collectors although there are some scarcer variations from the 1950s. They've also issued a lot of collectors cans and special cans in the past 10 years. I'm sorry, I don't know which of these, if any, are valuable since I don't collect newer cans. If you want to know if your Coors can is valuable I'd recommend that you check Ebay to see how much they are getting in auction.
Brewery Name Changes
(Jacob) Schueler & (Adolph) Coors, Golden Brewery 1873-1880
Adolph Coors, Golden Brewery 1880-1913
(aka Adolph Coors Co., Golden Brewery 1909-1913)
Adolph Coors Brewing and Malting Company, Golden Brewery 1913-1915
(Prohibition)
Adolph Coors Company 1933-1989
Coors Brewing Company 1989-2004
Molson-Coors 2004-today

Sources Used: