Brockert Pale Ale J-Spout (circa 1937-1940)
This month's can is a j-spout from Brockert Brewing in Worcester, Mass.
Brockert Brewing (1935-1945)
Brockert Brewing started out as the Bowler brother's brewery in 1883. John and Alexander Bowler immigrated to the US from England, where their father and grandfather had been brewers. Their father came to American in 1859 (when the brothers were babies) to work as brewmaster in Troy, New York.
The brothers worked at other breweries in the Northeast until they set out on their own in Worcester. Of course, like almost every other brewery in New England, the specialized in Ale. Their main brand was Tadcaster Ale. Their brewery was successful, but was forced to close by Prohibition. Both John and Alexander died before Prohibition was repealed.
There was a short-lived attempt to reopen Bowler in 1934, but the new brewery quickly failed and closed in 1935. That also was not unusual. A lot of breweries rushed to open when Prohibition ended in 1933 but couldn't make a go of it.
The "new" Bowler Brewery was sold for $52,000 in late 1935 and the buyers formed the Brockert Brewing Company. The name came from their brewmaster, Oscar Brockert, who was also the brewmaster for Cremo Brewing in New Britain, Connecticut. I'm not aware of any other situation where one man was brewmaster for two different breweries at once. It may have happened, but I haven't come across another example yet.
The new Brockert Brewery made ale and porter as well as a beer named "Black Label." Their ale was their biggest seller and they made a variety of versions, including, Ale, Pale Ale, Stock Ale and Special Ale. They surrendered rights to "Black Label" to the Carling Brewing Company in the 1940s.
They canned the pale ale in 12 oz cans and in a quart. The porter also came in a j-spout can. The pale ale can is somewhat tough to find, the quart is rare, as is the porter. They sold about 80% of their beer as draught (i.e. in a bar or restaurant on tap) with the rest being sold in bottles and cans. The cans seem to be harder to find than the bottles. Canning seemed to have been a short-lived experiment as Brockert only used a model can that was available from 1937-1940 (see below) and, like other conetops, could be filled on a regular bottling line with minor adjustments.
Post-War
After World War II civilian canning resumed, but Brockert apparently never restarted. I have never seen why they didn't restart, but I assume that the expense and hassle of canning wasn't worth whatever small bump in market share they received. Moreover, the brewery had changed names becoming Worcester Brewing Company. As Worcester they brought back the Tadcaster name used before Prohibition. Apparently the Brockert brand had earned a poor reputation and its quality was inconsistent. Worcester Brewing closed in 1962.
J-Spouts
The j-spout was a short-lived design created by Crown Cork and Seal. It was similar to the conetops made by Continental Can, except that the spout was a bit longer. In use from 1937 until 1941 or so, it was replaced by the crowntainer. Why "J" spout? Apparently the name was due to an error in a popular book on collecting beer cans published in the 1970's. In 1971 Robert Myers, one of the original beer can collectors, published a booklet "Some Thoughts...On the Beer Can's First 35 Years." Myers included a photo of the different types of cans including the Crown Cork and Seal conetop with a "longer neck" on the spout. The can was labeled as "Type T."
There are a couple theories how the "T" became a "J"
1. In 1976 Lew Cady published a paperback book "Beer Can Collecting" and identified the CC&S conetop as a "J Spout" mistakenly instead of a "T Spout." A revised edition was published in 1981 with the same identification. Somehow, between 1971 and 1976 the "T" became a "J" maybe because of a typo by Cady.
2. One of the early can collectors, Dave Peck, had "one of the better" collections of cones in the 1970s. He called that type of can a "J Spout" because he thought from the can top looked a bit like a "J." As one of the early conetop specialists, his use of the term could have influenced other collectors.
I'll let you decide if you think the spout resembles a "J"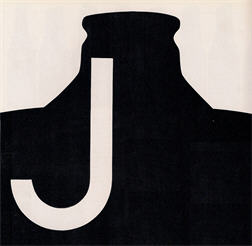 A Brockert Pale Ale quart found in May 2009 near Troy, New Hampshire. It's pretty rough, but it's a very hard quart to find, so I'm happy to have it. (Thanks Charlie!) The white spot on the lower front appears to be pitch from a pine tree near the dump.

The story of how we found this can is funny. A woman from southern New Hampshire saw this website and emailed me mentioning she had a dump on her property. A few emails back and forth and I was invited to come up with friends to dig. I drove up to NH and met several friends. We showed up a planned only to find

1. it's wasn't this woman's land, it was her ex-husband's and

2. we apparently we not welcome on the property after all! My favorite part was her comment "I hope this didn't inconvenience you. God Bless." Inconvenience? You mean other than the fact I drove 400 miles?

At any rate we drove around and found a dump not to far away full of pre-WWII quarts and flats and this was one of them. So it ended up being a fun dig with friends after all.
Name Changes
Bowler Bros., Ltd. 1883 - 1918
Bowler Brewing Co. 1934 - 1935
Brockert Brewing Co., Ltd. 1935 - 1945
Worcester Brewing Co., Inc. 1945 - 1962
Sources Used
Anderson, Will. Beer: New England (Portland, Maine, 1988)
Cameron, Jeffrey. "J Spouts" Brewery Collectibles (February-March 1983)
Kay, Bob. US Beer Labels, 1950 and Earlier. Vol. 2-East and Southern States. (Batavia, Il. 2007)
Myers, Bob. Email correspondence, 2010.