Miller Lite Washington Nationals Can, 2012
This is a 16 oz aluminum bottle, sometimes called a "Cabottle" (CAn BOTTLE). They were first developed by CCL Container in Ontario, Canada. And like American Can Company in 1935 that went with a mid-sized brewery to introduce the first beer can in 1935, CCL found its first customer in a smaller brewery rather than with one of the huge mega-sized breweries like Anheuser-Busch. Big Sky Brewing in Montana was the first to use this package in the US for beer for its Moose Drool Beer (see left).

A few non-US breweries, Heineken, plus Sapporo and Kirin in Japan, used it before Big Sky. Big Sky was followed in the US by Pittsburgh Brewing using it for Iron City, coincidentally alsothe first brand and brewery to use the pull top can in 1962.

Anheuser-Busch began using it in 2005, and began issuing limited edition commemorative bottles for holidays and sporting events. Now Cabottles are a popular sub-specialty among beer can collectors. The ABC Chapter of the BCCA promotes collecting this type of can and has a nice photo database on their site. (Chapter links open a new window.)

Miller starting using a cabottle in 2008, but switched to a shorter version in 2009. They began issuing sports-themed cans and their baseball cans began coming out in 2010, often only sold in the stadium of the team in question. (Some are sold in outside stores in the team's home area). I haven't found the National's Miller Lite can anywhere but in the stadium.
Want to go get some for yourself? Go see the Nats play!
Teams With 2012 Miller Lite Aluminum Bottles
American League
Baltimore Orioles
Chicago White Sox
Cleveland Indians
Detroit Tigers
Kansas City Royals
Tampa Bay Rays
National League
Arizona Diamondbacks
Los Angles Dodgers
Milwaukee Brewers
Washington Nationals
"Wrigleyville" (i.e. Cubs)
There is also a generic baseball design.
This team list also seems to mostly apply for 2010 and 2011 although there was no 2011 Nationals can.
Previous Nationals Aluminum Bottles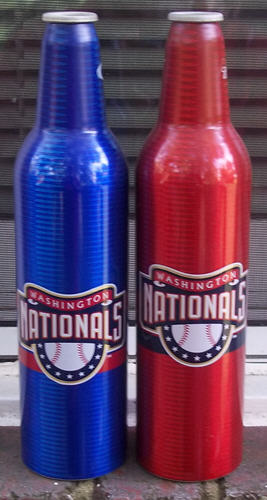 The 2007 Anheuser-Busch Nationals Cans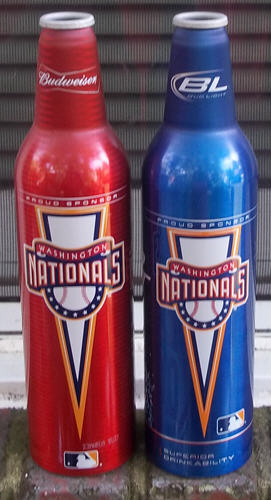 The 2009 Anheuser-Busch Nationals Cans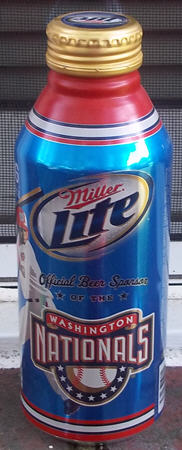 The 2010 Miller Lite Nationals Can
Sources Used:
Links open new window.
Bryson, Lew. "Cans or Bottles" Massachusetts Beverage Business. ND (accessed 8/3/2012)