Senate Ale Flat: 1951
This month let's look at a can I suspect you've not seen before, a non-IRTP Senate Ale from DC's Christian Heurich Brewing. There are several different Senate Ale cans from DC's Heurich Brewing known to the hobby.
| | | | |
| --- | --- | --- | --- |
| | | | This is the first Ale can, It has a 1939 date code on the seam. |
| | | | I don't have the second Ale can. Issued in 1940, it's like the pervious example, except that it has "75th Anniversary" on the side. In 1940 Christian Heurich celebrated his 75th anniversary as a brewery and Heurich cans (Senate Beer, Ale, and Bock) all had "75th Anniversary" on the side. |
| | | | This is the third ale can. Mine is dated 1941 on the seam. |
Here is the non-IRTP version. It looks much the same, except for small details.
Senate Ale
Senate Ale is certainly a known brand. It was introduced in late 1938 with a series of advertisements with an Olde English Christmas theme. Jolly men with top hats and scarves, straight out of a production of "A Christmas Carol" were shows carrying large bottles of Senate Ale. "Ale Ale The Tang's (sic) All here" the advertisements read, "It's Arrived to Lead Them All." The ads included "points by which to judge ale" for those consumers who were normally lager drinkers. The latter style had replaced ales as the most popular form of beer in most of the US, although New England still drank more ales than beers. Moreover, there were other ales on the market in DC, including Rams Head and Ballantine, but lagers were still the preference in the local market. Heurich began canning Senate Ale, along with Senate Bock and Senate Beer in late 1939. His promotional material featured both the beer and ale, generally in bottles. The bock was a seasonal product, so it had its own advertising.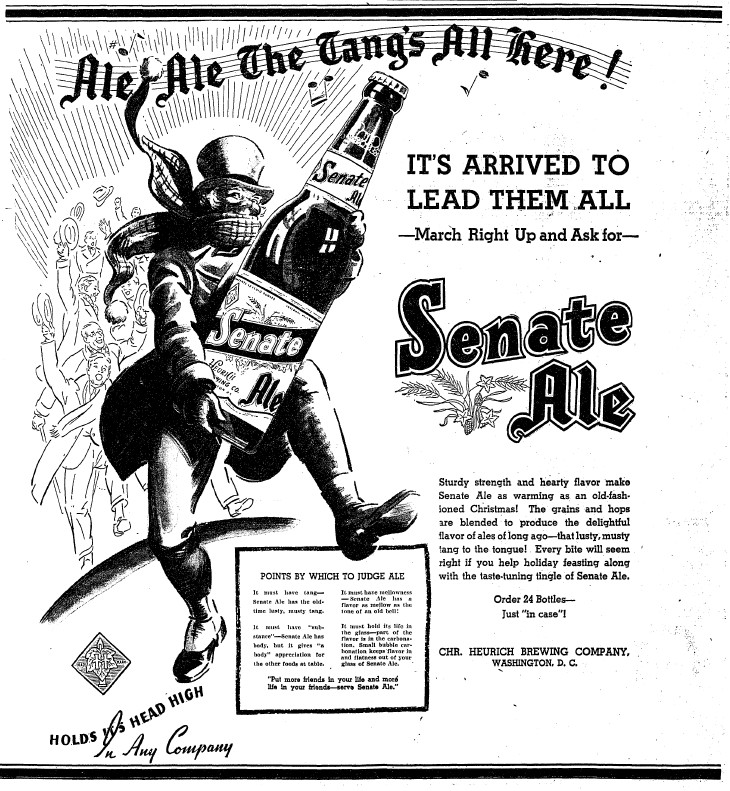 After World War II the brewery, now run by Christian Heurich, Jr, concentrated on Senate Beer, between 1947, when canning resumed, and 1950, when Old Georgetown was introduced. There are a handful of IRTP Senate Bock and Senate Ale cans in collections with date codes indicating that the cans were made in 1947. They also have the differing patent information in the Keglined Panel. Pre-war cans have two patent numbers and "others pending." Post-WWII cans have three patent numbers. What's unclear is if they were also filled and sold in 1947. It's possible that the brewery ordered a batch of both Bock and Ale cans in 1947, but filled & sold them in smaller batches as needed for the market after that. A November 1948 newspaper advertisement announces that "Senate Ale" is back in cans. The Bock beer was popular, but Heurich was faithful in issuing it only in March, as was traditional. The Senate Ale was not a big seller compared to the beer. My guess, and it's only a guess, is that they filled and issued the Bock and Ale cans in batches as needed between 1947 and 1949.
A few years ago a non-IRTP Bock can was discovered. It was green and looked like the pre-war can. It had a 1949 date code on it, so was likely ordered to be filled and sold after March 1950 when the IRTP statement was dropped. Now this non-IRTP Senate Ale can has appeared. The can has a date code for 1951 along the seam and is identical to the pre-war brown Ale can except for the tax statement and patent panel.
The timing of this can and the recently-discovered Bock can is interesting. Senate was Christian Heurich's main product line before and after Prohibition. As I noted in my October 2008 COM, something happened to the brand in the late 1940s that forced Heurich to try new brands to replace his old mainstay. Supposedly a bad batch of Senate Beer was accidentally distributed and it ruined the brand's reputation. For whatever reason, by late 1949 Heurich Brewing had shifted its ad campaigns to new brands.
In late 1948 the brewery hired Albert J. Bates, formerly president of Jacob Ruppert Brewing in New York, as General Manager. Bates immediately began to modernize the brewery with new aging tanks, new vats, and improved quality standards. He also shifted the brewery's advertising campaigns to new brands and away from Senate. In August 1949 they began promoting Champeer, a sparkling malt liquor, as "America's New Taste Thrill." The brewery claimed that the formula was created by Christian Heurich Senior for personal use, but that he never felt it was economically viable to sell. Champeer was aimed at a new market, "sophisticated" drinkers, and the packaging showed a man and woman dressed in formal evening clothes for a night out. With a higher alcohol content, 7% ABV, it was sold on 8 ounce bottles that were shaped more like small Champaign bottles than beer bottles. The brewery intended to sell it nationwide not for home use, but for customers enjoying a night on the town. "You'll find Champeer" advertising copy noted, "served in the better hotels, night clubs, restaurants, private clubs, and fine cocktail lounges." It was more expensive than regular beer, but less expensive that mixed drinks or Champaign. Moreover, by setting up nationwide distribution for Champeer, the brewery could also expand distribution of Senate beyond its normal DC-Maryland-Virginia area.
Champeer never caught on largely because it sparked an immediate lawsuit with New Jersey's Metropolis Brewing Company who had been selling their own sparking malt liquor, Champ Ale, since 1939. They got an immediate injunction over Heurich's use of the word "Champ" for their product. Heurich responded that since Metropolis did not sell in DC or Virginia, there would not be any consumer confusion over the two products. The court agreed, and the injunction was lifted. Champeer's victory was short-lived, however. Almost immediately Metropolis announced that they would began selling Champale, now labelled to look like Champaign, nationwide. The Heurich brewery agreed to stop selling Champeer after the initial production run was sold.
In March of 1950 Heurich shifted to advertising Old Georgetown Beer, available first only in draft and then in cans. Old Georgetown Beer (there were also an ale and a bock) became Heurich's main brand until they closed in 1956. This Senate ale can, and its matching bock, were issued after the brewery's shift in emphasis to Old Georgetown. They apparently were short-lived attempts to revive the Senate name, however, as both the non IRTP-Ale and non-IRTP Bock are rare cans. But they show how the brewery was struggling to keep ahold of its share of the marketplace at a time when small and medium-sized breweries everywhere were losing ground to the nationals and big regional breweries.
My biography of Christian Heurich is scheduled to be released this autumn. Watch my Heurich Book page for details!
Sources Used
Thanks to Steve Gordon for his information on date codes, and to "Candog" for the Senate Ale.
"Holiday Season Passes Unnoticed in Many brewers' Ads" Modern Brewery Age (January 1950), 40.
Gary Heurich, "The Christian Heurich Brewing Company" Records of the Columbia Historical Society, 1973-1974 (Charlottesville, Virginia: University Press of Virginia, 1976), 612
"Champeer" Tide (August 5, 1949), 12.
Undated, uncredited advertisement. Christian Heurich Papers, The Historical Society of Washington, DC. MS 537. Container 3, Folder 30.
"Albert Bates Dies: Managed Heurich's" The Washington Post (15 February 1955), 26.