Nick Thomas Crowntainer: Circa 1948
This month we're going back to Dayton, Ohio (my hometown, REPRESENT!) and Miami Valley Brewing. I've discussed this brewery before, but I thought we'd look at why this label design was chosen, and what it replaced.
Nick Thomas (1825-1913)
Nicholas Thomas was one of Dayton's most important brewers before Prohibition. A native of Esterwegen in the Kingdom of Hanover (now part of Germany) in 1825. That means he was born under the reign of George IV, the son of George III. Yes, THAT George III, as in The American Revolution vs. George III. Hanover and Great Britain were both ruled by the same King until 1837. That doesn't have anything to do with this can, I just thought it was a cool bit of trivia.
Trivia aside, Thomas immigrated to the US in 1848 and landed in New Orleans. He worked his way up the Mississippi to Cincinnati, and then followed the Miami-Erie Canal which had just been completed a few years before. This was also the period when the canal was at its most active and profitable and Dayton was growing in importance as the canal now linked it to river traffic at Cincinnati and lake traffic up north. He didn't stay in Dayton at first, working in Indiana and elsewhere in Ohio.
Sometime about 1850 he settled in Dayton and took a variety of jobs. He worked in the Dickey stone quarry, drove a team of horses for the Longstead sawmill (which stood where his brewery would eventual be) and in 1857 went into business for himself in drayage with a wagon and a team of horses. Drayage meant moving thing from a ship (or canal boat) or train to its destination such as a warehouse. In 1871 he switched jobs and became a bank night watchman. In about 1875 he opened a grocery at the corner of Third and Front Streets (I looked on Google maps, there's not much there now).
In 1880 he purchased the small Braun Brewery. Thomas was in his mid-50s as he started on a new career. He expanded his brewery's capacity from less than 1,000 barrels a year to about 16,000 in 1990 when it was incorporated as the N. Thomas Brewing Company. The expansion of his business matched the expansion of Dayton. When Thomas moved to the Ohio city it had a population of about 11,000. By 1870 it was at 30,000. WHen he went into the brewing business Dayton had about 39,000 people, and in 1900 there were 85,000 Daytonians. This does not include the surrounding area in Montgomery and Greene counties and towns such as Oakwood, Centerville, West Carrollton and such. Dayton was an important industrial center for that part of Ohio. National Cash Register (NCR) was rapidly expanding, and the small Wright Cycle Company would soon be making history itself. So Thomas was part of a medium-sized mid-western city that was part of the growing industrialization of the period.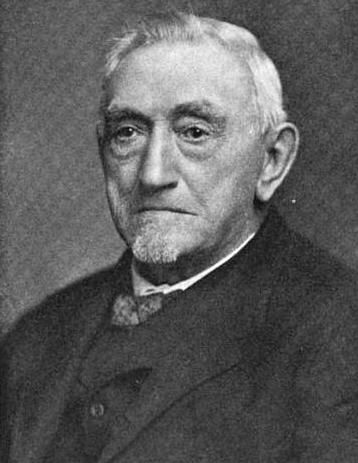 In 1906 the N. Thomas Brewery became part of the larger Dayton Breweries Company. Many smaller breweries had banded together in cities around the country to try to control competition and to defend their market share against larger regional breweries. Thomas was a Director and the General Manager of the Nick Thomas Plant, which then had a capacity of 80,000 barrels a year. He also owned the Thomas Real Estate Company and was a director of the Equitable Loan & Savings Association. (Photo: Nick Thomas about 1909)
Thomas's breweries were most noted for lager-style beer, including N. Thomas Export, N. Thomas Special and a nonalcoholic beer, N. Thomas Special Cereal Beverage. They also made a Pale Ale and a Dark Ale. Thomas remained in charge of his brewery until he died in 1913. He is buried in Calvary Cemetery along with numerous other Dayton Brewing notables.
Miami Valley Brewing
After Prohibition several Dayton breweries reopened. The Miami Valley Brewing Company opened using the old N. Thomas facility at the corner of First and Beckel. When Prohibition ended in 1933 it was not unusual for new and reopening breweries to use the name of locally famous breweries to try to reconnect with their local customer base. For example, the Frank Jones Brewery in Portsmouth, New Hampshire had closed with Prohibition, but afterwards Frank jones Ale was made by their old rival, the Eldridge Brewing Company using the old Frank Jones plant. So a new company using an old name was not unexpected.
Among their biggest products were Nick Thomas Beer and London Bobby Ale. I featured my London Bobby can back in May 2007. Their Nick Thomas label featured a butler serving a bottle of beer on a tray. The photo at left is from a bottle in my collection. Earlier labels just had the Nick Thomas name. The photo to the right shows a Nick Thomas tray with the butler design.

In 1945 the brewery decided that his label was ineffective and dated-looking and introduced the label seen on the can at the top of the page. In the March 1945 issue of American Brewer featured two articles about how Miami Valley Brewing got a new Nick Thomas label, designed by Brisacher, Van Norden, & Staff.
So, what did the designers think was wrong about the old label? According to the designer...
- It was not "sharp."
- The name of the beer was too small and "sank into" the background.
- There was not enough contrast in the label colors to stand out.
- The butler was too prominent compared to the bottles of beer. If the butler was to be used at all, he should only be seen from from the point where he is holding the tray to make the bottles larger.
- The old label "is too quiet, lacks movement, does not present a pleasing scheme of balance, or dramatic use of color contrasts." It would be lost on a grocer's shelf or against all the other labels, signs, lights, etc., in a tavern.
The new label should be, according to the designer, dramatic and "dynamic." They decided to use a modified bulls-eye with an arrow piercing not a normal bulls-eye target, but a "Q" standing for "Quality."

The beer slogan "True to the Mark" fits the arrow/bulls-eye theme. The white/red/yellow label also stands out. The brand name is twice the size it was on the old label, and could be read "five times further away" than on the butler label. The "Nick Thomas' name also appears on the arrow's feathers.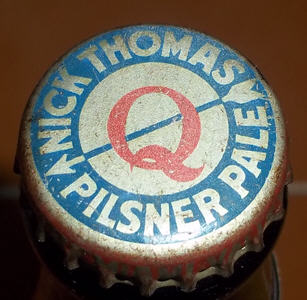 The same new design was featured in ads and painted on the side of the brewery's trucks. The bulls-eye Q also appeared on the bottle cap, which would have been used on the can as well.
I agree, it's a nicer-looking label, and makes for a nice-looking beer can, at least on cans in better condition than mine.
Miami Valley Brewing was sold in 1950, so this was a somewhat short-lived can, and it's rather scarce. A mint-condition can can easily sell for $800 and up.
Brewery Name Changes
John Wager (SW corner 1st & Beckel Streets) 1866-1870
N. Metz & Co. 1870-1873
Metz & Braun 1874-1877
Anton Braun 1877-1881
N. Thomas & Co. 1881-1893
N. Thomas, Hydraulic Brewery 1893-1900
N. Thomas Brewing Co., Hydraulic Brewery 1900-1906
The Dayton Breweries Co., N. Thomas Brewery 1906-1907
The Dayton Breweries Co., Schantz-Thomas Brewery 1907-1919
The Miami Valley Brewing Co. 1933-1950
Sources
Boyle, Jacqui. "Dayton's German beer brewing families to be honored" Dayton Daily News (June 8, 1912) Accessed 1/20/13.
Check the "Breweries of Dayton" book by Curt Dalton at the Dayton History Books site.
Dayton History: Dayton's Fifth River: The Miami-Erie Canal (accessed 1/20/13).
Derum, James P. "Creating a New Label: The Merchandising Strategy" American Brewer (March 1945) 19, 34.
Birdsall, Harry. "Creating a New Label: The Fundamentals of Design" American Brewer (March 1945) 21,35.
Drury, Augustus Waldo. History of the City of Dayton and Montgomery County, Ohio, Volume 2
(S. J. Clarke Publishing Company, 1909) available on Google Books.
Van Wieren, Dale P. American Breweries II (West Point, PA.: East Coast Breweriana Association, 1995).
Western Brewer, 100 Years of Brewing. (Chicago: H.S. Rich & Co., 1903).
Wikipedia, "Dayton" Accessed 1/20/13.