London Bobby, circa 1948.
This month's COM is a hometown can, a London Bobby from Miami Valley Brewing in Dayton, Ohio. I've been meaning to do a Dayton can for a long time and finally get to do so.
Nick Thomas
Miami Valley Brewing was the successor to a long line of breweries on 1st Street and Beckel in northern Dayton. The original brewery at this site was founded by John B. Wager in 1865 at the site of an old saw mill. He sold his interest in 1870 (but continued working for the company as a driver). The brewery went through numerous ownership changes in the years after that. In 1880 it was purchased by Nick Thomas and George Weddle. In 1893 Thomas bought Weddle's share. The brewery prospered under Thomas, increasing production from 600 barrels a year to about 16,00 and started bottling their beer. In 1906 several Dayton breweries, including Nick Thomas, merged into the Dayton Breweries Company. The combined companies joined forces to fight against the growing strength of the Prohibition movement, which was particularly strong in parts of Ohio. Their efforts were in vain, however, and as counties and towns in Ohio began to go dry the combined company lost business. One by one the nine breweries that made up the Dayton Breweries Company closed. The Nick Thomas Brewery was the last to close, in 1919 as the entire state went dry.
During Prohibition the plant stayed open, at least for awhile. The Miami Valley Brewing Corporation took over the plant from the Dayton Breweries Co, in 1924. Soft drinks and near beer were both produced at the brewery.
Miami Valley Brewing, 1933-1950.
In 1933, as Prohibition ended, the Miami Valley Brewing Company was opened with new equipment at a cost of $100,000. They had a capacity of between 35-40,000 barrels a year (note 1 ), in other words, it was a small brewery. They operated one bottling line and sold their products mostly in Ohio. They produced several brands, several of which used the name Nick Thomas to refer back to one of Dayton historic breweries.
The company's president was I. George Kohn. His brother (I assume) Martin L. Kohn was General Manager. The treasurer was Leonard Becker, an Ohio State graduate from Cleveland who had worked for the Gold Bond Beverage Company in that city. Both George and Martin Kohn were also Cleveland natives. The master brewer was Julius Bossert.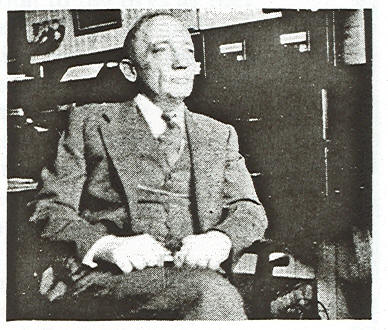 Julius Bossert.
Only after World War II did Miami Valley use beer cans. By this time they had expanded their annual capacity to about 125,000 barrels a year. Crowntainers could be filled on a normal bottling line with some adjustments, so they were a favorite with small brewers that couldn't afford a separate canning line for flat top cans. They canned London Bobby Ale, London Bobby Ale (3.2%), Van Beck Beer and Nick Thomas Pilsner. All of the cans are fairly scarce.
UPDATE: According to another longtime collector from Dayton, Miami Valley Brewing did, briefly, use cans before World War II. There are two very rare crowntainers, one Beer and one Ale, that appeared in a collection of a can company employee several decades ago. I had always thought that they were test cans. According to my source, they were instead short-lived production cans. I will continue to search for evidence and if you can help, please email me. Thanks.
Nick Thomas newspaper ad, 1935.
The brewery apparently had trouble competing with larger breweries, a problem almost every small brewery suffered. In August 1948 the company was sold by the Kohn's to a Walter Geis. Geis added a new bottling line and hoped to double the capacity of the plant. His efforts seemed to have been in vain however, as the brewery closed in 1950. At the very end the company attempted to continue business by contracting out their brewing to Franklin Brewing in Columbus and the Cincinnati Brewing Company. The latter produced a conetop London Bobby Ale and, reportedly, a crowntainer.
Several of the breweries old buildings still stand, include the bottling plant, an exterior building and the stables.
The other cans of Miami Valley Brewing. For more on the Nick Thomas can see my January 2013 COM.
Brands Produced by Miami Valley
(brands canned in bold)
London Bobby Ale
London Bobby Ale (3.2%)
Van Bek Light Lager
Nick Thomas Pilsner
London Bobby Bock
London Bobby Half & Half
London Bobby Beer
Miami Special Beer
Miami Special Bock
(additions and corrections always welcome)
My Dayton bottles and cans.
Name Changes
John Wager (SW corner 1st & Beckel Streets) 1866-1870
N. Metz & Co. 1870-1873
Metz & Braun 1874-1877
Anton Braun 1877-1881
N. Thomas & Co. 1881-1893
N. Thomas, Hydraulic Brewery 1893-1900
N. Thomas Brewing Co., Hydraulic Brewery 1900-1906
The Dayton Breweries Co., N. Thomas Brewery 1906-1907
The Dayton Breweries Co., Schantz-Thomas Brewery 1907-1919
The Miami Valley Brewing Co. 1933-1950
Sources
Check the "Breweries of Dayton" book by Curt Dalton at the Dayton History Books site.
The Newark Advocate
Modern Brewery
Modern Brewery Age
Brewers Journal
Brewers Digest Annual
American Breweries II
100 Years of Brewing
Thanks to "Dr Amy" for checking the genealogy sites for info on the Kohn's for me.
Carlson Brewery Research added me in finding material for this page.
Dayton has an active BCCA chapter, the Miami Valley Chapter.
Thanks to Jody F. for the added information!
Note 1: According to Curt Dalton they had a capacity of 2,000 cases (of 12 oz bottles) every eight hours. My production capacity estimate assumes one 8 hour shift, 5 days a week, for 52 weeks.