Billy Beer: DON'T WASTE YOUR MONEY!
This is the Billy Beer can. No, it is not rare. There were MILLIONS of cases sold by 4 different breweries in the late 1970s. One estimate of the number of Billy Beer cans made is 2 BILLION. As a result, it is worth about 25 cents at most and then only if it is in very good shape, and if you can find a collector who actually needs one. It is not worth more if it is still full or if it is "air filled." The same lack of any value is true of World's Fair Beer, JR. Beer, MASH Beer, Bicentennial cans, Hudepohl Bengals and Cincinnati Reds cans, etc.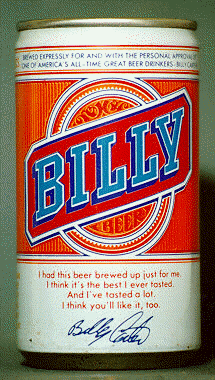 How Did This Urban Myth Begin?

Why do many people think this can is rare and valuable? Unfortunately in the late 1970s a fastback artist took out ads in a paper in Chicago offering to sell Billy Beer cans for the outrageous sum of $1,000 a six-pack. He then was able to advertise his cans as a "bargain" at "only" $200 per six-pack or so. Since then, Billy Beer has become an 'urban legend' and the BCCA (Beer Can Collectors of America) have been fighting this rumor ever since.

WARNING: someone has been apparently been 'shill bidding' on Billy Beers on Ebay lately to drive the prices up. This is a scam and several knowledgeable collectors have asked Ebay to investigate the possibility of fraud.


Bowling with Billy Beers
Video of can collectors at the August 2002 Richbrau/Rusty Bunch show in Charlottesville, Virginia, using Billy Beer cans in "beer can bowling."

The "pins" are over-rated cans such as Billys and World's Fair. The "balls" are various full 1970s cans. Believe me, we would not do this if they were valuable! The quality of the video is the fault of the operator and not of the camera.
Beer Can Bowling Part 1: (334 kb) Steve G.
Humor
The following cartoon is a comment by two members of the Rusty Bunch on the relative "worth" of Billy Beers...
Caption:
"What Heaven will be like." Angel --"Welcome to Heaven, here's your Rosalies." (Rosalies are very rare cans.)
"What Hell Will Be Like" Devil---"Have a Billy!"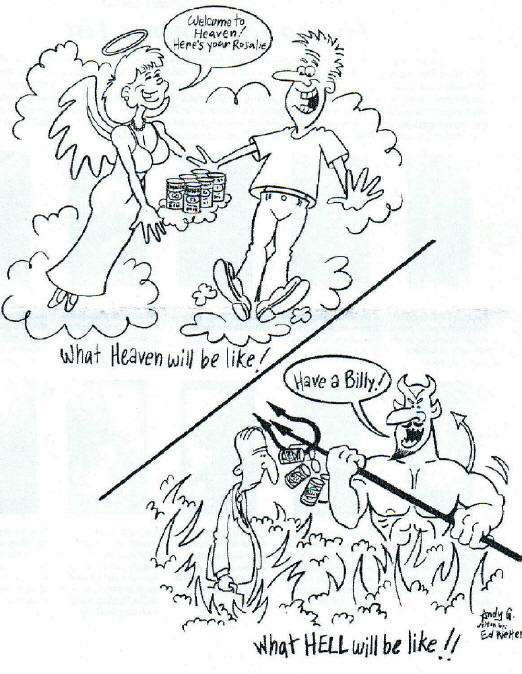 The Rustoon, from the Rusty Bunch's newsletter, Rustlings. Written by Ed Welter and drawn by Andy Galamba. Used with permission from Andy.

This page was mentioned on the Boston Globe! 9/22/2002.