Wooden Shoe: circa 1949
This month's can is a favorite from Ohio. It was part of an collection a friend picked up.
Minster Brewery
The future Wooden Shoe Brewing Company was founded in 1869 by Franz Lange. Lange's brewery did well brewing a lighter beer than other local breweries. In 1883 the brewery was purchased by the Steineman brothers. They were owners in 1888 when a fire leveled the existing brewery building. It was rebuilt and sold again in 1890, this time to a group of owners including Peter Mittler, Matt Goeke, A.W. Gerwals, Ben Frierott, and Frank Herkenhoff. The new owners modernized the brewery, totally renovating the plant in 1895.
In 1903 one of the owners died and the surviving proprietors decided to form a new firm named the Star Brewery. Within a few years they were producing about 15,000 barrels a year, making them a respectably-sized small local brewery. In 1913 they began producing Wooden Shoe Beer, playing on the local Pennsylvania Dutch connection. In 1919, however, Ohio went dry and the Star Brewing Company had to find a new way to stay in business.
Like many other brewers they produced near beer, soda, and a non-alcoholic "malt tonic." They also sold ice and changed their name to the Star Beverage Company. Also like many other breweries they got in trouble at least once with the federal government for selling beer with alcohol still in it.
Post-Prohibition
In 1933 they jumped at the chance to reenter the beer business when Prohibition ended. They built a new brew house and stock house and reintroduced Wooden Shoe Beer. They were making about 600 barrels a day and selling Wooden Shoe in Ohio, Michigan, West Virginia, New York and even Missouri. Their main market, however, was still their home state, Ohio. In 1940 Star Beverage Company became the Wooden Shoe Brewing Company. They continued producing beer during World War II, but like every other brewer in the country they had to restrict their distribution area to reduce fuel wastage.
After the war it was clear that the larger, more aggressive national and regional brewers would be eating into the market share remaining for the small brewers like Wooden Shoe. In 1946 the brewery was sold to a Chicago businessman. The old management stayed on, but the new owners were far more aggressive in marketing. They dramatically increased the advertising budget and even sponsored a local minor league baseball team, the Dayton Indians in Dayton Ohio. In 1949 Wooden Shoe sponsored the Indians games on Dayton television on WLWD, a brand new TV station (it became WDTN in 1976).
The new owners increased capacity as well, raising it to 150,000 barrels a year by 1950. Unfortunately they also seemed to try to save expenses by cutting back on quality ingredients as the beer quality began to suffer. Several new managers came and went between 1950 and 1953. The owners tried to find a buyer but no other breweries were interested. The brewery entered receivership in 1954 and was closed in 1954. Sold at auction, the new owner was a junk metal dealer that stripped the brewery of its equipment to sell for scrap. The old building was used as a warehouse and was torn down in 1990.
The Dayton Indians
The Wooden Shoe Brewery sponsored the Dayton Indians, a minor league club that played from 1946-1951.
In 1946 and 1947 the team struggled to survive, finishing near the bottom of the standings both years. In 1948 Bill Veeck bought the team and added it to his Cleveland Indians' organization as a class A farm team. The Dayton club played at Hudson Field. Games were announced by Les Spencer on WONE radio and broadcast on WLW-D sponsored by Wooden Shoe.
Here is a photo of Hudson Field in the 1940s. I saw it hanging on the wall in the Marion's Pizza (YUM!) near the Dayton Mall while visiting in 2012. This is the only photo I could find of the field.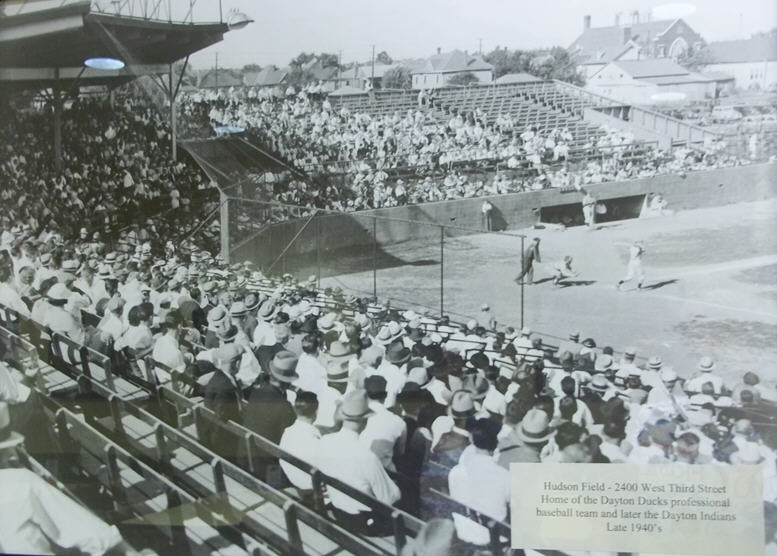 The new A-level Central League had six teams from Ohio, Michigan and West Virginia (and sometimes Indiana). As a Cleveland Indians affiliate the team did well. They finished second in 1948 with a 84-55 record. They defeated Fort Wayne 4 games to 2 to become league champions. Several Dayton players were league leaders including Herb Conyers with a .354 average, Joe Morjoseph with 31 homers and Charles Sipple with 18 wins. Minnie Minoso actually played for Dayton briefly at the end of the season. He hit .525 in eleven games. The 1948 team also set an attendance for Dayton of 170,000.
In 1949 second baseman Bobby Ankrum was named MVP of the Central League as the team finished in 1st place with a 80-57 record. However, they lost to Charleston, WV 3 games to 1 in the first round of the league playoffs. Among the league leaders playing for Dayton were Stuart Locklin with 169 hits and Charles Sipple with 19 wins. Charleston was one of the Cincinnati Reds farm clubs that year and one of their pitchers was Reds favorite Joe Nuxhall.
In 1950 they finished in third place with a 69-63 record. Again they lost in the first round of the league playoffs, this time to Muskegon 3 games to 2. They had two league leaders, Joe Rowell hitting .344 and pitcher William Abernathie threw 171 strike-outs.
At the end of 1950 the Indians ended their agreement with Dayton. Their manager was fired and the players were re-assigned, several of them going to San Diego in the Pacific League. The Dayton team then signed an agreement with the St. Louis Browns. The team finished in first with a 87-50 record. Ryne Duren (later a New York Yankee) lead the league with 238 strike-outs. The league folded at the end of the season, however, and there were no playoffs. Their last game was a forfeit. They were playing the closing game of a double-header in Grand Rapids when the lights went out. Rather than wait a couple days for them to be fixed the team got back on the team bus for Dayton. Dayton didn't get a minor league club again until the Dayton Dragons began play in 2000. At least for a few years Wooden Shoe got to sponsor a good baseball team, even if it was a lower-level minor league club.
Variations
According to Phil S., a conetop specialist, there are five versions of this can. There are three IRTP versions. One has no alcohol statement, the other two note the beer is 3.2% or 3.2-7%. There are two non-IRTP versions, one with no alcohol content and the other is 3.2%. There is also a similar version that reads "Beer" instead of "Lager Beer.
IRTP: no alcohol statement
IRTP: alcohol statement 3.2%
IRTP: alcohol statement 3.2%-7%
Non-IRTP: no alcohol statement
Non-IRTP: alcohol statement 3.2%
Label reads "BEER," not "LAGER BEER"
Name Changes
Frank Lange 1869-1882
Steinemann & Bro. (Ohio Street) 1882-1890
Star Brewing Co. 1890-1919
The Star Beverage Co. 1920-1939
The Wooden Shoe Brewing Co. 1939-1954
Sources Used
Collett, Ritter. Sports in Dayton: A Bicentennial Retrospective. (Dayton: Landfall Press, 1996)

Hollst, Todd. Dayton Baseball History Website.

Johnson, Lloyd and Miles Wolff, eds. The Encyclopedia of Minor League Baseball. (1993)

"Wooden Shoe Brewing" on the ABA website.