Schaefer "World's Fair" Can: 1964-1965
This month I want to feature a can from F&M Schaefer Brewing. Schaefer was a long-established and successful brewer from New York. They expanded into Cleveland, Ohio in 1961, buying the Standard Brewing facility. They gave that up in 1963 and purchased the Baltimore Hamms plant, which had been the Gunther Brewery until 1960. (I covered the Gunther-Hamms story as my October 2006 COM). Hamms had tried to bring back Gunther Beer without a lot of success sold it to Schaefer, who operated it until 1978.
This particular can is interesting because it advertises Schaefer's pavilion at the 1964-65 World's Fair in New York. This puts this can among the small number of World's Fair-themed beer cans.
Schaefer at the World's Fairs: 1939, 1964-65.
Schaefer had a pavilion/restaurant at the 1939 World's Fair in New York. (Shown at left from the back of a matchbook.) It had enough seating for 1,600 customers, enjoying various recipes that (of course) included beer, such as Welsh Rarebit. (See my August 2003 COM for an Esslinger's can with a recipe for Welsh Rarebit made with beer.) The Schaefer pavilion had an open-air bar 160 feet long and a mural showing the history of beer and brewing.

The 1939 pavilion was successful enough that the brewery copied the idea in 1964 with a pavilion at that Fair as well. They also promoted their presence at the Fair with their can. Note the bottom right circle on the can which read "See you at the Schaefer Center New York World's Fair 1964-1965. "

The photo below is from a postcard showing the pavilion.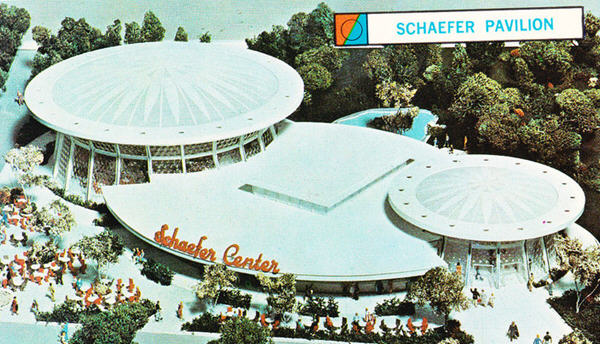 1964 Schaefer Pavilion from a postcard.
The reverse side of the same postcard.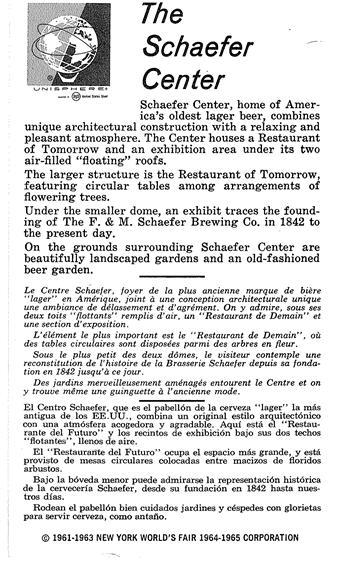 The Schaefer "Circle" Can
Schaefer adopted this particular can design in 1936. Their original can they used the 1930s, 1940s and early 1950s was designed to look like a barrel. It won a design award in . (I dug the one below this past October. It's from about 1951.

In the 1950s the brewery experimented with numerous designs, usually with cream color. Frankly I think they're kind of boring. The new design was supposed to look modern, and it does have a certain "Space Age" feel to it with all the ovals.
Variations
There are several variations of the 1964-65 Schaefer World's Fair cans. As far as I know, none are especially rare, although they are worth more than the normal non-Worlds-Fair cans.
| | | |
| --- | --- | --- |
| Type | Size | Brewery Location |
| Flat | 12 | Albany, New York |
| Flat | 12 | New York, New York |
| Flat | 12 | Baltimore, Maryland |
| Flat | 16 | New York, New York |
| Zip | 12 | Baltimore, Maryland |
| Zip | 12 | Albany, New York |
| Zip | 12 | New York, New York |
| Zip | 16 | New York, New York |
Other Worlds Fair Cans
There are a few other US cans celebrating World's Fairs.
| | |
| --- | --- |
| | Ballantine Brewing used several different can designs from 1937-1942 to advertise their products. In 1939they promoted the Ballantine Inn at the 1939 World's Fair in New York. This design appears on both the 12 oz and 32 oz sizes in both the Ale and Beer cans. |
| | In 1982 put out a series of seven cans, each in a different color, to tie in with the 1982 World's Fair in Knoxville, Tennessee. These are pretty common cans and you see them a lot at flea markets. They're worth maybe a dollar each at most. (I found this photo on eBay.) |
| | |
A Bit Off-Topic
The one part of the 1964-65 World's Fair I do remember, even though I never attended, was the Sinclair Oil dinosaur exhibit. After the fair the dinosaur models went on tour and my parent took me to see them at the Town & Country Shopping Center in kettering, Ohio. I was in 1st grade then and fell in love with the idea of digging cool stuff like dinosaur bones out of the ground! I would bury my toy cars in my folk's garden and (sometimes) would dig them up later. I was sure I'd be a paleontologist when I grew up.
Well, I never became a paleontologist, but I did become a historian and I still love digging up cool stuff out of the ground, even if it's beer cans and old bottles and not dinosaur bones.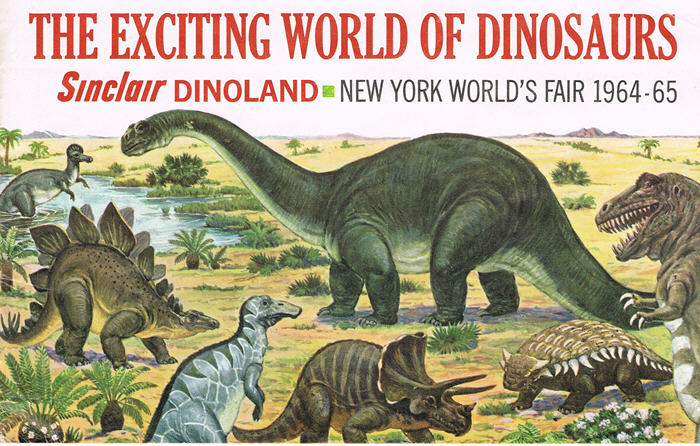 (ABOVE) the cover of the booklet you got at the display. The one I got in 1965 is long gone. I found this one in an antique store.
(Below) A picture of the Sinclair display at the World's Fair.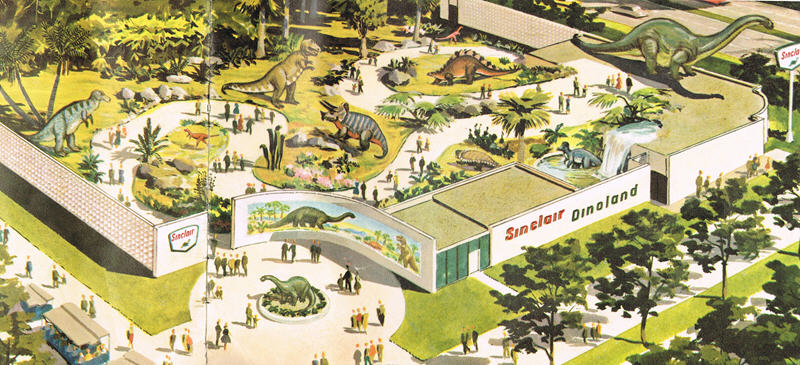 FYI, this is my second Schaefer COM this year. I featured a World War II Schaefer olive drab can as my January 2011 COM.