New England Ale, circa 1939
This is one of my favorite cans in my collection. The design is interesting, it's not a common can, and I like New England if for no other reason than my wife is from there!
Commonwealth Brewing
Commonwealth Brewing was the heir of several breweries in the Springfield, Massachusetts area. In the late 19th century there were five breweries in the region. In Springfield there were Highland, Liberty and Springfield Brewing. Consumer's was in Chicopee and Hampden was in Willimansett. In the 1890s a wave of consolidation swept the brewing industry throughout much of the US. In Springfield the area breweries all joined together to form the Springfield Breweries Company. (Liberty Brewing did not join at first, but in 1910 joined the other four companies.) The combined company had a large output, peaking at 350,000 barrels before Prohibition began locally in 1918.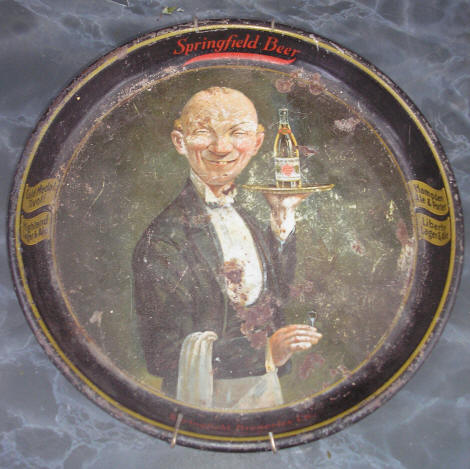 "Who Wants the Handsome Waiter?" a popular pre-prohibition tray from Springfield. The same images was used by a Canadian brewery. It was popular not only on trays but on ads and other breweriana.
During the dry years they attempted, like many other breweries around the US, to market soft drinks. They didn't sell well enough however, and by 1924 only Hampden was left selling malt extract, near beer, and probably some illegal real beer as well, New England, outside of Maine, was never a very dry territory.
After Prohibition Hampden Brewery went its own way and stayed open through several changes in ownership and names until 1975. The former Springfield Brewing plant was the only other part of the former Springfield Breweries Company to open after Prohibition. Purchased by a Leo Kaufman, it opened as the Commonwealth Brewing Company in 1933. Their master brewer was Louis Kuhn. A native of Germany, Kuhn had been the master-brewer for Springfield Brewery beginning in 1890 and after Prohibition he filled the same job with Commonwealth. Commonwealth was apparently never far from going out of business. It survived week to week often getting payment from distributors in order to meet the next week's expenses. A friend who retired from the ATF (and who is a longtime beer can collector) told me that Commonwealth also had tax problems with the federal government more than once.

Despite their precarious financial condition, they were early converts to canning beer, signing a contact with the smallest of the companies producing cans, National Can Company. Commonwealth canned New England Ale starting in about mid-1935 and added Bay State Ale and Beer in 1936. They also canned New England Beer for a short time. All of Commonwealth's cans are fairly tough, but the New England Beer is especially rare. There are only about 7 or 8 known, including one very rough six-pack dug in Maine, and a single example that was not filled with beer. The New England Ale I have as my COM is probably the most common can from Commonwealth, but it's still a hard can to find in really good condition.

Commonwealth struggled along until 1945, then became Springfield Brewing again from 1946-1948. They finally closed in 1948, unable to compete with larger, better financed breweries.
Dr Seuss And Commonwealth
Yes, there is a tie between the two! "Dr. Seuss's" real name was Theodor Geisel. He was born in 1904 in Springfield, Massachusetts. His father, Theodor ('Ted') Robert Geisel, and his grandfather Geisel were both brewmasters in the city. The family business was a brewery, Kalmbach and Geisel (1875-1894). In 1894 it was renamed the Highland Brewery and in 1899 it became part of the combined company, Springfield Breweries.

Other family members worked there as well, including an uncle, Will Klein. Some of their neighbors were prohibitionists and the men of the Geisel family used to laugh about someday playing a practical joke by arranging to have a barrel of the family brewery's beer "accidentally" delivered to one of the prohibitionists at home. They never carried out their joke. In late 1919 Grandfather Geisel died and Ted Geisel moved from General Manager to President of Springfield Breweries just as Prohibition closed the company down.

Ted Geisel's brewery closed, but he had inherited some money from his father and sold some land belonging to the family, which helped financially. He spent the next thirty years of his life working as a Park Superintendent in the city parks. It was a decent middle-class job, but Geisel Jr. never forgot how the prohibitionists had forced his family's business to close.

A Dr Seuss cartoon from 1942, attacking the "drys" who wanted to use the Second World War as an excuse to reinstate Prohibition. "Aunt Carrie" is a reference to Carrie Nation, the turn of the century prohibition activist known for taking a hatchet to bars and saloons. The camel was used by opponents as a symbol of prohibition groups (the "drys") such as the Woman's Christian Temperance Union (WCTU) and the Anti-Saloon league.

Cartoon from The Dr. Seuss Collection in the Mandeville Special Collections Library at the University of California, San Diego (link opens new window)

Seuss used to make fun of moral crusaders in his books and his editorial cartoons. (opens new window) Such characters include Arabelle Godiva and the kangaroo in "Horton Hears a Who." Dr Seuss also did artwork for advertisements, including his famous ads for Flit, and did work for several breweries. He created ads for Schaefer in New York City (below) and for Narragansett in Rhode Island. I have a Dr Seuss tray from Narragansett in my collection. Ah, if only he had designed a beer can label as well!

| | |
| --- | --- |
| | |
| 1940 Bock Beer ad. | Beer Tray by Dr. Seuss. |

Name Changes
Shaw & Co. 1860-1877
Wallace Shaw 1877-1880
G. Rothfuss 1880-1882
Max Lutz 1882-1890
Springfield Brewing Company 1890-1899
Springfield Breweries Company 1899-1918
Commonwealth Brewing 1933-1945
Springfield Brewing 1946-1948
Sources Used
Anderson, Will. Beer: New England (Portland, Maine, 1988)

Interview with Ted Geisel, Palm Springs Life, 1979.

"Louis A. Kuhn" Modern Brewery Age (September 1950)

Morgan, Judith & Neil. Dr. Seuss & Mr. Geisel (New York: Da Capo Press, 1996)

Nel, Philip. Dr. Seuss: American Icon (New York: Continuum, 2004)

Van Wieren, Dale P. American Breweries II. (West Point, PA., East Coast Breweriana Association, 1995)