Hop Gold, 1936-1937
This month's can is from the Pacific Northwest, a Hop Gold from Star Brewing in Vancouver, Washington. (Note, I upgraded my can in April 2014, so this is the newer, nicer can.)
The following brewery history is a DRAFT as I am still sorting out the relationship between Star and Interstate. As always corrections and additions are welcome, just email me!
Star Brewery
The roots of the Star Brewery date back to 1856 when John Muench built a brewery near Fort Vancouver. Washington was still a territory but the fort and the nearby settlement provided a customer base. He soon hired a young assistant, Henry Weinhard (who would later become one of Oregon's largest brewers). Weinhard bought out Muench in 1859. In 1862 Weinhard sold the brewery to a young German immigrant named Anton Young. Young made a success of the brewery selling Hop Gold Beer. In about 1867 he moved the brewery to a better location at Sixth and Columbia, closer to the center of town, where it remained.
In 1894 Young sold his brewery, now quite successful, to a Chicago brewer named George Gerlinger. The new owner continued making Hop Gold Beer, but changed the name of the brewery to Star Brewery. Gerlanger also expanded Hop Gold's marketing are, establishing a sales office in Portland. Production expanded to meet the increased sales area. They had also begun shipping their beer overseas as far as India and China.
In 1899 Gerlanger sold the Star Brewery to his brewmaster, Gustav Freiwald. Friewald then sold the brewery in 1905 to the Northern Brewing Company, who expanded the plant even further. By 1909 the plant could produce up to 100,000 barrels a year and Hop Gold was sold all through the Pacific Northwest and California. If they followed the practice of other brewers in the region, they probably also sold their beer in Hawaii and Alaska as well. The Northern Brewing Company also had a profitable sideline selling ice made at the Star Brewery plant, which could make 30 tons a day.
Prohibition-Era
Prohibition came a bit early to the Pacific Northwest. Prohibitionists had been successful in both Oregon and Washington in pushing through "local option" laws which allowed towns, cities and counties to vote themselves dry. A common practice throughout the country (see my history of prohibition in Virginia page) this created a patchwork of wet and dry areas throughout each state. Vancouver went dry, but the brewery was allowed to remain in business selling beer to "wet" areas. In 1914, however, Oregon and Washington voters passed referendums making each respective state entirely "dry" as of January 1, 1916.
The Star Brewery, like all of its local competitors, had to either find a new business, or to close. The Interstate Brewing Company took over the plant in 1917 and began producing a near beer called Malta. It must not have sold very well, however, as in 1920 it sold the brewery, but kept the bottling department, apparently to bottle soft drinks. The brewery became the Interstate Storage and Ice Company providing storage for eggs, cheese and meat.
Post-Prohibition
A Hop Gold newspaper ad.

In October 1933 the Star Brewery reopened for business using the name Star even though it was owned by the Interstate Brewery. They made Hop Gold (see the 1938 ad below), Ye Old English Ale, and Silver Springs (they may have made other brands as well, these are what they canned). They also made Town Club, a store brand for Piggly Wiggly groceries in the area. In 1939 they switched the brewery name from Star to Interstate. While never the largest brewery in the Northwest, they did well enough to expand their plant in 1938 and again in 1944 and 1946 and again in 1947 when they added a new bottling plant. Interstate also owned the Portland Beavers baseball club and their stadium.

in 1950 Lucky Brewing of California bought Interstate Brewery. Interstate had already been making Lucky Lager at their plant. (I have not yet located the details of how this arrangement worked, but it may have begun as early as 1939). The plant was expanded further under Lucky's ownership although production of Hop Gold and Town Club seemed to have ceased before the brewery's sale.

Lucky Brewing (also known as General Brewing) owned the Vancouver site until it was sold in 1985, even as Lucky/General was sold to new owners several times in that period. In 1985 the brewery equipment was sold and shipped to China where, in 1990, it began production of beer as a Pabst Brewery in Zhaoging, China. The brewery which 100 years before had shipped beer to China, was now making beer there.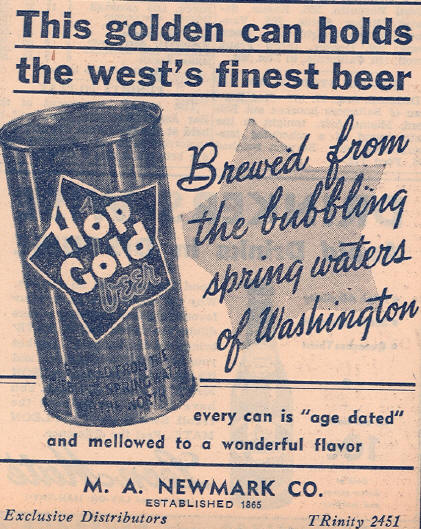 A undated newspaper ad showing the Hop Gold can.
Some Nice Star/Interstate Labels
(thanks Gary)
Brands Canned by Star/Interstate Breweries
Ye Old English Ale (Star only)
Hop Gold
Town Club (Brewed for Piggly Wiggly stores)
Silver Springs
Lucky Lager Extra Dry (Interstate only)
Sources Used:
Daily Chronicle-Examiner (Centralia, Washington) 1915, 1935.
"Expansion program of Interstate Brewing Company is Completed." Brewers Journal (March 1949)
"Former Interstate Plant Makes Age Dated Beer" The Brewers Digest. (February 1951)
Gary and Gloria Meier. Brewed in the Pacific Northwest: A History of Beer Making in Oregon and Washington. (1991)
"Lucky Lager Absorbs Interstate Brewery Co. of Vancouver, Washington." Brewers Journal. (November 1949)
"Lucky Lager Celebrates Opening of Interstate Brewery" The Brewers Digest. (April 1951)
Van Wieren, Dale P. American Breweries II (West Point, PA.: East Coast Breweriana Association, 1995)

Western Brewer, 100 Years of Brewing. (Chicago: H.S. Rich & Co., 1903)
Thanks to Ed S. and Josh G. for the info!