Rheingold "Miss Rheingold" 1956
This month's can was a limited release, issued in 1956 as part of Liebmann Brewing's Miss Rheingold contest. In that one year alone Rheingold put its six candidates onto its beer cans as a promotion. The winner, Margie McNally, then got her own "winners" can after being named Miss Rheingold 1957. Instead of Margie's can, however, I chose the Diane Baker can because she is somewhat better known. (and my Diane Baker can is in better condition than my others). She started in movies in Hollywood in 1959's "Diary of Anne Frank" and is still active, starring in a long list of movies and TV shows. Some of her better known movies include "Journey to the Center of the Earth" (1959), "Marnie" (1964), "Mirage" (1965), "Krakotoa: East of Java" (1969), and "Silence of the Lambs" (1991).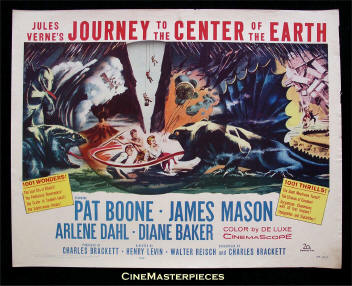 Movie Poster for "Journey to the Center of the Earth." Image courtesy of CineMasterpieces.com

The Miss Rheingold Contest: 1941-1965

The contest was held every year from 1941-1965, and for most of those years the people in Rheingold's New York City-centered marketing area got to cast their ballots. At the height of the contest's popularity, the 1950s, it was getting millions of votes. Over 22 million were cast in 1959 alone. The contest's origin has been told on other sites, such as Beer History, but in brief, it was created in 1940 when printing salesman Bob Wechsler showed some samples to Liebmann Brewery President Philip Liebmann. The samples included photos of Jinx Falkenburg, a model/actress/tennis player. Liebmann was so taken by her photos that the brewery used her photos in ads as "Miss Rheingold 1940." In 1941 Rheingold dealers picked the winners from contestants chosen by the brewery. From 1942-1964 the winners were chosen by public voting. Thousands of girls entered to try to make the final 6. The brewery officials picked the 25 candidates they liked best, then the Rheingold dealers voted for their favorites. The six getting the most votes from the dealers then were the six candidates voted on by the public. Printed ballots were distributed in bars, liquor stores, groceries, anyplace that sold Rheingold Beer.
Jinx Falkenburg (photo at left) is probably the most famous of the winners, but runners up included Hope Lange and Tippi Hedren (from Alfred Hitchcock's "The Birds."). Grace Kelly didn't even make the cut for the final six in 1948! She was "too thin." The contest was a huge success, gaining millions of votes every year, and the brewery jumped from #6 in the New York market to #1 by the end of the 1950s.

Winners received modeling contracts and trips to Hollywood. By the mid 1950s the prize package was worth about $50,000 (in 1950s dollars!). In 1947 more votes were cast for Miss Rheingold (2,219,501) than were cast in the New York City mayor's race. In 1948 Liebmann added a five minute television broadcast to its campaign with a short film showing all of that year's candidates. They also advertised heavily via signs in mass transit and along highways. For example, in the late 1940s and early 1950s, about 4,000 railway cars traveled between New York City and its suburbs. Every car had three Rheingold ads. Billboards with the contestants appeared in New York City, New York State, as well as in Connecticut and New Jersey.
From 1954 until 1958 Rheingold tried to crack the growing California market. They purchased the Acme brewery in Oakland and introduced Rheingold Beer to the West Coast. Miss Rheingold candidates were chosen from among girls from both California and New York. However, the beer never caught on in California and in 1958 the brewery gave up on its western expansion.
A 1955 ad shows all the winners
from 1940-1954.
(click to see larger pdf file).

A 1957 ad showing winner Margie McNally.
1961's Miss Rheingold was Janet Mick, a brunette who looked a lot like Jacqueline Kennedy. According to an email I received from a family member, she was later a flight attendant for American Airlines and appeared on their billboards and advertising. (thank you for that information!)

In 1964 Celeste Yarnall was the last Miss Rheingold picked by popular vote. In 1965 Sharon Vaughn was picked by the brewery and the contest ended. The brewery claimed that the contest had grown stale and interest had waned. The rumor spread, however, that in reality the brewery was worried that racial issues would hurt sales. If they continued to pick only white girls, then they'd start to lose non-white customers. If they picked a non-white girl, then they'd lose white customers. Rheingold was already being pressured by the big national breweries which had been working since World War II to get a bigger piece of the New York market. They couldn't afford to lose customers.

The Liebmann family sold the brewery in 1963. The brewery closed in 1976. FYI, empty Rheingold Beer cans were found in the rubble of the World Trade Center after 9/11. Presumably there were tucked into walls and behind beams by workers during the towers' construction. You can see photos of some of the recovered artifacts at The Retrologist.

There were a couple of attempts in the late 1990s and early 2000s to restart a Rheingold Brewery in New York. The contest was restarted in 2003. This time, however, Miss Rheingold was chosen by popular vote from contestants picked from New York City's woman bartenders. So far I have only been able to find the names of 2 of the "modern" winners, so if you know who else has won (if anyone), please email me.

What about Arlene Dahl?

Actress Arlene Dahl is sometimes referred to as "Miss Rheingold of 1946." However, she is not listed among the winners on the brewery ads. According to the brewery Rita Daigle was Miss Rheingold of 1946. Ms. Dahl may have been one of the contestants, but she was never "Miss Rheingold" as far as I can tell. Ironically she starred in at least one movie, Journey to the Center of the Earth, with a genuine Miss Rheingold contestant, Diane Baker.


Miss Rheingold: Winner's List

Here is a complete list of the winners. (This may be the only complete list online of the winners of the original contest.)
1940 Jinx Falkenburg
1941 Ruth Ownbey
1942 Nancy Drake
1943 Sonia Gover
1944 Jane House
1945 Pat Boyd
1946 Rita Daigle
1947 Michelle Fallon
1948 Pat Quinlan
1949 Pat Lozell
1950 Pat Burrage
1951 Elise Gammon
1952 Anne Hogan
1953 Mary Austin
1954 Adrienne Garrett
1955 Nancy Woodruff
1956 Hillie Merritt
1957 Margie McNally
1958 Madelyn Darrow
1959 Robin Bain
1960 Emily Banks
1961 Janet Mick
1962 Kathy Kirsh
1963 Loretta Rissell
1964 Celeste Yarnall
1965 Sharon Vaughn

2003 Kate Duyn
2004 Dani Marco


Sources Used:

Anderson, Will. "Who'll Be New York's Favorite Girl?: The Miss Rheingold Contest." Beerhistory.com (as of 6/30/2007)

"Announcing Miss Rheingold 1955" Brewers Journal. (January 1955)

"Beauty and the Beer" www.promomagazine.com (accessed 6/30/2007)

Lavietes, Stuart. "Robert Wechsler Dies at 90; A Creator of Miss Rheingold" New York Times (June 29, 2003) N35.

"Millions go to Polls for Miss Rheingold Election" Modern Brewery Age. (August 1948)

"Miss Rheingold Excited Beer Drinkers for Two Decades." American Breweriana Journal (January-February 1999) 28-29.

"Nation's Second Largest 'Election' Spearheads Rheingold Promotion." Modern Brewery Age. (September 1952)

"Rheingold and the Total Market" Brewers Digest (June 1965)

email from Janet S.

Thank you to Gordon S. for the information on Mr. Wechsler!