Acme Beer: Circa 1935
I know, I know, I did a California can LAST month, but I just picked up this can as an upgrade on EBay and I decided I liked it enough to make it my COTM. This can has a couple of interesting features. The "Keglet" name was the copyright of Pacific Cans and only appears on a few brands, most notable Acme.
| | | |
| --- | --- | --- |
| | | |
| Acme Side Panel close up, click to see larger. | | |
Note the side panel which reads "ONLY ACME BEER COMES TO YOU IN KEGLET ...." This had to be changed in 1936 when Humboldt Brewing started canning Brown Derby Beer in cans by Pacific Brewing. The lid is unique because apparently Pacific cans was not quite prepared to start selling cans as they had no beer can lids ready, so they used soup lids on the early Acme cans. (You can tell by the pressure bead around the inside of the lid.) Strangely, the Acme beer can did not have the same label that they used on the bottles, although both were Acme beer. (see the ad further down the page)
California Brewing Association
Since Brewerygems.com has a good history of the brewery, especially for the Pre-Prohibition years, I'll skip ahead as Acme actually did reasonable well during the dry years.

Acme went through Prohibition making soft drinks, vinegar, selling compressed yeast and malt syrup. They also sold a "near beer" called "Bohemian Brew." Producing an almost alcohol free beer (less than 1/2 of 1 percent) seems to have been an important part of surviving Prohibition and doing well afterwards for many breweries. It provided experience for the brewmaster, and also often gave the company a reason and an opportunity to expand. Acme followed this pattern. All production was centered at the San Francisco plant and even expanded right before Prohibition ended. Another of the brewery's pre-prohibition era plants produced a near beer called "Acme Beverage" until 1933, when the plant was sold and became the Globe Brewing Company. In June 1935 Acme opened a second plant, this one in Los Angeles (Vernon) California.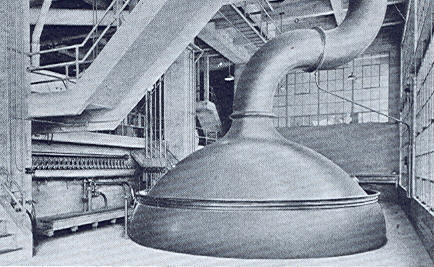 A brew kettle in Acme's Los Angeles brewery, circa 1941.

Acme started advertising even before Prohibition officially ended in early 1933 with newspaper ads featuring the word "BEER." Some papers refused to carry the ads, but other did, and Acme was able to create more name recognition and brand awareness even before their product was available. From 1933 until 1936 the brewery operated as the Cereal Products Refining Company. They changed the name in 1936 to the California Brewing Association. The brewery produced not only a beer but an Ale (which also appeared in a neat looking can) and a Bock beer. They quickly settled on an advertising them that they used until the early 1950s. The company's marketing promised that their beer was "dietetically non-fattening"! The fine print noted that this was only in comparison to other foods. The FTC did not rule until 1951 that the slogan was deceptive. The slogan was designed to appeal to women, but the ads were clearly designed to appeal to men as well. Acme used famed pinup artist George Petty to draw slinky (and thin) women asking for Acme Beer. In 1940 Acme also used the subtle slogan "They All Say Yes" along with Petty's art. (I still need an example for this page of one of Petty's ads).
| | |
| --- | --- |
| | E. W. Huston, who was in charge of advertising at Acme in the mid 1930s noted that he thought Acme "was the first brewery in the country to see that this was the road to the home [market], because the woman is the one who guards the pocketbook. That's why we continue making woman-appeal to get our beer into the home." (Brewer's Journal February 1936). |
| Acme Plant in Los Angeles, 1941. | |
| | |
| --- | --- |
| | |
| Acme ad, circa 1933. Click to see larger. | Acme ad circa 1936, note the bottle and label had different labels. |


In 1939 Acme introduced their ale with a new label and a redesigned bottle. They distributed it via a Western Union delivery boy carrying a large (12 inches tall at least) cannon fire cracker with a label on it reading "Acme shoots the word (?) What a blast!" (see pic) Inside the cannon cracker was a bottle of the ale wrapped in a broadside telling the dealer about the new label and the accompanying advertising campaign. In 1939 (?) Acme redesigned their beer can, abandoning the black, red and silver can for a more multi-colored can now called the "Stein Girl" can, which was based on the label their bottled beer had been using since 1934. See my January 2009 COM for more!
By 1941 Acme was being sold in 12 western states besides California, as well as Alaska, Hawaii, the Panama Canal Zone, and several Central American countries. It was produced for both civilian and military use during the war, but may have gotten a bad reputation among the troops. I found this entry on a Marine slang site...."Acme Beer World War II era beer made in San Jose, California and sent to the South Pacific specifically for Marine units. It came in both a green and a brown bottle but only the brown colored bottles were fit to drink. The green bottles contained a liquid that smelled like a skunk." (LINK)
| | |
| --- | --- |
| | In 1939 Acme used this biplane with neon signs under the wings to advertise at fairs. |
In 1951 they switched designs again, this time to a yellow and white can that was supposed to look like a glass of beer.
Acme advertised on radio shows like a music show hosted by Edna Fisher. She sang the following jingle that you can hear on the City of San Francisco's Radio Museum. (link)

A C M E, A C M E, is the beer that really tastes so fine,
At a party or a picnic or when you dine,
It's the 6 to 4 beer brewed to be the champ,
A C M E spells Acme.
Mmmmmmmmmmm

(Thanks to Gary F. of Brewery Gems for explaining that "the 6 to 4" beer referred to a 1940s ad campaign where Acme claimed that in taste tests it was preferred by a 6 to 4 margin. They even gave away dice that would only roll 6s and 4s. )

| | |
| --- | --- |
| | Acme 6 to 4 advertisement. Thanks Gary! |
The End Comes
In January 1954 both the San Francisco and Los Angeles facilities were sold to Liebmann Breweries, a New York Company that made Rheingold Beer. Liebmann tried expanding their Rheingold brand into the Western market, which was not a bad idea as it was a big seller in the East. The brand never really caught on in the West, however. The Los Angeles plant was sold by Liebmann to Hamm's Brewing in 1957. Hamm's operated the plant until 1972 when it was closed. The San Francisco plant was closed in 1958 and torn down. Acme has been produced by several different breweries in the years since.
Name Changes

National Brewery: John F. Glueck & Charles E. Hansen 1861-1877
National Brewery: Mrs. Elizabeth Glueck & Charles E. Hansen 1877-1880
National Brewery: Charles E. Hansen 1880-1884
National Brewing Company 1884-1916
California Brewing Association (National Plant) 1916-1920
Cereal Products Refining Corp. 1923-1936
Acme Breweries dba California Brewing Association 1936-1943
California Brewing Association 1943-1954
California Brewing Association (division of Liebmann Breweries, New York) 1954-1958

Sources Used:
Thanks to Pat F. for catching an error on which plant was operated by Hamms.
"Acme: Winner of the West" Modern Brewery Age December 1941

"A Leading California Brewery Goes After the Home Market" Brewers Journal February 1936

Beer Can Collectors of America. United States Beer Cans. (Beer Can Collectors of America: Fenton, Mo) .

Beer Can Collectors of America. Catalog of American Beer Cans. (1993).

Brewery Gems: Has a great history of the brewery with some impressive graphics.

Lilek, Kevin C. United States Beer Cans with Opening Instructions (2004)

"News and Views of the Breweries" Brewery Age May 1939

"News and Views of the Breweries" Brewery Age January 1939

San Francisco: The San Francisco History website has an Acme ad by local radio star Edna Fisher.
Van Wieren, Dale P. American Breweries II (West Point, PA.: East Coast Breweriana Association, 1995)