Can Flats
Can Flats
This time let's look at cans before they're, well, before they actually cans. I'm talking about the flat sheets that show up from time to time—the ones that were never rolled to become cans in the first place. I've picked up a few over the past few years, and that sparked my interest. Where do they come from and what do you do with them once you find them?
Some recent discoveries were from can company employees who saved them as souvenirs from work. This is apparently not unusual, as several collections of great cans have appeared the same way. It makes for a colorful collection, and flats would be easier to store than already rolled and lidded cans. I think we'd all be happy to find a 1930s or 1940s can company employee collection either flat or rolled!
Other flats have appeared from company files from breweries filing for label approval from the government. Some great Meister Brau set cans including the Happy Days cans surfaced that way. I didn't get any of the flats (a bit out of my price range) but I did manage to get copies of the files with the designs and the dates on them. (I'm a sucker for new reference material.)
Some have shown up as repurposed. Some were turned into ductwork (with the can design inside) apparently sold by the can factory, probably either sheets with printing errors or obsolete designs. Others have been used to line, or cover, things like trunks in what I guess were do-it-yourself craft projects. A few sheets of flats have shown up at flea markets or at garage sales. My Lucky OI flat shown here was part of a sheet found that way.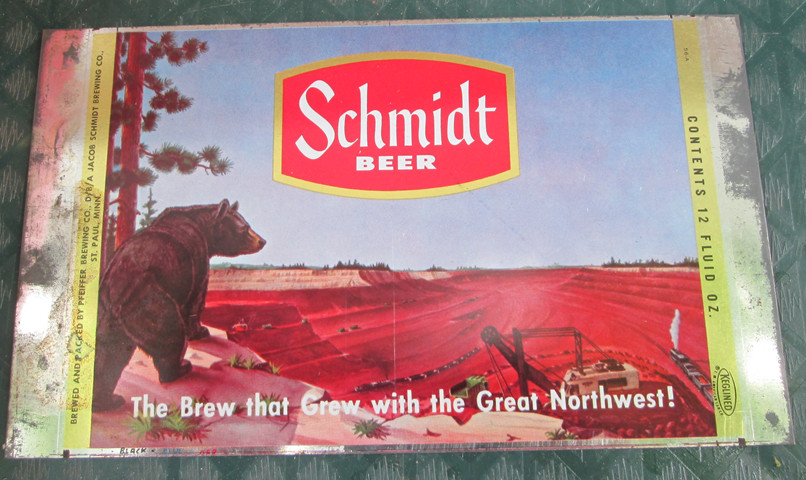 OK, once you've found them, what do with them? A lot of collectors like to have them "rolled" that is, made into cans with the appropriate lids and bottoms added. I am not real fond of that myself, but that's just a personal preference. I like to see what the entire design looks like at once. On two-sided cans with identical sides that's not a big deal. But on cans with a panorama, or two sides that are different, I think it makes a difference. I wish I could have purchased the Meister Brau Happy Days cans because some of the designs were striking. Several of us were looking them over at the Monticello Summer Show and we all agreed that the "Moonlight" design was the best. Imagine the whole set, together and framed! At any rate, here are some examples to enjoy. With cans being all aluminum now, we probably won't see flats of modern cans at shows in the future.