7Up Uncle Sam Bicentennial Set: 1976
Here is a set of cans I got as a teen during the Bicentennial. The 7-Up Uncle Sam/50 states set!
There are 50 cans in the set, one per state. One side of the can shows a state and the other has a strange pattern on it. When you stack the cans in order, the patterns form a picture of Uncle Sam.

Here are two of the cans showing two of my favorite states.
The set is fairly common. There is usually a complete set or two on eBay every week or so. The set also exists as all aluminum cans, but I have not yet tried to complete that one. I do have two complete sets of the 3-piece steel can set (shown here).
Here are two photos of the set. One shows the side with the states, and the other shows the design on the backs. (Yes, the photos were taken in our laundry room). Click on either photo to see a larger version.
The 7-Up set was just one of many soda and beer can sets issued in 1976 for the Bicentennial of the United States. Sets, and individual cans, were also sold by Canada Dry Ginger Ale, Faygo, Oertels, Schmidts, Falstaff, Reading, Grafs, as well as others. None are rare, but completing all the sets takes time. I am still working on getting all the variations. Someday I hope to add a page to this site showing all the different cans, both pop and beer cans.
In the meantime, here is an advertisement promoting the 7up set!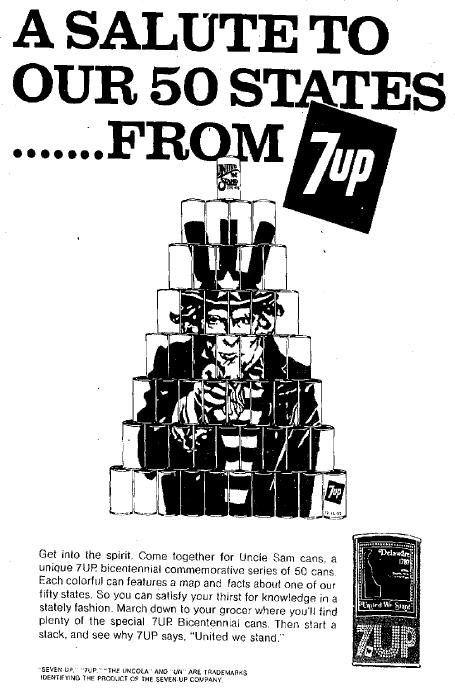 1976 advertisement. Click to see a larger version.
Woody's Little Farm: West Carrollton, Ohio
I was 17 in 1976 and I remember my Dad and I going though the 7-Up cans in Woody's Little Farm carryout in West Carrollton, Ohio, looking for the ones I needed. Little Farm was across Dixie Drive from Woody's, which was, for its time, quite a large supermarket. It had a bakery, a butcher, a restaurant, a deli, a pharmacy, a newsstand/book store, and other features we take for granted now, but which were unusual in supermarkets in the 1960s and 1970s. Gradually other stores in the area such as Kroger's added many of the same features (with the exception of the restaurant) and Woody's began to lose business. It closed in 1999. As far as I know Little Farm carryout is still open.