Red Fox Ale, circa late 1930s.
I picked up this can at the Blue-Gray show in Fredericksburg in 2005.
Hellmann Brewing
Largay Brewing was the successor to the Hellman Brewing Company which had existed pre-prohibition. The brewery was founded by Frederick Nuhn in 1874. He ran the brewery as a small business until 1881 when Martin Hellmann and Michael Kipp became the new owners. The new proprietors greatly expanded the business, immediately moving to a new brewing facility in 1881. The new brewery used artesian well water and soon added artificial refrigeration. In 1889 Martin Hellmann became the sole owner. He died in 1892 and his widow, Sabille, became the brewery head, a position she kept until Prohibition in 1920.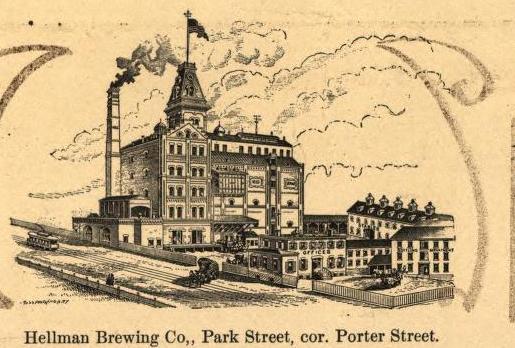 Hellmann Brewing in the 1890s.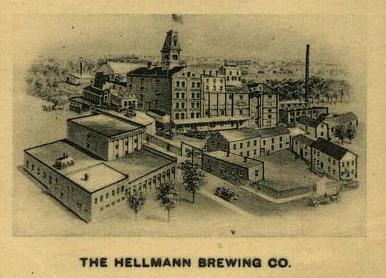 Hellmann Brewing about 1917.
Largay Brewing
When Prohibition seemed to be coming to an end in the early 1930s George Largay purchased the old Hellmann Brewery from the Hellmann family. Largay was born in 1872 in Maine and grew up in a farming and lumber family. As a young man he had attempted to start a career in Boston as a boxer. One day a friend came by and asked him for help. He had been offered $3.00 by a local brewery to offload a load of coal. The friend offered Largay half of his pay for his help. Largay did so and caught the eye of the brewery owner who offered him a full time job. Largay started working for the brewery and quickly learned that the best paid positions were owner and brewmaster. Tuition for brewing school in New York was $500, so Largay began putting aside $2-$5.00 a week from his $7.00 weekly pay (for a 63 hour week!). By 1902, having raised the $500 he found that this only covered tuition at the National Brewer's Academy in New York City, not room and board. So Largay worked a night job loading wagons at a local brewery and studied during the day. He graduated after ten months with his brewmaster's degree.
From 1903-1908 Largay worked as an assistant brewmaster in small breweries in Virginia and New Hampshire. In 1909 he became assistant brewmaster at Molson's Brewery in Montreal. He married in 1910 and took a job as the brewmaster at the A. Keith & Son Brewery in Halifax, Nova Scotia at double the salary he was making as an assistant. Largay did very well at Keith's, with sales doubling. Ironically, George Largay did not drink, he'd taste the beer, then spit it out!
The Halifax Explosion
George Largay and his family survived one of the most horrific events in Canadian history on December 6, 1917. Halifax Harbor was exceptionally busy during World War One (1914-1918) shipping troops and supplies from Canada to Europe. On December 6, 1917 a Norwegian ship, the Imo, collided with a French munitions ship, the Mont Blanc. The Mont Blanc, loaded with munitions, caught fire and drifted to a nearby dock, where a crowd of people stood and watched. At about 9 am it exploded in the biggest known man-made explosion until the atomic bomb was dropped in 1945. The resulting explosion killed 3,000, injured 12,000, and destroyed about half of the buildings and homes in the city. Keith's Brewery was destroyed and 13 of its workers were killed. Largay was blown down two flights of stairs but survived. His home was heavily damaged but his wife and infant daughter at home were uninjured. His two sons were outside and saw the explosion but were not injured. As if the explosion and resulting fires were not enough, a blizzard hit Halifax one the 7th and 8th, followed by a powerful storm and then heavily rain, which then froze the city under a thick sheet of ice. As a final blow, at least to Largay and his employer, Nova Scotia introduced Prohibition. Largay and his family decided to move back to the United States and in 1918 he took a job as brewmaster at the C.H. Evans and Sons Brewery in Hudson, New York.

The north end of Halifax after the explosion. From the collection of the Canadian National Library and Archives.
Largay stayed in this position for three years. National Prohibition started in the US in January 1920 and Evans & Sons, like many breweries, tried to survive by selling near beer and ice. Like most breweries, however, this was not enough and in 1921 Evans & Sons closed. Largay opened a garage and sold Durant and Star cars. However, he enjoyed brewing and was good at it and so looked for a way to restart his brewing career.
Prohibition
Home brewing was technically legal in many parts of the US during Prohibition, provided you made small amounts for home consumption and didn't sell any--the actual laws varied from state to state. Prohibition was very unpopular in many parts of New York and it ended up being one of the wettest states in the US during the "dry" years. George Largay didn't let this opportunity slip past and he began brewing small amounts of beer for the local Elks Club. Word soon spread that the Hudson Elks Club had pretty good beer and Largay started a business setting up other Elks Clubs with their own small breweries. This side business was very profitable, and Largay bought the Amsterdam Brewing Company in Amsterdam, New York and the old Hellman Brewing Company in Waterbury, Connecticut. He was confident that Prohibition would be short-lived and that the breweries would be able to reopen.
According to his family lore, he didn't wait until Prohibition ended officially. The Amsterdam brewery had stayed open, probably officially to make "near beer." Many breweries during Prohibition found that they could survive making "near beer" if they just left off the final step of the process. Near Beer was made by brewing "real" beer, then removing the alcohol. If the brewery neglected to remove the alcohol, sales improved. Largay had a pipeline built from the brewery which stood on a bank of the Hudson. The pipeline ran into the river. Local boats could pull up to the pipeline to tap the beer. Sales from the Amsterdam went very well using this method and Largay made a lot of money selling his beer.
Despite this success, Largay needed to borrow money to buy the Hellman Brewery. He borrowed the money, $10,000, from a friend. Years later Largay found out that the money had actually come from his own wife! When he asked her why she didn't just loan him the money directly, she told him that she knew that he'd have to pay his friend back, but he wouldn't have to pay back his own wife. Every time Largay paid an installment on the loan to his friend, the friend then passed the money on to Largay's wife (presumably keeping a small fee, perhaps the 6% interest).
Post-Prohibition
In 1932 Largay started the Largay Brewing Company in hopes that Prohibition would end. When the dry years ended in 1933 the company made ale, beer and porter, all using Largay's own recipes. (The old Amsterdam brewery also continued business). He had the old abandoned Hellman brewery cleaned and repaired from its years in disuse so Prohibition ended in the Spring of 1933, Largay was ready with a newly remade modern brewery. Largay made several brands (see list below) but Red Fox Ale seems to have been the brewery's mainstay and was apparently a good ale. George Largay was an avid hunter and loved foxes so he decided to call his beer "Red Fox" with the marketing slogan "Just what you've been hunting for." There had been a Red Fox Ale brewed in Boston before Prohibition, but this seems to have been a coincidence and had no connection to Largay.
Largay's sons and brothers also contributed. One son, John, attended brewmaster school in Denmark before returning to Connecticut. They found, however, that much of the local business was tied up by Waterbury's other brewery, Waterbury Brewing Company, which made Clock Ale. Local politicians, including Waterbury's mayor, owned interest in the rival brewery and made certain that local bars and restaurants carried their product and not Largay's. Largay participated in a signature drive to replace the corrupt city government and when it succeeded, the local market opened to Red Fox Ale and Beer.
However, the brewery had to compete not only with their local rivals, but also the big nationals. However, Connecticut was just too close to New York so they also had to compete with several very large regional brewers as well, including Jacob Ruppert, Liebmann's, Piels, Schaefer, and Ballantine. Largay began canning in the 1930s and in 1944 expanded by buying the New England Brewing Company in Hartford. However, even combined the two plants made less than 200,000 barrels a year, a very small amount compared to their rivals.
Largay Brewing company's heyday was World War II. Red Fox Ale was sold to the US military during the Second World War. One of Largay's sons was in the military and he remembered being served his father's beer while he was stationed in North Africa. One of his friends teased him that "they needed to run the beer through the fox one more time." The company also made corn syrup, popular as a sugar substitute during war time rationing.
When the war ended Largay Brewing found itself being swamped by the advertising of their larger rivals, who were spending at a pace the small brewery couldn't even dream of matching. On April 1, 1948 the brewery closed, one of the first post-war causalities as the brewing industry contracted after the war. George's eldest son, John, was company treasurer and George gave him $10,000 to start a new business. John started American Screw & Rivet making nails and screws. The new company employed some of the former brewery workers. The company did well, especially after John found a machinist who had developed a machine that could turn out screws at a much faster pace. The company sold their screws to both GM and Ford and opened three more factories. The company was sold in the 1990s.
Jacob Ruppert
When Largay closed in 1948, Jacob Ruppert Brewing of New York bought the right to the Largay brands in order to gain access to the family beer recipes. Ruppert did not operate the old Largay brewery, but made Red Fox at Ruppert's facility in Norfolk, Virginia. Much of the Largay brewing equipment was transferred to Norfolk.
Ruppert was a large regional brewer based in New York, but in the 1940s was trying to expand south. In 1942 they purchased the Southern Breweries in Norfolk, which had opened in 1934. Jacob Ruppert-Virginia operated from 1942 until 1953 when it became an independent brewery, the Century Brewery Corporation. Century operated under many different names until it was sold in 1967. Among the many names Century used was Red Fox Brewing. Unfortunately for the old Red Fox brand name, Century tended to produce cheap beer which sold at low prices, often making inexpensive store brands. Red Fox was last produced in about 1964.
You can read about a couple of Century's other brands with my January 2008 COM (Tudor Ale) and my February 2009 featured can. (Regent Jamestown)
Name Changes
Frederick Nuhn, Naugatuck Valley Brewery (358 Bank Street) 1874-1881
(Martin) Hellmann & (Michael) Kipp 1881-1889
Martin Hellmann 1889-1891
Martin Hellmann (1090 Bank Street) 1891-1892
Sabille Hellmann (widow of Martin, ran brewery until Prohibition) 1892-1895
Hellmann Brewing Company 1895-1920
Largay Brewing Company 1933-1947.
Brands Produced by Largay Brewing, 1933-1947
(Beers canned are in bold)
Red Fox Ale
Red Fox Beer
Red Fox Porter
White Cap Beer
Black Fox Lager
Mayfair Beer
St. Patrick Ale

Additions and corrections are always welcome! Please email me at Mark@rustycans.com
Sources Used:
Anderson, Will. Beer: New England (Portland, Maine, 1988)
Beer Can Collectors of America. United States Beer Cans (Beer Can Collectors of America: Fenton, Mo)
Cushman, Gary, Dave Lang, et al. New England Breweriana. (Schiffer Publications 2001)
"Digest of the News" Brewers Digest, May 1948.
"He Wasn't What They Call a Rum-Runner." Interview with Roland Largay. www.cs.umb.edu/~serl/oralhistory/Dean_K.html (accessed December 2005)
History of the Largay Family (1975 edition)
Interview with Rob Largay, August 17, 2006.
"Largay Brewery Suspends Business" Brewers Journal, March 1948.
Van Wieren, Dale P. American Breweries II (West Point, PA., East Coast Breweriana Association, 1995)
Thanks to Rob Largay for all the information, and to Meg Largay for the correction.