Lucky Lager: circa 1941
General Brewing
For once a brewery history won't begin with a young German immigrant moving to the US and starting a brewery. Nor will we have to consider the start of Prohibition. General Brewing was begun as Prohibition was ending as a way to profit from the expected boom in the beer business. As such it joins the ranks of a few other breweries in the US such as Schoenling and Red Top in Cincinnati that were started after the "Noble Experiment" ended. General Brewing went even a step further as they didn't use a previously existing brewery's plant but built everything from the ground up.

The president of General Brewing was Baron Paul C. Von Gontard, one of Adolphus Busch's (the founder of Anheuser-Busch) grandsons. Gontard had experience working for Anheuser-Busch previously and saw an opportunity to start his own brewery. He hired a German-trained brewmaster from Schlitz and began building a large brewing facility in San Francisco. The new facility was designed by Frederick H. Meyer, a local architect, and the plant was designed to produce up to 100,000 barrels a year and could be quickly expanded to produce 200,000. The brewery was built to withstand earthquakes and the main brew house stood five stores tall.
Gontard valued mass advertising (part of the Anheuser-Busch legacy) and the new brewery quickly began a flurry of advertising for its new brand, Lucky Lager. The brewery posted a $10,000 bond guaranteeing that the date on each keg and on each bottle (and later, on each can) was the actual date that the beer was brewed. Billboards announced when the beer would be ready on draft, and then in bottles. These were accompanied by color newspaper ads followed by black & white ads, 24 sheet posters, more billboards and street car signs. The delivery trucks were painted white with the big red "X" logo for Lucky Lager on the back.

Lucky Billboard, note the "Age-Dat

ed."
Photo courtesy of Bill Boards of the Past.com
General Brewing, with no pre-Prohibition history to tie them down, also had their labels designed from scratch. They hired artist Charles Stafford Duncan to design the new labels. Duncan was art director of the McCann-Erickson advertising agency in San Francisco. Duncan's design, a red cross in the center of a large orange/yellow background, was striking, simple to read, and stood out on the shelf. Featured prominently in ads, on packaging, and on the white delivery trucks, the giant red X was an easy trademark to remember.
1939 Lucky Lager newspaper ad.



One of the more unusual promotions was the "Talking Package." It was actually a robot made of Lucky containers: its body was a beer barrel, the neck, arms and legs were beer cans, and the head and feet were large bottles. One hand held a beer bottle as well. Inside was a microphone and a speaker. An operator hide nearby where he could see the people in front of the robot. Spectators could go up to the "talking package" and ask him questions about Lucky Lager and the Lucky robot would answer them. (see photos below). The robot was part of a larger exhibit. He was flanked by two large screens, each with a single large Lucky red cross logo. Set up on a platform so it was viable from a distance in a crowded room at a trade show, it made quite an impression.

The Lucky Lager "Talking Package."
Click to see larger.

The Lucky Robot display, click to see larger.
Canning Begins December 1935
This is one of the first Lucky OIs (Opening Instructions). General Brewing started canning their beer in late 1935. They stamped a date on each can lid to indicate that the beer was brewed before that date. (see detail below). This was not to insure that the beer was "fresh" but to insure that it had been aged properly. So many breweries had rushed beer to market before it was ready when Prohibition ended, that customers were wary of getting "green" beer. The date on this particular can has been obscured by rust, but the year "36" can still be read. The can at the top of the page does not have the "beer brewed before" written on the front, but Lucky did continue to stamp the date on the top of the can into the 1960s. The can of the month at the top of the page is dated some time in 1941 (I think).
Expansion and Contraction
Lucky Lager was such a big seller that General Brewing renamed itself Lucky Lager Brewing in 1948 and it began to buy smaller breweries in order to increase both production and distribution. In 1949 they built a new brewery in Azusa California near Los Angeles. (yes, it's the same "Azusa" you heard Mel Blanc announce on the "Jack Benny Show" as "Train leaving on Track Five for Anaheim, Azusa and Cucamonga.") In 1950 they purchased Interstate Brewing in Vancouver, Washington and in 1960 they bought Fisher Brewing in Salt Lake City. By the late 1950s they were the 10th largest brewery in the US (in terms of sales) even though their sales were limited to the western part of the country. In 1960 they sponsored the VIII Winter Olympics in Squaw Valley, California. This was great exposure, especially as these were the first televised Olympics.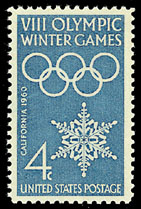 In the 1950s the big red X was made less prominent, but it still remained on the labels and on advertising. In 1957 the X was reduced in size somewhat, though it was still central to the design. In 1962 the label was again redesigned and the X was made smaller still, although it was still the design's focus. This can with the smaller "X" is sometimes called the 'bug' can by collectors because there is a small "dated" seal that can appear on different spots on the label, like a bug moving around. The "bug" design was then replaced by a label that got rid of the "X" entirely and replaced it with a large "L".

By 1970 Lucky was in trouble and was losing money. The brewery tried to recapture younger beer drinkers by creating a new brand called "King Snedley's Beer." Unfortunately the brand flopped. The silver and black cans were quite rare until the late 1970s when they were reissued to take advantage of the beer can collecting boom.
For more details on King Snedley's please see my August 2013 COM.

In 1971 reclusive millionaire beer baron Paul Kalmanovitz bought Lucky and closed the Azusa brewery. The brewery was renamed General and the brand continued to be produced at Kalmanovitz's breweries around the US. The brewery in San Francisco was closed in 1978.


General Brewing Name Changes
General Brewing Corp. San Francisco, CA 1934 - 1948
Lucky Lager Brewing Co. San Francisco, CA 1948 - 1963
General Brewing Corp. San Francisco, CA 1963 - 1969
Lucky Breweries, Inc. San Francisco, CA 1969 - 1972
General Brewing Co. San Francisco, CA 1972 - 1975
General Brewing Co. (Falstaff) San Francisco, CA 1975 - 1978

Sources Used:
Beer Can Collectors of America.
United States Beer Cans
. (Beer Can Collectors of America: Fenton, Mo) .
Beer Can Collectors of America.
Catalog of American Beer Cans
. (1993).
Decamp, Bob. "It's Lucky When You live in the West"
Beer Cans and Brewery Collectibles
(Feb/March 1997) 6-8.
Hernon, Peter and Terry Ganey.
Under the Influence: The Unauthorized Story of the Anheuser-Busch Dynasty
. (New York: Avon Books, 1992)
"General Brewing Corporation Will Enter West Field"
(Reno) Nevada State Journal.
(April 11, 1934) 10.
"General Brewing Management Plan, The"
Modern Brewery
(December 1934) 43-46.
Lilek, Kevin C.
United States Beer Cans with Opening Instructions
(2004)
Novins, J. K. "General Brewing Corp. Begins Operations"
Modern Brewery
(March 1934) 52-54, 80-81.
Novins, J. K. "Lucky Lager Centers Promotion on the Label"
Modern Brewery
(May 1939) 24-27, 66.
Van Wieren, Dale P. American Breweries II (West Point, PA.: East Coast Breweriana Association, 1995) 17, 37, 372, 385.

You can see and BUY Lucky Billboards at Billboardsof the past.com. Rustycans.com is not affiliated with this site. It is listed here strictly as a reference and as a "thank you" for letting me use one of their graphics.

Thank you to dailywav.com for the Jack Benny sound file.