Storz Beer, circa 1939
Storz can, front and back.

Storz Brewing 1884-1967
The brewery was founded in 1863 as an ale brewery by Ebenezer Dallow. After two years he was bought out by Joseph Baumann. In 1876 a young German immigrant named Gottlieb Storz moved to Omaha and became Baumann's foreman. Storz had learned brewing in Wurttemberg and had several years experience in New York and St. Louis. Baumann died in 1876 and Storz renamed the foreman under Baumann's widow, then rented the brewery from her to run it himself. In 1891 he founded the Omaha Brewing Association, with himself as president.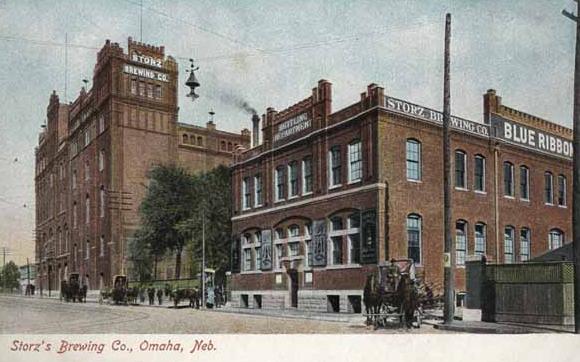 Storz Brewery.

In 1892 a new brewery was built on Sherman Avenue and Clark Street. Finished in 1894, it was 600 feet tall and had a capacity of 150,000 barrels a year making it one of the largest breweries in the region. The entire facility occupied more than 15 buildings with red tiled floors and walls, burnished stainless steel and copper fixtures. Like most successful breweries of the time the Storz brewery included a hospitality room patterned after a brew house and hunting lodge adorned with the stuffed heads of big game. Storz also owned many saloons, "tied houses" being the usual practice of the day, and ran one that was adjacent to the plant. Store and later, his son, ran their brewery with Prussian precision and efficiency. To assure quality, brew masters were hired in Germany, where Gottlieb himself had learned the brewing arts. The brewmasters' sons then also learned the trade from their fathers. The brewery won medals in international competition at the Trans-Mississippi Expedition in Omaha in 1898, at the Lewis & Clark Exposition in Portland in 1905 as well as in Paris in 1912. The brewery was so successful that in 1905 Gottlieb had a mansion built, which is now on the National Register of Historic Place.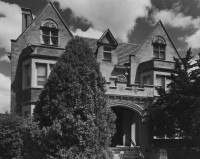 Storz Mansion.

Prohibition & Nebraska

Prohibition sentiment was strong in Nebraska. It was the home state and political base of William Jennings Bryan, the Democratic nominee for President in 1896, 1900 and 1908. Before 1910, he opposed national prohibition noting that any attempt to regulate individual habits through legislation on the basis of moral or religious grounds would not be successful. After about 1910 Bryan changed his mind was one of the Prohibition movement's most visible, and effective, spokesman.









William Jennings Bryan and his wife.

Prohibition postcard from the period.

Note the villainous saloon keeper.

But Bryan was not the only notable Nebraskan involved in the Prohibition movement. In 1890, the Prohibition Party nominated B.L. Paine, a prominent Lincoln merchant, as their candidate for governor and put a prohibition amendment on the state ballot. The Populist, Republican and Prohibitionist political parties all supported the amendment, but the Democratic Party's stand against prohibition remained steady and the amendment and Paine both were defeated. In 1891, a limited prohibition amendment, known as the Slocomb Act, passed. It permitted cities and towns, but not counties, to regulate saloons. It set a $500 minimum liquor license fee that could be assessed against anyone wanting to operate saloons. This type of law actually drove saloon keepers further into the arms of the brewers. Many barkeeps, unable to pay the licensee fee, turned to brewers. The brewery would pay the tax and loan money to the saloons at low interest rates, but the saloon had to agree to sell only that brewery's products. Of course this practice was not limited to Nebraska, but was nationwide.

In 1907 Nebraska tried to end the practiced of breweries owning "tied" saloon by passing the Gibson Law making it illegal for breweries to own saloons. Storz transferred the saloons they owned to the Independent Reality Company. Seemingly this would meet the letter of the law. However, the reality company was owned by Gottlieb Storz's wife, Minnie. The Storz brewmaster, Maggie Buck, was vice-president of the reality company and Minnie's cousin. The secretary/treasurer of the reality company had also previously worked for the brewery. In 1914, the Nebraska Supreme Court voided the liquor license of a saloon operating in a building owned by the Independent Reality Company on the grounds that the building was still owned and controlled by the Storz Brewery.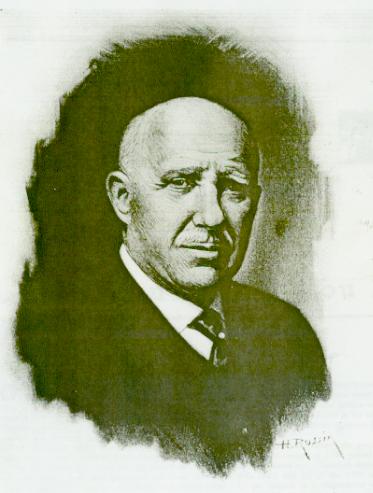 Gottlieb Storz in the late 1930s.

In 1916 Nebraska voters approved a statewide prohibition amendment. By law, there would be no more alcoholic beverages, not even light beers or wine, when the law formally went into effect in 1917. On January 16, 1919, Nebraska became the required 36th state to ratify the Eighteenth Amendment to the Constitution. National Prohibition began exactly one year later. When Prohibition went into effect in 1920, lean times hit for Storz. The company laid off much of its work force but unlike other breweries continued operating, making near beer, ginger ale, soft drinks and ice. The near beer was actually somewhat successful in distinct contrast to the near beer produced by most breweries during the 1920s. When Prohibition was repealed in 1933, Storz prepared to pick up where it had left off. Nebraska was not one of the 34 states that voted to repeal Prohibition, but in 1934, Nebraskans did vote to repeal the state's constitutional prohibition by a 60 to 40 percent margin. Storz was again in business and quickly was making up to 150,000 barrels a year.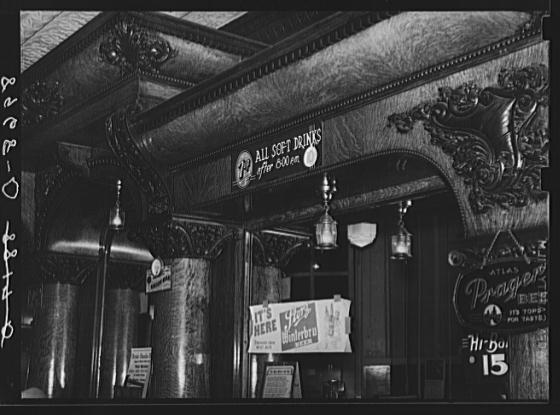 A 19th Century vintage saloon in Nebraska, photo taken in November 1938. Note the Storz sign on the mirror.
Photographer John Vachon. Library of Congress. LC-USF34-008968-D


Postwar Success
Storz's business took off after Prohibition. There were four breweries opened in Omaha. Wage disputes closed two of them in 1934, briefly, but Storz avoided the shutdown. Gottlieb Storz died in 1939 of a heart attack and his son Adolph became brewery president. (Two other sons, Art and Robert had left during Prohibition to start a radio station and other businesses. According to an e-mail I received from a family member, Gottlieb always though they had deserted in the face of trouble.) The can of the month was one of Storz's first cans and came out around 1939-1940, as best as I can tell. The brewery's business took off with the coming of World War II and was Nebraska's biggest seller. The brewery started canning again after the war. In 1951 there was a tin shortage due to the Korean War and the use of tin in beer cans was actively discouraged by the National Production Authority in Washington. Storz asked Nebraska Senator Hugh Butler to intervene to guarantee the supply of metal for beer cans.

In 1953 Storz tried to market a new product for women, "Storzette." Designed to be a beer for the ladies it was supposedly not too bitter and was calorie controlled. it also came in a smaller can, 8 ounces, which Storz called "Queen sized" and it came in four can packs called "Princess Packs." The brewery noted that market studies showed that many women felt that the standard 12 oz can provided too large a serving. The beer inside was also different, made to be less bitter than standard beers. The can even had a pink orchid pictured on it to help it appeal to women. It's initial test market results in San Diego seemed positive, but in the end the effort was not successful and Storzette did not last long on the market. As a result, the little can with the orchid is very scarce. Storz also used a slogan on its regular cans for awhile in the 1950s, "the Orchid of Beer" which has to be one of the more unusual beer advertising slogans.
Storzette can from my collection, and a "Princess Pack" of 4 Storzette cans.

Storz continued its success throughout the 1950s. It was a local favorite, and was sold on Air Force bases in the region because the family had ties to the Air Force. When the movie "Strategic Air Command" came out in 1955, the movie premier was held in Omaha and the premier party was held at the Storz mansion with guests including Jimmy Stewart and June Allison (I don't know if June Allison tried Storzette or not.) However, the usual problems arose that haunted all the small and medium sized breweries in the US in the 1950s and 60s. The big nationals were trying to expand their market share. One of the brewery owner's sons later claimed that the nationals constantly dumped beer in Storz's market at prices under cost so as to drive the smaller brewer out of business. The same claim was made by numerous small brewers driven out of business in this period. Storz lasted longer than many of their brethren, however. The family finally sold the brewery and brand name rights to Grain Belt Brewery from Minnesota in 1966. The brewery continued to operate in Omaha until it was finally closed in 1972.
Fred Astaire and Storz
Fred Astaire was born Fred Austerlitz in Omaha in 1899. His father, Fritz Austerlitz, was a German immigrant who moved to Omaha in about 1894. He married a young woman named Johanna in Omaha. Fred was their second child. To support his family Fred worked as a salesman for Storz. Fred always said his father was descended from "a long line of brewers", somewhat of an exaggeration. Johanna took her two children on the vaudeville circuit while Fred stayed in Omaha selling Storz beer. They changed their name to "Astaire" because it sounded better on a show billing than "Austerlitz." According to Storz family legend, Fred and his sister Adele were frequent guests at parties held at the Storz family mansion.
Brewing: Name Changes and Predecessors
Ebenezer Dallow 1863-1865
Joseph Bauman 1865-1876
Mrs. W. Bauman (Grace & 16th Streets) 1876-1884
(Gottlieb Storz & (Joseph D. ) Iler 1884-1891
Omaha Brewing Association (North 16th, 17th, Clarks St. and 1819 Sherman Ave.) 1891-1901
Storz Brewing 1901-1917
Storz Beverage and Ice Company 1917-1933
Storz Brewing Company (1807/1819 N. 16th Street) 1933-1967
Grain Belt Breweries, Inc. 1967-1972
Sources Used:
Thanks to Mary for her email with more info!
Beer Can Collectors of America. United States Beer Cans. (Beer Can Collectors of America: Fenton, Mo) .

Beer Can Collectors of America. Catalog of American Beer Cans. (1993).
"Beer Drought is Averted" Lincoln Sunday Journal and Star, (June 3, 1934. ) 9.
Biga, Leo Adam "The Storz Saga: The Mansion, the Brewery that Built It, the Man Who Loved It and the Loss of a Dream"

German Hollywood (link now dead)


"Gottlieb Storz is Dead" Nebraska State Journal (October 25, 1939) 10.


"Knocks Out Brewery Holding Company Idea" Lincoln Daily News (30 January 1914) 1.


"New Beer Special for the Woman" Mansfield, Ohio News-Journal (October 27, 1954) 9.


"New 'Women's Beer' Launched in Test Market" Modern Brewery Age (November 1953)


Omaha Landmarks (Gottlieb Storz House) (link now dead)


One Hundred Years Of Brewing (Chicago 1903) 436-437.


Pearson, Drew "Washington Merry-Go-Round" June 11, 1951.

Van Wieren, Dale P.
American Breweries II
(West Point, PA.: East Coast Breweriana Association, 1995) 198.
Sources for History of Prohibition in Nebraska

Nebraska Studies
(Great graphics as well)
Nebraska GenWeb
(personal accounts, oral history)
History of Nebraska
by Morton & Watkins (chapters on 1890 election)

Cornhusker Chapter
: The BCCA's Nebraska Chapter. If you have a question about Storz they're a good place to start!