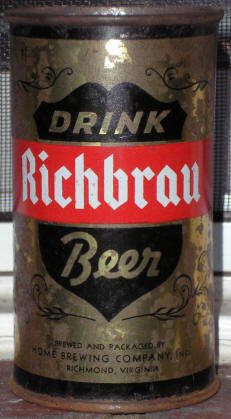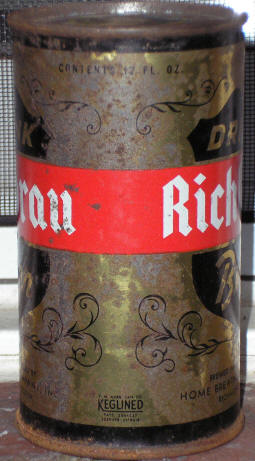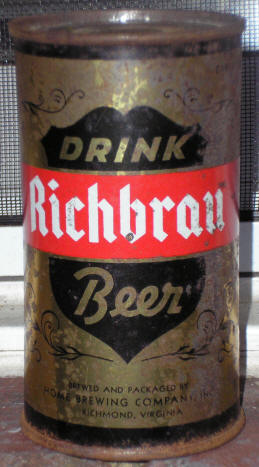 Richbrau flat.


This is the first flat top issued by the Home Brewing Company in Richmond Virginia. Even though the very first beer can was sold in Richmond in January 1935 by Krueger Brewing, the Home Brewing Company held out until 1952 before installing canning lines. They issued their Richbrau beer in flat tops, cone tops, and crowntainers at a time when most brewers were abandoning cone tops for flats.
Home Brewing Company 1897-1969
Pre-Prohibition
The Home Brewing Company was the successor of several post-Civil War breweries in Richmond Virginia after the Civil War. E. J. Euker built a brewery at Harrison and Clay Streets along with 10 houses nearby for the brewery workers. Richmond at that time had a
substantial German population
including several German language newspapers. Euker joined with a Henry Bowler in 1873 and they formed the Clay Street Brewery. This brewery lasted until 1877 when it closed during the
great depression of the 1870s
. In 1879 the company was reopened by George Washington Robinson who had previously managed a rival brewery. Robinson called the new brewery the Eagle Brewery. It also failed and the location was abandoned until 1892.
In 1892 Richmond was in a boom period during the era of the "
New South" movement
. It had about 60,000 residents and had recently opened the first electric streetcar system in the US. Several out-of- state breweries, including Anheuser Busch of St. Louis and
Christian Moerlein
Brewing of Cincinnati had opened bottling facilities to sell their beer in the city. There were no home town breweries operating since the Eagle company closed a little over a decade before. However, numerous Richmond bottlers were gaining valuable experience by dealing with the out of state brewers, including Peter Stumpf, who represented Anheuser Busch. In 1892 the Richmond Brewing Company (not to be confused with a different company called the Richmond Brewery!) took over the old Eagle Brewing facility. The new ownership had trouble getting the brewery off the ground and so in 1893 Peter Stumpf took over and the company name was changed to the Peter Stumpf Brewing Company.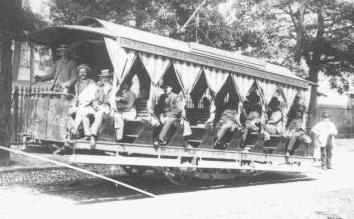 A Richmond streetcar circa 1888. In this photo it is climbing a hose jumper, which allowed firemen to run hose across the trolley tracks. The white line crossing on the lower left is a defect in the plate. Photo
u
sed with permission of the
Shore Line Trolley Museum.
Stumpf was apparently a better manager than his predecessors as his brewery became a success. The brewery had franchises in Petersburg, Newport News, and Phoebus, Virginia as well as Raleigh, North Carolina. They also owned numerous saloons in Richmond, which was normal for breweries of the period. So called "tied" bars sold only their parent company's products. In 1897 Stumpf retired leaving his successors with a successful company. He died in 1903. Renamed the Home Brewing Company, it had a brewing capacity of between 25,000 to 30,000 barrels a year. However, even though the brewery bearing his name was changed to the Home Brewing Company, the new owners left the initials "PS" on the barrel on their logo to honor Stumpf. The only competing brewery (Richmond Brewery) produced only 12,000 to 14,000 barrels a year. The Home Brewery continued their earlier success in the early 20th century appealing to local pride. In 1903 George Bernier became brewmaster. Bernier would remain with the company through Prohibition and repeal. In the 1950s his son would take over as brewmaster.

Thirteenth Annual Convention of the Anti-Saloon League of Virginia, Richmond, January 21, 1914. (By Thomas Sparrow, Panoramic Photographer, 7903 Decker Ave., Cleveland, O., for W. W. Foster, Richmond, Va. LOT 5599, panorama no. 5 Library of Congress Prints and Photographs Division Washington, D.C.)


In 1902 the
Anti-Saloon League
had opened offices in Richmond. The strength of the prohibitionist movement was rapidly growing by this time and groups such as the Anti-Saloon league were able to influence elections throughout the country.
Virginia got an early start in 1916 by enacting state-wide Prohibition.
Halloween (October 31) 1916 was the last day to produce, sell, or consume alcoholic beverages in Virginia. Going further than nationwide Prohibition would do in 1920, Virginia even prohibited the grinding of malt if it could be used to make beer . This effectively cut off one source of revenue for Home Brewing that brewers in other states could use, the sale of
malt products for use at home
for (ahem) "baking." Unable to even sell malt products, Home Brewing became Home Products Corporation and started making soft drinks. They continued making pop even after Prohibition.
Post-Prohibition
In July 1933, George Bernier, William Sitterding, Fred (Fritz) Sitterding and several other local businessmen with ties to the former Home Brewing announced plans to reopen a brewery in Richmond. The Virginia General Assembly was expected to meet on August 17 to re legalize beer in preparation for the repeal of the 18th Amendment. The old brewery was renovated and much of the equipment updated. The plant started producing in early 1934 and its first beer was sold in May 1934. At first it only sold draught beer while bottling equipment was installed. The newly refurbished brewery also increased its brewing capacity from the pre prohibition levels of 25-30,000 to 50,000 barrels a year.
Richbrau remained a small, local brewery though the 1930s, 1940s and into the 1950s. They appeared to have only sold their beer in Virginia.
Richbrau didn't start canning beer until 1952, and then used flats,
conetops and crowntainers
at the same time. A lot of breweries used all three at one point, but not many used all three types at one time. (Krueger is another that did use all 3 types at about the same time). Why did Home Brewing not just use one type? I suspect it had something to do with flexibility. The flat tops required their own canning line. The fact that Home Brewing used flat tops shows that they had enough financial success to add an entirely new line. The use of cone tops and crowntainers however, suggests that they wanted to remain flexible. They could fill several runs of cans, then switch back to bottles depending upon the needs of the market.
By 1961 the brewery had a capacity of over 100,000 barrels a year, but was still limited to distribution in Virginia. Richbrau cans were redesigned about 1964 or 1965 into a white can and. like most other brewers, Home Brewing quickly adopted the pull top can. In 1966 they introduced a new beer, Pub Malt Lager (in Virginia it is called malt LAGER, not malt LIQUOR by law.) This was apparently an effort to expand market share as Home Brewing was under the same pressure from the big nationals such as Anheuser-Busch as every other small brewer in the country. The Pub ML can itself isn't rare, but it is somewhat tough to find.
In October 1969 Home Brewing announced it was halting operations citing three years worth of operating losses with no end in sight. The
Richmond Dispatch
called it the "Saddest Day in Richmond Since April 1865." The company looked for a buyer for the brewery, but none of the large brewers were interested in buying a brewery with only a 100,000 BBL capacity when the large brewers had capacities of 2 million barrels a year or more. It simply was not economical. The Queen City Brewing Company in Cumberland, Maryland, produced Richbrau for awhile, but the brand was never again a big seller. There is currently a very active chapter of the BCCA in Richmond called the
Richbrau Chapter
. There was also a brew pub called Richbrau in Richmond which is now closed.
The Cans of Home Brewing
Home Brewing made a little over a case worth of different cans, including variations. Here are the cans that I am aware of, and the years they were produced. Please note that I've given a range of years, not every variation was produced every year in that range. If you know of additional variations, please let me know.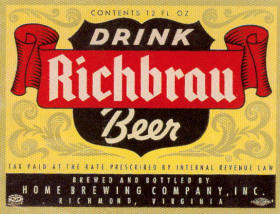 Richbrau "Shield" used from 1944-1957.
1952-1957
"Drink" is at the top of the shield, and "Beer" is in script at the bottom. Cans are gold. Bock cans have a blue ribbon at center instead of the red.
Crowntainers (2)
- yellow
- white.
Conetops (3)
- 12 oz.
- 32 oz. (gold)
- 32 oz (silver, RARE)
Flat tops (4)
- gold flat (the can of the month pictured above)
- silver flat (RARE)
- Bock beer, gold lettering
- Bock beer, white lettering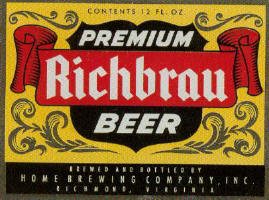 Richbrau "Shield" used from 1958-1965.
1958-1965
"Premium" is at the top of the shield, and "Beer" is in block lettering at the bottom. Cans are in either gold or silver. "Beer" may be in large or small letters.
Bock cans have a blue ribbon at center instead of the red.


Conetops (6)
- 12 oz gold with gold lettering. (tough can)
- 12 oz gold with white lettering (common)
- 12 oz silver (tough can)

- 32 oz gold with white lettering
- 32 oz gold with gold lettering (rare)
- 32 oz silver. (rare)

Flat Tops (11, all are 12 oz)
- gold with gold lettering
- gold with white lettering, small "beer"
- gold with white lettering, large "beer"
- silver, metallic paint, small "beer"
- silver, enamel paint, small "beer"
- silver, metallic paint, large "beer"
- silver, enamel paint, large "beer"
- silver, Bock beer, goat with large horns.
- silver, Bock beer, goat with small horns
- silver, Bock beer, no goat, metallic blue on shield.
- silver, no goat, enamel blue on shield.

Pull Tabs (2?)
- silver zip top.
- silver Bock can (do not know if there are variations)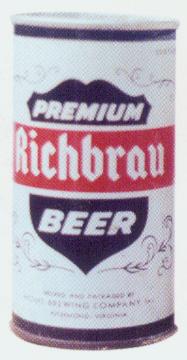 White Richbrau can.

1965-1969
White can.
- 12 oz pull tap, small "beer"
- 12 oz pull tab, large "beer"
- 12 oz flat (very scare, brewery using up old lids???)
- 12 oz Bock flat.
- 16 oz pull tab.

- Pub Malt Lager, 12 oz only.


Home Brewing: Name Changes and Predecessors
E.J. Euker: 1866-1873 (2 locations, then became bottler for Spring Park)
Clay Street Brewery: 1873-1877
Eagle Brewery: 1879-1880
Richmond Brewing Company: 1892-1893
Peter Stumpf Brewing Company: 1893-1897
Home Brewing Company: 1897-1916, 1934-1969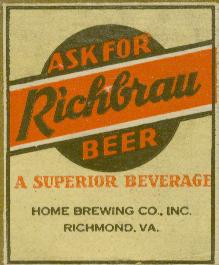 A Richbrau matchbook.


Sources Used:

Beer Can Collectors of America. United States Beer Cans. (Beer Can Collectors of America: Fenton, Mo) 124-125, 182, 198, 218.

Beer Can Collectors of America. Catalog of American Beer Cans. (1993) 630-631.

Couch, Cullen. Leon Stepanian: The Boss, 55 years Selling Beer to Richmond. (1990)

Jabloner, Amy "Home Brewing During Prohibition" Brew (December 1997)

Morris, Danny and Jeff Johnson. Richmond Beers: A Directory of the Breweries and Bottlers of Richmond, Virginia. 2d ed. (self published) 2000.

Van Wieren, Dale P. American Breweries II (West Point, PA.: East Coast Breweriana Association, 1995) 376.

Thank you to the Shore Line Trolley Museum for their permission to use the photo of the Richmond Trolley.


Thanks to Chris E., Chris S., and the Candog for dumping info! Also thanks to Chris E. for the corrections.