Sebewaing Beer circa 1955
This was always one of my favorite cans when I was a kid. I guess I thought the pheasant was cool! At any rate, I upgraded it some years back and it's still a favorite.
Pre-Prohibition
Sebewaing, Michigan is in the north east part of the state, sort of by the "thumb." It's a unique name, supposedly from a native-American language meaning "wandering river" and indeed the town is on the Sebewaing River. The area was settled in the early 1850s and in sometime in the 1870s the first brewery was founded by an E. O. Braendle. His brewery was a hit, in part because the area's isolation meant that there wasn't much competition.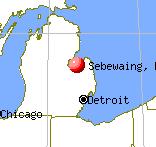 A map showing the location of Sebewaing, Michigan.
In 1893 a fire destroyed Braendle's brewery but he rebuilt, this time with a partner, a Leonard Eberlsin, followed by Fred Kroll. A new brick brewery was built which was named the "Huron County Brewing Company" The brewery did well until Michigan went dry in
Some local businessmen bought the former Huron County Brewing Company in 1924, and named their new firm the Sebewaing Products Company. They made malt extract, which was legal during prohibition because it could be used for baking, but in reality was usually used for home brewing. Like many other malt companies, Sebewaing did well selling its product.
Sebewaing Brewing Company 1935-1965
After Prohibition ended in 1933, another group of investors bought the company and renamed the business the Sebewaing Brewing Company. They produced Sebewaing Beer, an Old Stock Ale, and Sport Beer, as well as Golden Pheasant beer. Pheasants became a popular feature on Sebewaing labels and ads as the area was popular among hunters and fishermen.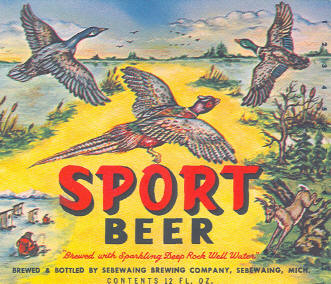 Sport Beer Label, circa 1950s. (Thanks Ron!)
One of their more unusual advertisements, however, was a live lion. When a circus in town wanted to get rid of three young lion cubs, the brewery president, Dr. J.E. Wurm, bought them. An old trailer was fixed up as a traveling cage/home for them, and traveled around the area. Since lions are not common to Michigan, they probably were quite an attraction. They even stuck a lion's head on their Old Style Beer label. By 1948 however, the gimmick must have grown old, as the lions were sold to various zoos (except for one that was stuffed).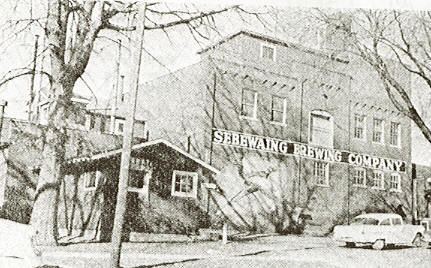 Sebewaing Brewery, circa late 1950s.
In 1948 Sebewaing began selling most of their beer through 3 A&P warehouses. This allowed them to cut advertising spending and lower the price on their beer, which seems to have helped sales as it was in the late 1940s and early 1950s that the brewery hit its stride. They were one of many brewers that produced "Brewer's Best", a brand that was designed to compete with the national breweries. It would be advertised and sold nationally but made by local small brewers. The brands lasted well into the 1950s but Sebewaing may have only produced the beer for a short time.
The brewery remained small. In the late 1950s they were producing about 38,000 barrels a year, only 7/10s of 1 percent of all the beer brewed in Michigan. They finally added a canning line and filled a yellow can with the pheasant on it. The can was switched to a blue label about 1959. Their also produced a zip top can and early pulltab in the early 1960s before closing.
In 1960 the brewery name was changed to the "Michigan Brewing Company." Apparently they wanted to appeal more outside of the "thumb" of Michigan. Instead they managed to alienate some of their loyal local customers. The new owners also began trying to cut back on expenses by cutting the quality of ingredients. They were the "low-priced beer" for local A&Ps but even low prices can't help sell too much beer if it's no longer very good.
In 1965 the brewery was sold to Buckeye Brewing of Toledo, Ohio. Local supporters sued to stop Buckeye's purchase, since the new would-be owners were planning on shutting the plant while making "Sebewaing" in Toledo. The lawsuit stopped the sale but the brewery had already shut down. The brewery reopened, once again as the Sebewaing Brewing Company, but the damage was done. The new business only lasted a few months, then closed for good. In late 1966 the equipment was sold to other breweries and for scrap. The building was partly torn down in the early 1980s, but I do not know if any part of it remains today.
Brand Names
Brewers' Best
Club Lager
Export Beer
Holiday Special
Old Style Beer
Sebewaing Beer (only one canned)
Sebewaing Bock Beer
Sport Beer
Stock Ale
Name Changes
E. O. Braendle ??? (unknown)
Sophia Braendle 1875-1879
Veit & Graf 1879-1880
Henry Graf 1880-1884
Frederick Braendle 1884-1891
Eberlein & Son 1891-1893
Sebewaing Brewing Co., Ltd. 1893-1896
Braendle & Eberlein 1896-1899
Braendle & Kroll 1899-1903
Huron County Brewing Company 1905-1919
Sebewaing Brewing Company 1934-1960
The Michigan Brewery, Inc. 1960-1965
The Sebewaing Brewing Company 1965

Sources Used

Thanks to Randy K. and Dave Van H. for their help.

Graff, John "Fil" "Historical Vignettes from Sebewaing" American Breweriana Journal. (March-April 1985)

Hey, Chester and Norman Eckstein. Huron County Centennial History: 1859-1959.

Kay, Bob. US Beer Label: 1950 and Earlier (Vol. 3: Central States)

Kulka, Bill. "Sebewaing: The Town, The Brewery, The Beer." BCCA News Report. (Sep/Oct 1984)

Portrait and Biographical Album of Huron County. (Chicago 1884)

Van Wieren, Dale P. American Breweries II. (West Point, PA., East Coast Breweriana Association, 1995)