Gotham Beer: circa 1949

The Gotham cone top. I love the skyline on this can. It's New York City (Gotham) circa 1946 from inside Central Park!
Delatron/Cincinnati Brewing Company 1934-1951
This Gotham Beer (USBC 166-22) is one of the very few cans produced by the Cincinnati Brewing Company, founded in 1934 as the Delatron Brewing Company in Reading, Ohio (a suburb of Cincinnati). The Delatron Brewing Company was founded by Brewmaster George Delatron after Prohibition ended. Delatron learned the brewing trade in Nurenberg, Bavaria, as a teenager. He came to the US in 1894 and worked for the Chas. G. Stiefel Brewing Company in St. Louis for awhile. He also attended the Wahl-Henius Institute of Fermentology in Chicago to add to his training to be a master brewer. He then moved to Cincinnati and was the assistant brewmaster at the Christian Moerlein Brewery. In 1909 he became brewmaster at the George Wiedemann Brewery. In 1927 he was arrested in part of a federal prohibition raid on the Wiedemann Brewery which had been making full strength (4%) beer by "forgetting" to removed the alcohol before selling it. Delatron was fined $2,500 for his part in the activities. At first he joined the Vienna Brewing Company, but in 1934 he left to start his own company where he was President and Brewmaster with his son assisting him. It never really took off even though it produced several beers including Delatron, Valley Brew, Cincinnati Brand and Shamrock Ale.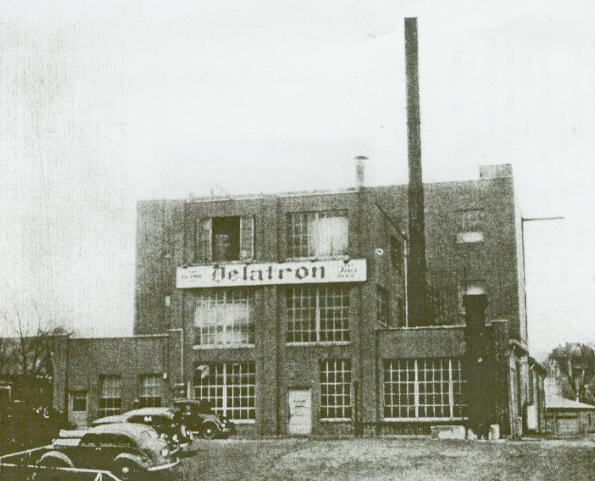 The Delatron Brewery, mid 1930s.



In 1946 Delatron sold his company to a new ownership group for $250,000 and his son, Edwin Delatron became Brewmaster. The new company was named Cincinnati Brewing Company (not to be confused with a brewery with the same name that operated in Hamilton, Ohio before Prohibition). The new owners introduced two new beers, Gotham and Lippy's (after owner, Sam Lipman). They also added a canning line for the first time to can Gotham in conetop cans. The promoted their product as "jetter controlled" with the claim that this filling process sealed in the flavor of the beer better. (see the ad below). Many breweries at the time tried to advertise some difference in their production process to set their product apart. This tactic is still used. think of "beech wood aged" or "cold filtered." The ATF doesn't care as much about claims about a brewer's process as they do the ingredients, so brewers claim that the way they make beer is superior whether or not their method really affects the taste.


| | |
| --- | --- |
| | |
| George Delatron, circa 1937. | Delatron's new bottling line, 1936. |



Cincinnati Brewing also canned a brand called "London Bobby Ale" (USBC 173-3). The same brand had been canned by the Miami Valley Brewing in Dayton Ohio (USBC 196-31, 32, 33). Usually different breweries in the same market area were not allowed to use the same product name. However, Miami Valley Brewing went out of business in 1950. Did Cincinnati Brewing buy the rights to the name "London Bobby Ale" in 1950? It's possible. The label on the Cincinnati version looks like the label on the last of the Dayton cans. However, the Cincinnati Brewing version was apparently only canned for a very short time in 1950-1951 as the can does not have the tax statement on it which was required before March, 1950. It is also quite rare which can also indicate a very short product run. In any case, even with new brands, the new owners, however, could not stop the flow of red ink and the former Delatron Brewery closed in 1951.
Gotham Beer Ad.

Cincinnati Brewing: Name Changes and Predecessors
Delatron Brewing: 1934-1946
Cincinnati Brewing Company: 1946-1951

Sources Used:

Beer Can Collectors of America. United States Beer Cans. (Beer Can Collectors of America: Fenton, Mo) 166, 173, 196.


Beer Can Collectors of America. Catalog of American Beer Cans. (1993) 464.


"Cincinnati Brewers" Modern Brewer (May 1937) 32-35.


Downard, William L. The Cincinnati Brewing Industry: A Social and Economic History (Athens: Ohio University Press, 1973) 136, 139.


Holian, Timothy. Over the Barrel: The Brewing History and Beer Culture of Cincinnati, Volume 2-Prohibition-2001. (St. Joseph, Mo.:Sudhaus Press; 2001) 7, 35, 36, 40,77, 140-141. I can't say enough good things about Tim Holian's two volume history!


Modern Brewery (July 1935) 58.


Van Wieren, Dale P. American Breweries II (West Point, PA.: East Coast Breweriana Association, 1995) 286.


Thanks Matt, for the suggestion/correction!

And thanks to Dru W. for the information on the skyline!