Dixie Beer: circa 1957-1959
| | | |
| --- | --- | --- |
| | | Two views of the Dixie, my dumper (left) and a nice one (right). I think the gold color on the one at right is brighter than it appears in real life. I blame the scanner. |
This month's can is a favorite from a small brewery in the mountains of Western Virginia (not West-by-God-Virginia, but westERN Virginia). I think the can design is interesting, although it's difficult to find one with the gold metallic paint intact. This can was issued by Mountain Brewing in Roanoke between 1958-1959. I'd love to know more about this brewery and its predecessor, Virginia Brewing, so if you have any additional information, please email me at Mark@rustycans.com.
Virginia Brewing 1890-1957
Virginia Brewing was founded in Roanoke in December 1889. It was established by L. A. Scholz, then the brewmaster from J.H. Von der Horst & Son in Baltimore. He had arrived in the US from Germany in 1882, and had served an apprenticeship in Freiberg. The first president of Virginia Brewing was Herman Crueger. The company not only brewed beer, it also sold ice, operated a cold storage plant and made soft drinks. Its products were sold on draft as well as in bottles. It had a 50,000 barrel a year capacity.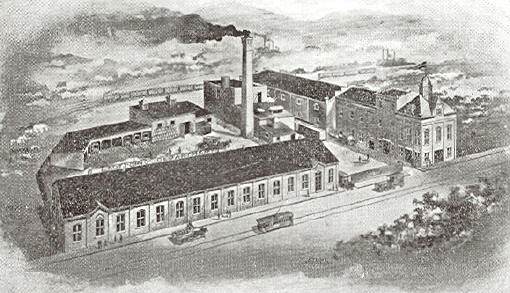 Virginia Brewing, circa 1912.
The brewery was probably founded to take advantage of the sudden growth of business in the area in the 1880s, as the town of Roanoke became an important railroad hub for the Norfolk and Western railroad. The brewery was built near the Norfolk and Western tracks, to take advantage of the new line. The beer apparently was pretty good, as its market spread from Virginia and West Virginia into North and South Carolina and Tennessee. Scholz became the brewery President after a few years. In 1907 their Pilsner Export beer won a gold medal at the Jamestown Tercentennial Celebration in Jamestown. A 1912 history noted that the brewery was completely rebuilt after a fire, but did not note the year.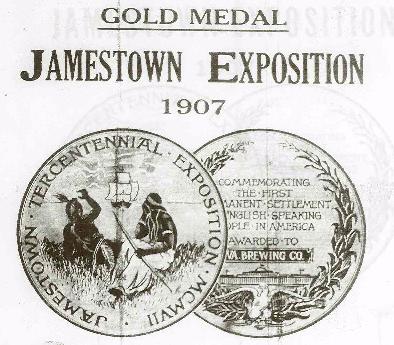 Graphic of the Jamestown medals used in Virginia Brewing advertisements.
Scholz brought his brother, Henry, over from Germany in 1892, and Henry ran the tied saloons associated with the brewery in Roanoke, including the Wayside Inn, next door to the brewery. The brothers used the brewery's profits to expand into other businesses, not just ice and saloons, but also a glass company and a fair association. Henry was secretary of the Great Roanoke Fair and vice-president of the Roanoke Amusement Corporation, which ran the American Theater in town.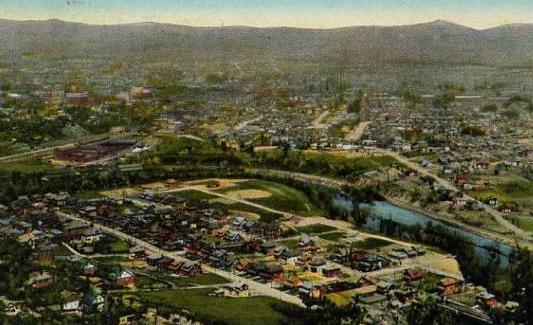 Aerial view of Roanoke circa 1920.
The brewery closed when Virginia went dry in October 1916. The equipment was sold for scrap metal to take advantage of the high prices paid for metal in World War I. The brewery reopened in 1934 when Prohibition ended. Henry had died, but Louis Scholz was ready to start anew. The brewery had to be rebuilt however, and Scholz died in April 1936, before work could be completed.
The new brewery was run by E. Cabell Tudor and in August 1936 his new brewery opened for business. Tudor owned other businesses, including a laundry and apple orchards and the brewery sometimes suffered from his lack of interest, as well as cost cutting. During World War II Tudor made tavern owners come to the brewery to pick up their beer if they wanted to sell it. Rumors spread that the brewery used potato skins for starch. The result was a poor relationship with the local dealers, the very people needed to sell the product, as well as with potential customers.
In 1954 S.B. Huff rented the brewery from Tudor's widow and Huff tried to improved the business. This may be when the brewery started canning their beers. They canned two brands, Olde Virginia Special and Virginia's Famous. Since the cans are not IRTP (no tax statement) they had to have been filled after March 1950. Both brands only came in 12 oz conetops. Distributors were found not only in Virginia, but also in Kentucky, North Carolina and West Virginia. The beer was designed to sell cheaply, for 20 cents a bottle instead of 25 or 30 cents. However, a lot of the barkeepers would sell it for 25 cents and keep the extra nickel. For the same price, customers could buy a National Bohemian or a Gunther's from Baltimore, beers that were more popular for their taste, thus under-cutting the Huffs marketing strategy. The Huffs gave up in January 1958 and the brewery changed hands one last time.
Virginia Brewery, date unknown.
Mountain Brewing
Mountain Brewing was only in business from 1958-1959. They were owned by a North Carolinian man, Leroy Overcash. In January 1958 Overcash obtained the brewery from the Tudor family on lease while hoping to market a new beer, Dixie, throughout the southeast. They produced Old Virginia Special and Dixie in 12 oz flat top cans. The brewery's ads played on the Dixie name featuring a Southern colonel on his horse. In the ads an excited aide runs up yelling "Hey Colonel, see those Yankees across that field?" to which the Colonel replied "Oh hush up and drink your beer!"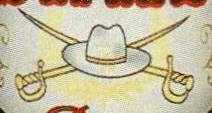 Close up of the "Dixie" logo.
The ads were apparently popular, but unfortunately for the brewery they didn't seem to sell much beer. The brewery finally closed in 1959 and was torn down in 1964. However, it left some fairly tough cans for collectors to find.
As always, I welcome corrections and additions: please email me at Mark@rustycans.com
Also: if you're interested in Virginia brewing history, you may be interested in my page on the history of Prohibition in Virginia.
Name Changes
Virginia Brewing Co,. Roanoke, VA 1890 - 1916
Virginia Brewing Co., Inc. Roanoke, VA 1934 - 1957
Mountain Brewing Co., Inc. Roanoke, VA 1958 - 1959
Sources Used:

"Beer wasn't imported, but brewers often were." Roanoke Times & World News. October 17, 1982.

Jacobs, E.B. History of Roanoke City and History of the Norfolk & Western Railway Company. 1912.

Norfolk City Directory. 1910-1914.

Van Wieren, Dale P. American Breweries II. (West Point, PA., East Coast Breweriana Association, 1995)

Western Brewer, 100 Years of Brewing. (Chicago: H.S. Rich & Co., 1903)

There are some great photos of the brewery at the Old Roanoke site.

This page was c ited in the Roanoke (VA) Times (October 2, 2011) Thanks Bill for the head's up!

THANK YOU to Pam at the Roanoke Public Library for her help in finding information on this brewery.