Trommer's Beer: Circa 1947
Side panel extolling the beer's virtue.

One of my favorite late 1940s cans. I like the design, especially the medals on the front. I think these are actually TWO medals, both back and front showing. The ones on the left read "S.A.R. Madame Contesse" and "Exposition Internation (sic) Envers 1911." The ones on the right read "International Dalimentation Exposition Et Dmygiene Paris 1912" (I think, those are TINY letters!) and "Grand Prix." The center medallion reads "Internale D'Alimentation 29th Exp." I welcome corrections from French speakers!
The Trommers medals, yes, it is a composite.

John F. Trommer Inc. Brewing
Once again we have the story of a German immigrant who sailed to America and became a giant. of the brewing industry (I'm sensing a pattern here). John F. Trommer immigrated from Hersfeld, Germany in the 1840s and settled in Portland, Maine where he worked in a small ale brewery. He eventually moved to Boston and worked in several breweries there. He moved to Brooklyn's Bushwick district where a number of breweries were congregated at some point and became brewmaster for William Ulmer. By the late 19th century there were 58 breweries in a 12 block stretch of road in this area along what was called "Brewer's Row." In 1897 Trommer bought an interest in a new company called Stehlin & Breitkopf and soon changed the name to J.F. Trommer's Evergreen Brewery. John Trommer didn't have time to enjoy his success, however, as he died in 1898 and his son George Trommer took over the brewery.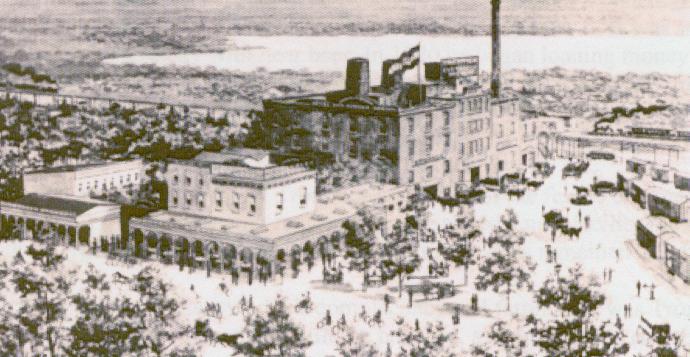 Trommer's in Brooklyn, late 19th century.

At first making only lager beer, Trommer's beer was an all-malt beer. Here's how a buddy of mine who is a professional brewer explained it. Brewers called beers (in the old days, made with 100% barley and wheat malt) "all-malt" or "malt" beers to differentiate them from the newer, cheaper beers using proportions of corn, rice, or cane sugar. Any grain can be malted (germinated to grow like the grass seed that it is, just until all the starch in the seed has been solubilized and the enzymes made to break down the starch) to use for growth, then (cruelly, to the seed) kilned and dried to kill the growth and keep the starches intact). This all happens by the time the root is 1/8 in or so long. Wanna make cheaper beer, that's lighter in body and flavor than an all-malt beer, that will appeal to more people? Use adjuncts (add junk!) like corn grits, corn starch, cane sugar, rice, rock candy (Belgium), millet if you're in Africa, you name it. Old-fashioned or wintertime hearty brews called themselves all-malt to distinguish themselves as a mark of quality. Trommer's continued making an all-malt beer until they closed in 1951. It was a constant them in their advertising.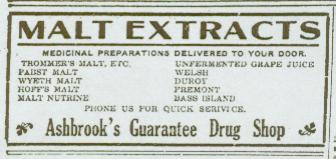 A Trommer's Malt Extract ad from 1910.
Prohibition
Trommer's survived Prohibition through a variation of the old "tied house" idea. Trommer's was producing a near beer called White Label. He began loaning money to hot-dog vendors to open their stands, but on the condition that they only sell Trommer's product. By the time Prohibition ended Trommer's was supplying about 950 vendors in New York. As a result the brewery was in good shape when Prohibition ended in 1933.
Post-Prohibition
In 1934 Trommer's purchased the Orange Brewing Company in Orange, New Jersey. The Orange Brewery had been founded in 1902 by Michael Winter who in 1899 had sold his previous brewery to Pittsburgh Brewing in Pittsburgh, Pennsylvania. The brewery did well until Prohibition forced it to close. When Trommer bought the plant he found it necessary to refurbish it.
The Orange Brewing Company, circa 1890s.



With two plants going full time Trommer's became a popular brand, even being exported to other countries. The brewery claimed that Trommer's Malt Beer was the world's largest selling malt beer, which may have been true as not many breweries made malt beer (i.e. without other grain additives, see explanation above).
Trommer's Malt advertisement from 1936.



Trommer's quickly moved into using cans. In 1936 they introduced Trommer's Malt and Trommer's Ale in cans with opening instructions. In 1937 they followed with a Bock beer in an OI can that is now quite rare. I don't know exactly when the Trommer's beer came out, but it's probably about 1940. The fact that they produced both a "Malt Beer' and a regular beer suggests that they recognized that their Malt Beer appealed to a specific demographic and they they needed a regular beer to compete. The Ale can seems to have been sold only in the pre-war years with suggests it was not a strong enough seller to make the extra expense of canning it worth the investment.


In the 1930s Trommers put up several very large lighted signs in New York. The one on the left was on Times Square in 1938 (click to see larger). The one in the center was on Broadway at 45th and Broadway in 1935. (fuzzy close-up on the right) .


(left) A Trommer's Malt Beer store display from 1940. (right) a Trommer's newspaper ad from 1942. Both were used to advertise the Malt Beer.

A Strike and the End
Immediately after the war Trommer's marketed their all-malt beer as "Trommer's White Label" which appeared in bottles but not in cans. The brand appeared before the war as well, but, judging from the advertisements, the brewery pushed this brand more after the war. The brewery seemed to be doing well, they even added a three-story stock house to the Orange facility in 1948. However, late that same year a 29 day brewery driver's strike hit New York. Drivers demanded a shorter workday and two man teams for each truck, rather than the then prevailing single-man units. This wildcat strike was followed in 1949 by a 72 day strike of New York's breweries. The strike allowed brewers from other areas to enter the New York market including Blatz (from Wisconsin) and allowed some other brewers such as Ballantine and Krueger to expand their market share. When the strike ended the New York brewers also had to consider increased spending on advertising in order to make up lost ground.
Unfortunately for Trommer's strikers took over some of the plant facilities. Each brewery has its own strain of yeast that they use in producing their beer. The strikers did not properly take care of the yeast while they occupied the brewery and Trommer's strain died. As a result, when the brewery reopened they had to use a completely different strain and the beer tasted radically different. Sales began to drop. In 1950 George Trommer sold the Orange, New Jersey brewery to Liebmann and in 1951 the original Brooklyn facility went to to Piel's. Piel's continued making Trommer's until 1962 but the brand was then discontinued. The Brooklyn brewery was closed in about 1955 and the Orange facility in 1977.
Trommers ad with their trademark dwarfs, 1937.

Trommers Jingle Contest
I heard via email from a man whose father was a beer salesman selling Trommers in the mid 1950s. As a boy my correspondent entered a jungle contest and won $25 for writing a new jingle for Trommers beer. Thanks Sean!
T for Taste.
T for Trommer's. 
That's the beer.
That hits the homers.
Name Changes
Brooklyn
Stehlin & Breitkopf 1895-1897
Breitkopf & Trommer 1897
J. F. Trommer's Evergreen Brewery 1897-1902
John F. Trommer, Evergreen Brewery 1902-1920
John F. Trommer, Inc. 1920-1951
Piel Brothers, Inc. (branch of) 1951-1955
Orange, New Jersey
The Orange Brewing Company 1901-1902
Orange Brewery (Michael Winter) 1902-1920
John F. Trommer, Inc. of New Jersey 1934-1946
John F. Trommer, Inc. 1946-1950
Liebmann Breweries (branch of) 1950-1964
Rheingold Breweries (branch) 1964-1977
(aka Forest Brewing Company 1972-1977)
(aka Jacob Ruppert 1966-1977)
Brands Canned by John F. Trommer Inc. Brewing

Trommer's Ale
Trommer's Beer
Trommer's Malt Beer
Trommer's Bock (RARE)
Sources Used:

Beer Can Collectors of America. United States Beer Cans. (Beer Can Collectors of America: Fenton, Mo) .

Beer Can Collectors of America. Catalog of American Beer Cans. (1993).

Jankowski, Ben. "The Bushwick Pilsners: A Look at Hoppier Days" Republished from Brewing Techniques' January/February 1994.

"New York Brewery Driver's Strike Ends" Modern Brewery Age. (November 1948) 104.
"New York Beer Strike Ends" Time (July 1, 1949) 14-15.

One Hundred Years of Brewing (Chicago & New York: H.S. Rich & Co. 1903)

Palm, Gina. "Domestic Soldiers" From Contrapposto, a collection of student works about art and art history, published annually by the Department of Art and Art History at California State University, Chico.

Smith, Greg. "John F. Trommer's Brewing" American Breweriana Journal. (July 1997) 87.


Van Wieren, Dale P. American Breweries II (West Point, PA.: East Coast Breweriana Association, 1995) .